If you have 5 minutes to cut down a tree, spend the first 3 minutes sharpening your ax….
Good SEO keyword research helps sharpen what we're writing about, to ensure we are writing about exactly what readers are looking for and what Google wants to show them. By giving Google the content readers are looking for, and embedding the readers' search keywords in our writing, we let Google do the job of finding our readers and giving them the perfect content for their needs…our content.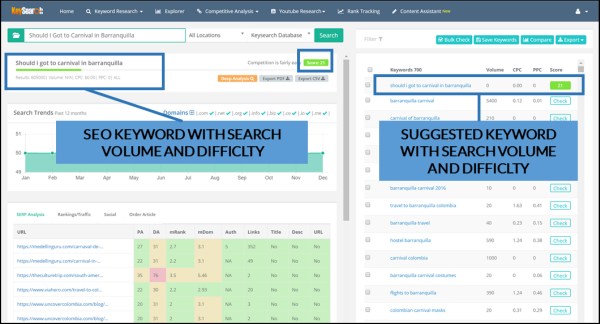 With the right homework, all of this can happen while we get to do what we do best: continue creating content.
So let's learn how to "sharpen our axe", to prepare for writing the perfect content, by understanding how to research SEO keywords that we can easily rank for and promise to send plenty of traffic to our sites.
Contents
---
6 Straightforward Steps to Doing SEO Keyword Research
The tools you'll need
To properly identify keywords you'll need a few tools to analyze the keyword monthly search volume, and how strong (and competitive) the current search results are.
Google Adwords Keyword Tool: Good for brainstorming keywords but poor for assessing search volume as it doesn't give exact search volume. (Free)
Keywords Everywhere Browser Plugin:Good, free option for assessing search volume
Moz Tool Bar addon: Assessing Competitiveness of a Search
Keysearch: A robust SEO analysis tool that will let you analyze keyword search volume, competitiveness, and everything else you'll need, all in one interface (~$14/mo.)
---
The first 3 options are free, and do a great job, but using them requires the investment of time.
If you need to do your SEO research quickly, I recommending signing up for Keysearch. The service is $14 a month if you use the Keysearch discount code "KSDISC". It is also simple, provides all of the functionality you'll need for good keyword research and is much cheaper than any other option on the market. For reference, the Moz and Ahrefs paid SEO tool suubscriptions are both $99 a month.
Within Keysearch you'll get SEO keyword search volume, a measure of how difficult the keyword will be to rank for, a view of competitors' on page SEO efforts, and suggested/related keywords to help brainstorming session. Keysearch effectively combines the utility we get from the other 3 free tools, making the research process quicker. The ability to filter data in Keysearch (which we'll review later) also makes it much easier to find keywords quickly that are easy to rank for.
Now, let's review the tools…
There are many options for assessing competitiveness of a search, but the most reliable (free) option I've found is definitely the Moz toolbar
To get setup, install the free Moz plugin for chrome here, signup for a free account, and sign-in
After adding and signing into the toolbar, data is added to Google searches within the Chrome browser under every result. The additional data gives you a view of how strong (and difficult to compete with) each search result is. This competitiveness is communicated as "Page Authority" (PA) and Domain Authority (DA) in a number between 1 and 100.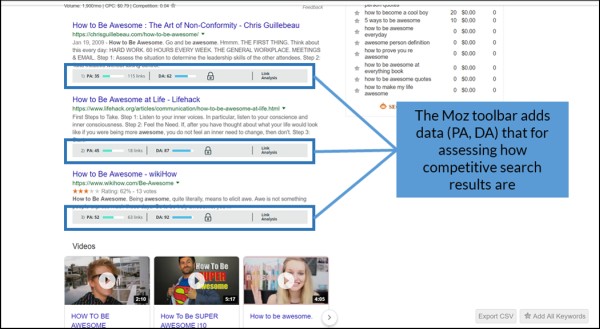 For rough assessment, here's an idea of how difficult the PA's and DA's will be to compete with
1-25: Easy
26-35: Easy moderate
35-40: Moderate
40-50: Moderate Difficult
50+ Difficult
If a result has a PA and DA score of 30 or below, consider it fair game. Consider anything above that a stretch, until your DA is 30+
Whenever you're assessing how easy it will be to gain a place on page one of Google, you'll look for queries with at least 2-3 weak results, with PA and DA below 30 (in addition to weak on page SEO) as a sign that you can sneak into the results (if your content is better)…but we'll get to that later

Keywords Everywhere Browser Plugin: Assessing the volume of searches for a keyword (how many per month)
The second free tool you'll install into Google Chrome will be the Keywords everywhere plugin, which you can find for free here.
After installing the plugin and doing a Google search, besides the predicted/suggested searches (in the search box) and underneath your search result you'll start seeing data in the form of searches per month (e.g., 4,000/mo), cost per click ad data (e.g., CPC: $0.33), and competition (e.g., 0.03).
Lucky for you, the only data we'll need from this is the search volume (e.g., 4,000/mo)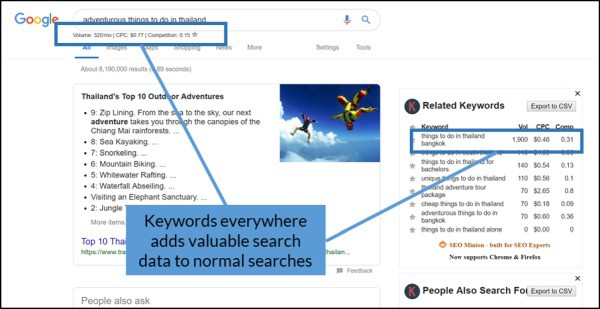 The competitiveness data from Moz's toolbar and the search volume data from keywords everywhere will give us just about all of the info we need to screen out keywords that won't be of use to us. But we get an extra treat with the Keywords everywhere plugin:
On the right, in our searches, there are a list of suggested and related SEO keywords/searches. We can give these a brief look to see if any juicy keyword options are presented and save them for our brainstorming session to come
Google Adwords Keyword Tool: Brainstorming Keywords with light search volume data.
Google is the granddaddy of search, and this tool provided by is useful for finding exactly what people search for. We'll use the Google Adwords tool by typing in an idea we're thinking of (e.g., 10 day itineraries for Colombia) and pick through the suggestions that the tool recommends.
The problem with Adwords is that volumes are only given in ranges of 0-10, 10-100, 100-1,000, 1,000 to 10,000, etc. So, when using Google Adwords we can't completely decide a keyword is worthwhile yet but we can't completely rule it out yet, because a number such as 500 would be doable, 1000 would be great, but 100 wouldn't be worth the effort…and all 3 of those numbers are hidden in the 100-1000 range.
So what do we do? We take any interesting searches in the 100-1000 range to our brainstorm list. Then, we use Keywords Everywhere to validate that the potential traffic (number of monthly searches) is worth the effort. But more on that later…when we review our steps…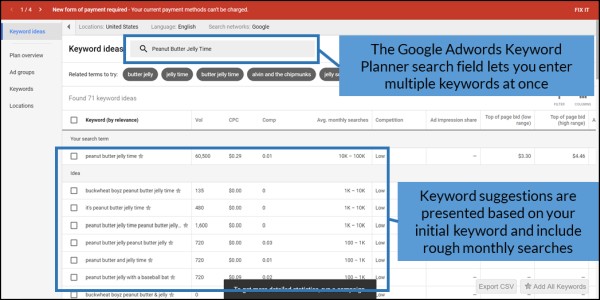 ---
Once you've gotten the hang of SEO, understand (enough) how it all works, and understand how much of your useful time is being eaten up by keyword research, or incomplete keyword research, invest a small amount of money in a paid, more powerful SEO tool. I recommend Keysearch as its only $14 a month. Keysearch saves me so much time that the $14/mo cost is well worth the productivity increase. So, what is Keysearch and how do you use it (when you're ready)?
Keysearch: The best SEO tool for the price ($14 a month)
Keysearch is straight forward and easy to use as it displays all of the same data as the tools above in an easily comprehensible dashboard. Additionally, I've noticed that its much faster than using Google Adwords (just in case you're on a weak internet connection) and it works better through a mobile interface. This means, you can do your keyword research on a mobile phone if that's all you have available – like I often do when traveling off the beeaten path.
Within Keysearch, you'll get the competitiveness data (that the Moz tool provides), the search volume data (that Keywords Everywhere provides), and the suggested searches and keyword variations (that Google Adwords provides), all in one view. This is how I ended up saving so much time and burning through my keyword research in minutes instead of hours. That is well worth $14/mo.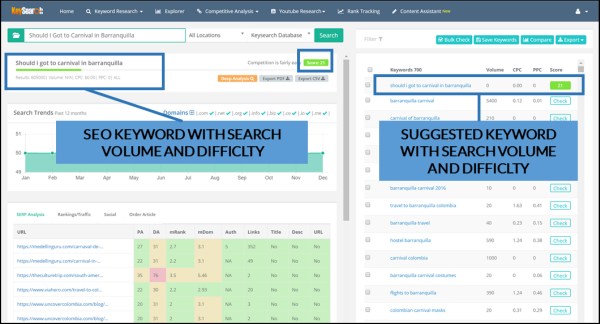 Additionally, like Moz and Ahrefs (which cost $99/mo.) you'll get a quick number that gauges how competitive an SEO Keyword is and how easily you'll be able to rank for it. You should validate the rest of the data yourself (PA, DA, number of backlinks, presence of keyword in content, on page SEO) but this is a good tool for quickly eliminating unsuitable Keywords
Additionally, the filter features make it easy to find easy keywords that are easy to rank for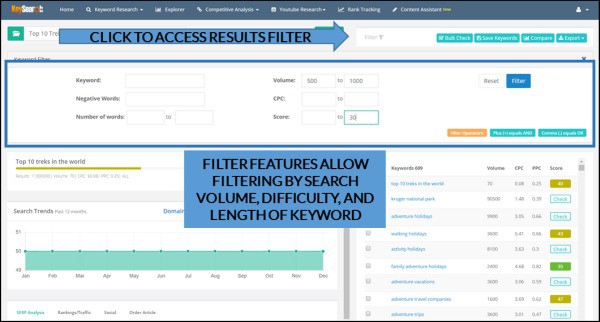 Despite the cheap price of Keysearch, I recommend using the free method of SEO keyword research for a little while (~one month at least). By manually search and assessing results for competitiveness, you'll get a better feel for the ins and outs of SEO, on page SEO, and what makes a good keyword. Along the way your instincts for choosing keywords and understanding of what SEO really is will improve dramatically, making your use of the paid tool much more effective.
Also, before purchasing the plan, use the one month free to see if its for you.
<<Click here to start a free trial of Keysearch before signing up>>
If you are ready, signup for Keysearch here and be sure to use discount code "KSDISC"
Now that you have the tools for the job, let's start some Keyword research….
---
How will we find the best SEO keywords for our content?
We will find the best SEO keyword for our content, the keyword that is easy to rank on page 1 of Google for, that has a high volume of searches, and whose intent clearly matches our content via a straightforward, 6 step process…
Step 1: Brainstorm Keywords: Create a large stack of potential keywords…to pick the best from later…
Step 2: Identify high traffic keywords: Eliminate the keywords with traffic that is too low for the effort of getting on Page 1
Step 3: Assess the competition for the Keyword: Eliminate the keywords whose Google searches are too competitive for us to rank on Page 1
Step 4: Asses "Keyword Intent": Check to ensure the "SEO keyword intent" of the searcher matches the information and value our content delivers
Step 5: Validate keyword via competitive analysis (page 1 Google results): Look at what the content in the top ranking results for the keyword is delivering and note the content we need to include in our content to do better.
Step 6: Identify secondary keywords and tangential keywords to include: Decide which additional keywords would be suitable to put in our content based on search volume, competitiveness, and intent
---
Step 1: Brainstorm a List of Ideas of Potential Keywords
The process of keyword research begins with creating a large stack of potential keywords. Of these keywords, we'll eliminate most because of competitiveness, low search volumes, or the searcher's intent doesn't match up with our content…but before we eliminate anything we want to create as many ideas as possible via keyword brainstorming.
The best methods for keyword brainstorming are:
---
Before using these brainstorming methods, sit down and list out all variations of how the idea behind your content could be presented as a keyword.
So, for "Travel to the Philippines", writing down all of the potential options could include:
Traveling the Philippines
Backpacking the Philippines
Things to do in the Philippines
10 Day Philippines Itineraries
2 Weeks in the Philippines
….
Now, let's take the ideas you come up with into the brainstorming methods
Brainstorming Method 1: The ABC Method: Using Google's Search Predict to suggest words
Once you have the idea of the topic you want to write about, such as "Phillipines itineraries you will simply go to Google.com and within the search window type out each option, letter by letter, slow enough to see the searches that Google suggests, taking note of any potential searches.
Keep in mind that you should have the free keywords everywhere plugin installed, and (if you do) you should see the corresponding monthly search volume for every single suggested search. You can streamline your keyword research by eliminating any potential search with monthly volume of 500 searches, or whose intent clearly doesn't match the value your content is delivering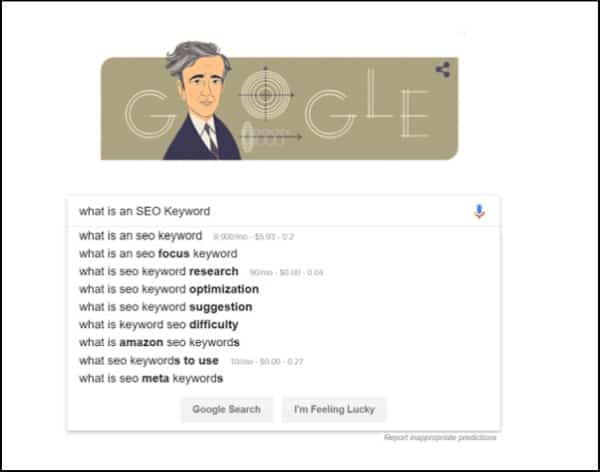 ---
Brainstorming Method 2: Suggested results in Google Keyword Planner
Within the Google Keywords planner tool, simply login and enter your ideas into the search bar. Note that you can enter multiple ideas into one search to save time, and hit "enter".
Anytime you search a single idea, hundreds of other potential keywords, with rough search volumes are suggested. Sift through these and find the ones that line up with your intended content and have sufficient search volume (within the 100-1,000 range). Add these potential keywords to your building stack of keywords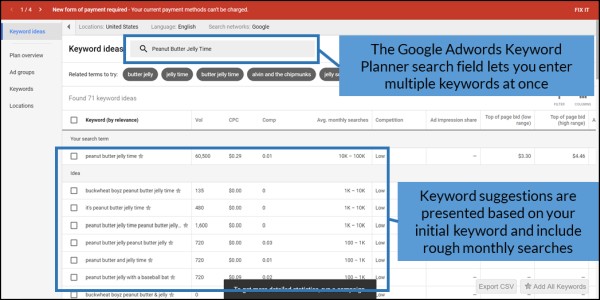 ---

Brainstorming Method 3: Suggested Results in Keywords Everywhere
Now that you have the Keywords Everywhere tool installed, whenever you search via Google.com, instead of ads in the right sidebar you should see a list of suggested searches and keywords. As you search your keyword ideas in Google, look at the results to the right and see if any could work and meet your monthly search volume threshold (roughly 500 searches minimum). Add these options to our keyword brainstorming stack.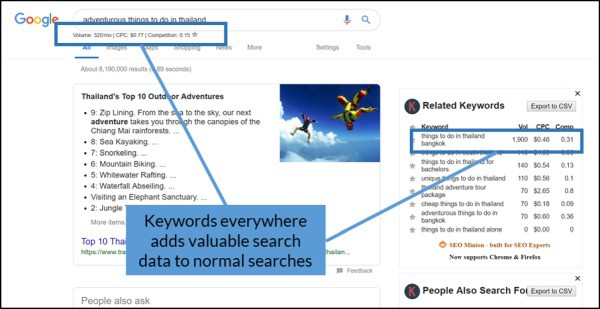 ---

Brainstorming Method 4: Suggested Results in Keysearch
If you've opted to signup for Keysearch, go straight to this option because it is no doubt the simplest and quickest.
Simply enter your writing topic or idea, such as "backpacking the Phillippines" into the search bar. In the sidebar on the right, all of the related and suggested keywords will show up. Scroll through, look for keywords that match the intent of your article and have sufficient monthly search volume (ideally a minimum of 500). While you're at it, pay attention to the difficulty score, and save yourself time by avoiding any words that are too competitive. As you find viable keywords, jot them down on your brainstorming list. You may even want to search your new keyword idea to see if any new/good suggestions come up.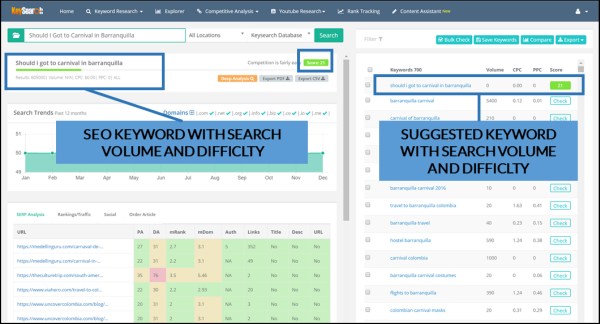 Also, Keysearch has a powerful function to pull up the suggested searches for Google, Yahoo, Bing, Youtube, Amazon, and Ebay, of a single word and presented in one screen. Perfect for the lazy brainstormer.
Just go to the menu Keyword Research >> Brainstorm – and you should arrive at the view below. Type in your initial ideas, and sift through the suggested results.
Once you've brainstormed to your heart's contentment, move on to step 2.
Brainstorming Method 5: Finding SEO Keywords through Competitor Analysis
More likely than not, you're aware of another webpage with content related to the general idea that you want to write about. If you're aware of a future competitor page, you can use their page to identify potential keywords for your content.
Go to your competitor's page, read through and take note of the phrases popping up repeatedly in their writing that describe what the content is about. Before reading the webpage read all of the elements of their page from our On Page SEO Checklist – just as yours should be, these elements on your competitors page should be peppered with viable SEO keywords. As a reminder, our on page SEO elements are:
In either case, add the keywords to your brainstorm stack
---

Brainstorming Method 6: Thought Trail Keyword Brainstorming
This will likely be the least productive approach to brainstorming productive keywords because it is stages removed from what Google searchers are actually searching for. The other options are all rooted in what's currently being searched for (Google search results).
Brainstorming should clearly start with a though trail, but it should lead right into something with data – Google Adwords, Keyword Explorer, or, better yet, Keysearch.
---

Brainstorming Method 7: Making SEO Keyword Brainstorming a Continuous Effort
My preferred Method: Make keyword brainstorming a continuous effort with a running list. Pick your favorite notes software that has a mobile and desktop version that sync, such as Evernote or Onenote, and whenever an idea of a keyword comes jot it down. Continually add to this list, then take this list into one of the other, more data driven brainstorming methods to build it out.
Now, let's get something straight – I just gave you quite a few options for brainstorming keywords. Pick the one (or two) that work for you. Don't waste all year brainstorming by doing every option every time.
So, with your choice of these methods and a little bit of time invested you should have a stack of potential keywords that we'll start to (productively) whittle down from the huge stack, to a few great keywords
---
Step 2: Identify high traffic keywords
Filtering out low search volume keywords with Keywords Everywhere
Using the Keywords Everywhere plugin, search each of your potential keywords in Google. For each result, the keywords everywhere data should pop up underneath, so take note of the search volume. I recommend aiming for keywords that have a minimum of 500 searches per month, but you may need to start with a lower minimum monthly search threshold to get started – depending on your site's authority.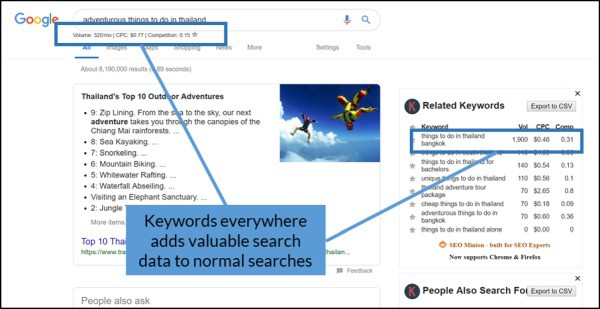 For reference, if you rank on page 1 with a 500 searches per month keyword, you can expect the following average click through and click through rates
| | | |
| --- | --- | --- |
| Page Rank | CTR | Monthly Search Volume of 500 |
| 1 | 32.5% | 162.5 |
| 2 | 17.6% | 88 |
| 3 | 11.4% | 57 |
| 4 | 8.1% | 40 |
| 5 | 6.1% | 30 |
| 6 | 4.4% | 22 |
| 7 | 3.5% | 17 |
| 8 | 3.1% | 15 |
| 9 | 2.6% | 13 |
| 10 | 2.4% | 12 |
| 11 (Page 2) | 1.5% | 7.5 |
(CTR Data source: Search Engine Watch)
But if you look closely, you'll see that position #1, on Page 2, only has a 1.5% click through rate (and only 6.8% of searchers, or 34 of the original 500, go past Page 2, result 1).
Now, let's make the case for why you should aim for page 1 of smaller searches (~500) instead of page 2 for larger searches (~5000).
Only 1.5% of people will click on to page 2 and on result 1, so for a keyword with a monthly search volume of 5,000 searches only 75 searches will click on the first result of page 2, and far fewer will click the remaining results on page 2.
I keep 500 searches per month as a rough minimum, but choose your own minimum based on the expected click through rates above
Here's some food for thought to consider…a model of how much click through you can expect from a particular SEO keyword, based on the Google Rank you can expect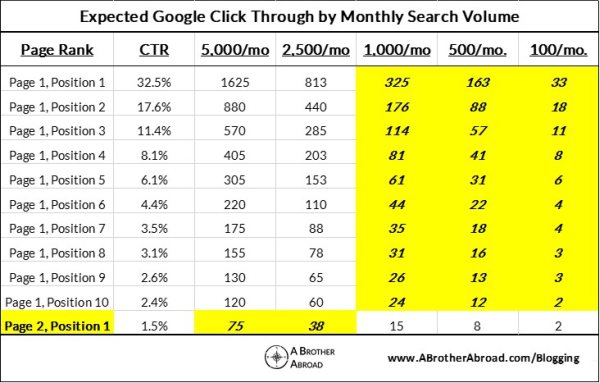 Note how tiny the payoff is for such a large search of 5,000…and that's if you're in position 1 on page 2. If there's a chance you'll fall lower than position 1 on page 2, your winnings will dwindle quickly.
The moral: Only aim for page 1 rankings. You can do so by targeting easy keywords…which is why you're reading this. Good job.
---
Filtering out low volume keywords with Keysearch
If you're signed up for Keysearch, you're going to love how easy filtering for search volume is.
First, take your list of potential keywords. Highlight them and copy them by hitting "CTRL" + "C"
Now click the "keyword research" dropdown in the top bar and click on "quick difficulty". In the search bar you will be able to enter up 50 different keywords at once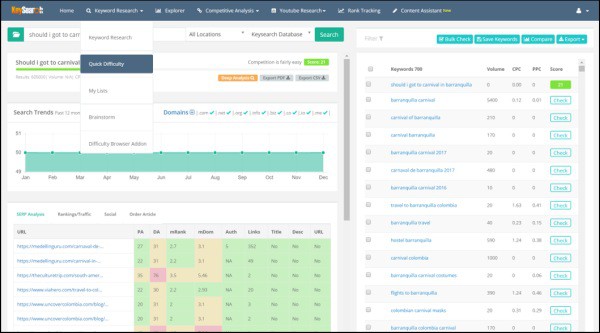 Paste your list of keywords in the search box, and hit enter

Now, you have the search volume for your entire list of keywords, as well as the difficulty levels. You can click the Volume column to sort in order to make finding the right keywords, with the right minimum search volume easier.
Also note, that if you're only checking one or two keywords in Keysearch, you can enter them in the main research window
---
Step 3: Assess the Competition for the Keyword
Once you've narrowed down your brainstormed list based on search volume, its time to eliminate the keywords that will be too competitive for your site to rank for on the first page of Google. Remember, we only want keywords for searches that we can rank on the first page of Google for.
For assessing competitiveness of SEO Keywords (for free) we'll use the Moz toolbar layered on top of plain old Google search first, and then examine how to assess the competition in Keysearch, as well as learn a few things from the Keysearch approach
Assessing Keyword Competitiveness in Google with Moz
You should have the free Moz toolbar installed. If not, install that now by going here
To assess competitiveness of a keyword, search each keyword in Google and wait for the Moz competitiveness data to pop under each result.
Ideally, your keyword will have at least 2-3 results whose position you can potentially take, so that is what we're assessing for.
To assess competitiveness, you'll need to understand Page Authority (PA) and Domain Authority (DA).
For the best explanation, go to the source and read Moz's explanation of PA and DA if you're unfamiliar
Moz's Review of Page Authority (PA)
Moz's Review of Domain Authority (DA)
The PA and DA are the most important elements in assessing whether you can take the place of a current Google result. For beginner bloggers and new blogs, under 25 is possible to overtake if you have better content and you have good on page SEO (which we'll discuss in the next chapter of our SEO series: An On Page SEO Checklist and Step by Step Guide.
If you're curious how your site compares to the competitiveness of others, you can quickly check your domain authority at CheckMoz.
So, for a keyword to be viable, ensure 2-3 of the search results have DA and PA lower than 30, ideally lower than 25.
Next, check the search results whose positions you may take, based on PA and DA, and check their titles, URLs, and Google Snippet (Metadata Description). Do they contain they contain the target keyword or an acceptable variation? If they don't you're in…great keyword. If they do, there's still a chance but your content will have to be much better and you'll likely have to have more backlinks before you usurp, so its better to move on to checking your next keyword.
Now, if you're lucky enough to be using Keysearch, you're in for a treat because will be easier than Sunday afternoon in Koh Tao
Assessing SEO Keyword Difficulty Using Keysearch
To use Keysearch to assess how difficult it will be to rank in page one of Google, start by searching your keyword of interest in the main search bar, or in the bulk search bar we were just in, and hit enter to start the search. Now, let's review the results.
In the dashboard, we see all of the data we need. Let's start assessing.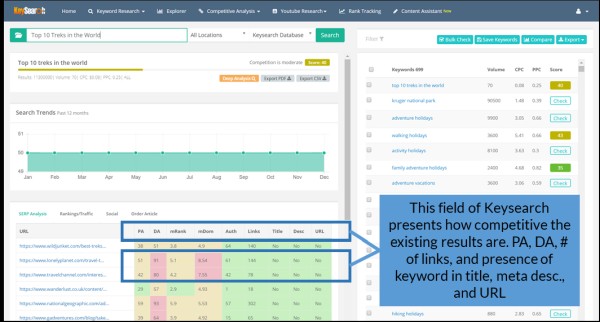 The Page Authority (PA) and Domain Authority (DA) for all of the page 1 results are clearly displayed in a single view. If we have 2-3 search results with both PA and DA under 25-30, we may have a viable option.
The number of backlinks should be low, ideally none.
The URL, title, and description should all not have our target keyword.
If the 2-3 options that we could potentially overtake all fit these criteria, we have a viable keyword – we'll just need to confirm keyword intent and do one last competitive analysis
As a review for assessing a keyword for competitiveness, we optimally want 2-3 of the search results to fit all of the following criteria:
PA and DA below 25-30
Keyword missing from URL
Keyword missing from title
Keyword missing from description
Few backlinks
Now, assuming you've found a keyword with 2 – 3 Google results that you can take, proceed to Step 4: Assessing SEO keyword intent
But which keywords are too competitive for me?
How competitive should the keywords be that you aim for? What is the competitiveness threshold for your site? This will depend on a few traits of your site, relative to the traits of your potential competition for an SEO Keyword:
The elements you'll need to consider when assessing keyword competitiveness are:
The age of your site
Your site's Domain Authority (DA)
Your site's Page Authority (PA)
The number of credible sites linking back to your site and whether those links are "Do Follow" or "No-Follow"
How well your competitor has performed On Page SEO with the Keyword on their site – assuming you fully perform On Page SEO on your own site
Examining all of these elements for your site and your competitors for the potential Keyword Search will give you an idea of how stiff the competition is for a keyword, and how likely you'll be to hit page one.
As personal guidelines, I only pursue a keyword under the following conditions:
There are at least 2, and optimally 3, search results on Page 1 that I know I can overtake with good content and good on page SEO
For the results on Page 1 that I can overtake, I must be able to do at least 30% better on my article that their current one.
The DA's for the search results I'll overtake must have DA and PA lower than 30, optimally lower than 25
Over time, you'll learn what criteria you should use for determining whether page 1 is attainable for you for a specific keyword
Using Keysearch to determine how competitive your site is against other sites
If you're just getting started, Keysearch has a great feature in which you can search your own site and Keysearch will return a number (and other data) recommending the highest keyword difficulty level you can count on getting onto page 1 for, with good content and good On Page SEO
To use this feature,
Signup for a free trial of Keysearch here
Navigate to the "Explorer" icon in the top menu
On the "Explorer" page, enter the homepage of your site in the search bar and hit enter
In the results (to the right) you'll get an assessment of the highest difficulty score (in Keysearch) for keywords that you should aim for on your site, given your site's DA, PA, link profile, and general authority.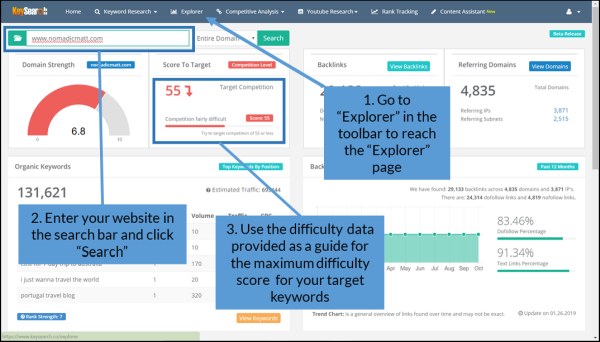 For those just starting in SEO, Keysearch's "Explorer" feature will save a lot of time with trial and error with a data based assessment of the keyword difficulty level that is appropriate for you. Excellent.
---
Step 4: Asses "Keyword Intent"
The goal of assessing keyword intent is to ensure that whatever information the searcher is most likely searching for can be found on your page. Google monitors how satisfied searchers are with the results presented, by monitoring their time on page. If a searcher shows up, realizes your page doesn't have what they were looking for, and leaves immediately, Google will penalize you by not sending searchers back for that keyword.
On the other hand, if a searcher arrives at your page, finds something engaging, and stays for a while, Google sees that as satisfaction and will reward it by sending more searchers for that particular keyword.
The moral of the story is matching the topic and value of your content to the intent of the user performing the search, and the information they hope to find, increases your traffic naturally.
In this step, we'll do a quick check to ensure the intent of the keyword is clear and matched to the purpose of your content.
Now, ask yourself, when a searcher enters a specific keyword in Google, what could they possibly, be hoping to find? Could they reasonably be searching for one of several options for information? Or are they most likely searching for very specific information? If there are several options for what the user could be intending to find for that keyword, skip the keyword. To make this more clear, let's look at our example from the "Understanding SEO Keywords" article.
Here are some examples of search variations that we'll use to dissect "keyword intent":
Motorcycle: 823,000 searches per month, 57 Difficulty Score
Italian motorcycle: 5,400 searches per month, 41 Difficulty Score
Ducati motorcycle: 5,400 searches per month, 45 Difficulty Score
How much does a Ducati motorcycle cost? 70 searches per month, 37 Difficulty Score
Should I buy a Ducati motorcycle? 10 searches per month, 33 Difficulty Score
In the first example, "motorcycle" is searched quite often at 823,000 searches per month, which might make it seem like a good opportunity, but do we really know the intent behind the search? Do we really know what the searcher is hoping to find?. The searcher could be trying to answer
What is a motorcycle anyways?
What does a motorcycle look like?
Are a motorscooter and a motorcycle the same thing?
With such a slim phrase, there's almost no way to know what the searcher intends to find
The second example, "Italian Motorcycle" is slightly more specific, but we're still unsure what exactly the searcher is hoping to find
What do Italian motorcycles look like?
What brands of motorcycles are Italian?
Do Italians make motorcycles?
Despite the search being more specific, we still can pin down exactly what the searcher intends to learn, so we can't know for certain that our content suits the user's query or the SEO keyword.
But then we proceed down a little further and find a bit of success…
The third and fourth examples make it much clearer what the searcher intends to learn.
In the third example
"How much does a Ducati Motorcycle cost?"
In this search keyword it is very clear that the searcher intends to learn the cost of a Ducati motorcycle. The keyword intent is clear and we can make a good judgment call as to whether our content will satisfy the searcher (and Google).
In the fourth example:
"Should I buy a Ducati motorcycle"
The answer is clearly yes…but the searcher needs validation. Lucky for us (and her), the intent behind the search, and what the searcher intends to learn, is clear enough that we should be able to tell whether or not our content answers the searchers query. The user intends to find information that will inform them as to whether or not buying a Ducati motorcycle is appropriate for them.
(A side not: Ladies and gentleman, if you are considering buying a Ducati, just go ahead. It may be a poor choice…but it will be a very enjoyable poor choice.)
How can you assess the "intent" that Google is targeting and what Google thinks the intent is? Search the keyword in Google, then click through each of the results that come up.
If the content delivered consistently lines up with yours, the keyword intent matches yours.
If the intent behind the content in the results doesn't match the intent behind your content, move to your next keyword option.
If the content in the Google search results isn't about one specific topic, and each result is about something different, targeting that keyword is a risk because you don't know what Google is looking for. Personally, I would play it safe, eliminate that keyword as an option, and move on to the next keyword.
By now you should have a short stack of potential keywords, or maybe even picked the one you want. Now, you'll do one last competitor analysis. You'll do this by looking at the other search results for the keyword to figure out how you can better optimize your content to suit the keyword and outdo the competition.
---
Step 5: Validate Via Competitive Analysis of the Page 1 Google results for Your Keyword
Simply search each potential SEO in keyword in google and click through each of the results, especially the results you plan to overtake. For each result. Ask yourself, can you do better? Can you better match the content to the intent of the keyword?
If you honestly can't, save your time and move on to the next keyword you've brainstormed.
If you can, then ask yourself the following and take note to bolster your own content:
What other sections or topics can you add that better address the searches intent?
How can you add headings or structure the information to make it more readable and easily digestible?
How can you add visuals (images and graphics) to make the information more digestible?
Take the notes you have and incorporate them into your content to make your content better.
You now have your primary SEO keyword for your content, and a standard of content to write and outdo. Congratulations.
---
Step 6: Identify secondary keywords and tangential keywords
Throughout this process you likely have found several keywords that were strong contenders. Make the best of these keywords your "secondary keywords", optimizing them the same way you would for the primary keyword, with the exception of not placing them in the title or the URL. Aim for at least three secondary keywords…but aim for 10 if you're feeling like a rockstar.
What next?
Now that you've chosen your perfect keyword, the keyword that matches your content intent, has sufficient search volume, and that you can easily rank for, its time to perform "On Page SEO". In On Page SEO we'll strategically place the keyword within your content to signal to Google what your content is about, the questions your content answers, and what Google searches to places your content in.
If you've found this post useful then please share in your blogging and digital business community
---
Also in this Series
How to use Keysearch to Quickly find SEO Keywords that are easy to rank for