A Near Perfect AI Writing Tool To Perfect and Increase Your Blog Posting and Copywriting Speed and Quality
Over and over again, we hear people say, "I wish I could write a great blog post." Or, "I'm writing a blog post but it feels so overwhelming," or "How do you know what to write about?" If you're like most bloggers and entrepreneurs, you're probably using a tool to help you write your posts. But what if you were able to use that tool to make your posts better than ever before? And what if you didn't have to spend hours writing?
This article contains affiliate links

With Closers Copy AI, you can easily generate blog posts, websites, emails, social media posts, landing pages, and more.
If you're not already using Closers Copy, it's time you got on board.
If you're looking for an easy-to-use and extremely efficient software to create content for your blog and website, then check out Closers Copy. It's the world's first AI-powered content writing and blog management platform built on the GPT-3 platform and combined with proprietary AI to avoid the limitations that other AI copywriting tools face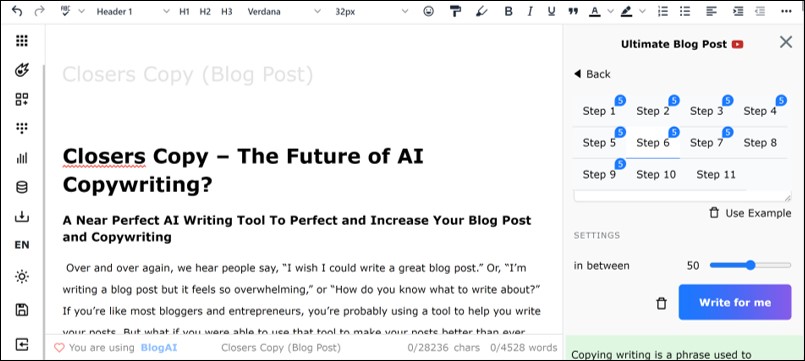 Pros and Cons of Closers Copy Upfront
Pros

Inexpensive – lifetime unlimited use for ~$175 (for a limited time)
Powerful long form and copy writing – comparable to the best in the industry
In tool content research
30 days money back guarantee

Cons

The learning curve takes ~3 hours
No external SEO tool integration
How does Closers Copy AI writing work for you?
Closers Copy is an artificial intelligence-driven writing tool that will help you write amazing copy faster and easier. The tool is designed to help you craft the perfect "copy" your blog posts and product pages that will close the deal (and solve your readers' problems), but created in a systematic, repeatable way. When you're done writing the copy, you'll be able to save the elements of the copy as smaller templates pieced together in a larger, repeatable "workflow" that you can use over and over again, using these proven templates. Each workflow can be adapted for the nuances of varied content – product reviews, recipes, landing pages, sales letters, and more – to be used again for perfect touches in specific content.
It's that easy.
Closers Copy is a fast and easy way to quickly write high-quality blog posts, web copy, and landing pages. This new artificial intelligence writing tool will take your copy writing to the next level by providing you with more natural sounding text for long-form writing than other alternatives (like Simplified) while being cheaper and lacking the sensitive content restrictions of Jasper/Jarvis and other AI platforms based solely on GPT-3.
If you're looking for an AI content writer, that is highly customizable and affordably priced, to speed up your blogging and copywriting process, read on to discover more about Closers Copy and learn everything you need to know to see if this powerful tool is right for you.
Bottom Line up front: A Great option, especially with limited time deal, that competes against the best AI writers in the industry and I recommend trying.  Read on to discover why

What Makes Closers Copy So Great? Customization.
There are tons of copywriting tools and content generation software out there today. But one of the most important differences between this tool and the rest is that this tool isn't trying to replace your writer. It's actually being developed to complement your writer, and accelerate their writing process, not compete. The difference between this and the other tools is that this is all about helping you create more meaningful, engaging, and memorable copy that actually works by helping your writer repeat what works, by continually customizing how the AI writes, saving the writing process to capture the nuances and repeat.
The power of Closers Copy lies in the "customization of the AI" that happens by sharing example content for the AI to analyze – as you can observe in the "Framework Customization" video series – and extract sentence structures, tone, purpose, writing patterns, and more to generate great content that suits your style and intentions.  Once the AI has enough info to generate a particular piece of content – think headlines, subheadings, intros, body content, conclusions, hooks, etc. –  with style and tone – upbeat, informative, agitating, etc. – that you desire you can save that particular framework accordingly (e.g., headline for healthy, product review, landing page, etc.) for reuse later.
Click here to see the Closers Copy Customizable Frameworks
All great copywriters and blog writers have tricks and patterns that they use in their writing to spice up regular content and make it engaging and perform.
Closers Copy's ability to learn how you write, the content you want, and repeat it is what makes Closers Copy more powerful than any AI writing tool I've tested.
Tips for Getting the Most from Closers Copy
1. Invest the time into learning the tool – specifically about the Fluent commands, Frameworks, and Work Flows
2. Peruse the "Help" section of the Closers Copy site for everything you need to know here –> https://www.closerscopy.com/help/welcome/hello **
3. Start getting to know the tool by watching these essential videos:
How to Expand Existing Text
How to use "Fluent Commands" as shortcuts to execute writing frameworks
My Experience as Blogger Writing Long Form Content with the Closers Copy AI Copywriter
As a professional blogger and writer, within the niches of travel, fitness, digital nomadism, marketing, and more, I've written 1,000,000 on average per year for posts that consistently rank #1 on Google, drive affiliate sales, and engage readers in an enjoyable way. I pride myself in being a wordsmith, and being uncompromising in what I publish, so the most significant obstacle to more success as a writer is not being able to duplicate myself. Until now…
With the advent of artificial intelligence within the writing community, I know it is only a matter of time until good writers and copywriters can use the power of artificial intelligence to help them write better and more quickly – so I am on a mission to test everything.
Jarvis is a great "writing assistant," but the content was too inconsistent to write content for an entire article. No other AI engine driven writing tool came close…until now.
Until now, I've extensively tested 7 AI copywriting tools, for the purpose of long-form content, and Jarvis (recently re-branded as Jasper) has been the only tool that would be valuable to a professional copywriter – though the AI is still limited in that it 1) tends to repeat content and 2) tends to makeup incorrect facts that force keeping a keen eye on the output. All in all, Jarvis is a great tool for quickly getting past writer's block, but still requires the writer to generate most of the content. For a good writer, that rarely experiences writer's block, Jasper can be more of a hindrance, blunting the quality of writing, than a help.
I'd nearly given up on AI writers – but if Google can use AI to drive an algorithm that reads like a human, surely some innovative startup could achieve the task of making AI write like a human.
Then, I stumbled on Closers Copy.
My Experience: Closers Copy is a fantastic AI writer that does more than assist
Closers Copy took a bit of a learning curve – 4 hours of watching videos and playing with a few posts before I was hooked. Granted, I'm still in the stages of infancy in understanding and leveraging such an amazing product, but the speed at which I've been able to write 3,000 words of high quality, engaging content has been impressive.
The ability to generate 5 separate options for every element of my blogs (header, subheader, intro to subheader body, body, CTA, etc.) has made quick work of producing high quality options, picking the one I prefer, and moving on.
Additionally, the ability to customize the AI, by building frameworks for the mentioned elements off of my own writing examples and samples is groundbreaking. With a click of a few buttons, I can generate content and writing that is similar to what I would write, just using the context of the header, subheader, or body (copied and pasted into the appropriate box for creating frameworks), hitting "write for me," and letting it rip.
The "creativeness" setting, that allows me to adjust the AI's "improvisation" from strict to creative nearly eliminate the problem of false facts I ran into with Jarvis.
Even more this AI copywriting tool cost a fraction of what I pay for Jarvis Boss Mode.
The Bottom Line: The Closers Copy tool manages to deliver such a high quality of output while delivering creative and unique in the writing in a way that actually makes my writing process faster. Exactly what I wanted from an AI copywriting tool.
How Does Closers Copy Handle Sales Letters and Sales Pages?
Thanks to a combination of copywriting and sales frameworks programmed into Closers Copy, including AIDA variations, BAB (Ad based on "Before After Bridge" Framework), PAS (Problem, Agitate, Solve) and write based on the context provided and the style of the examples, and the huge library of workflows that automate the process of writing "introduction, hook, body, conclusion" and countless workflow variations to match the process to your aim, this tool is not only equipped to write articles, but to develop excellent long form sales content – such as sales letters and sales pages.
Whether you would like to enter your old copy, and customize and program the AI based on your style, or insert amazing copy you've observed elsewhere and train the AI with that, either way you'll be creating excellent sales copy – as good as you or favorite copywriter, do in a fraction of the time – by recreating the best of your creative and writing process.
Closers Copy User Interface & Experience Overview
The Closers Copy interface resembles Google docs in collaboration (sharing document access and permissions) and document formatting
The tool is capable of writing emails, sales letters, ad copy, and long form content (blog posts) via many embedded templates for elements of good copy and writing and wizards that guide you through the use of many different "workflows" tailored to writing blog posts, sales letters, short form copy and more
Replicable Processes: Create content once using a customer framework, then use that framework repeatedly, forever. You can use the same sample data (that guides the structure and tone of writing) and frameworks over and over, tweaking them along the way, allows the AI to learn what you need, learn the style you prefer, and change as your writing preferences change
Closers Copy Review: Features and Benefits of Closers Copy**
Large Writing Framework Template Library (46 framework templates and growing) (comparable to Jarvis/Jasper recipes) covering the following areas:

AIDA (Standard)
AIDA (Creative)
BAB (Writes Ad based on "Before After Bridge" Framework)
PAS (Problem, Agitate, Solve)
Google Ads
Blog Outline
Blog Title
Blog Introduction
Blog Conclusion
Bullet Points to Paragraphs
Paragraphs to Bullet Points
Title (Blog Post)
Lead In (Blog Post)
Big Idea Answer (Blog Post)
Read On (Blog Post)
Subheadings (Blog Post)
Challenges (Business)
Interview Questions (Business)
Introduction (Course)
Outline (Course)
Subject Line (Email)
Opening (Email)
Call to Action (Email)
Headline (Landing Page)
Myths About… (Misc.)
Episode Description (Podcast)
Headlines (Press Release)
Description (Product)
Benefits (Product)
Bullet Points to Paragraph (Product)
Amazon Review
Book Review
Movie Review
Product Review
Restaurant Review
Service Review
SEO Title
SEO Meta Description
Instagram Bio
LinkedIn Bio
And Many more

Ability to customize or create your own Frameworks
"Fluent Commands" that apply writing frameworks (above) by entering a few words
"Workflows" that combine a series of frameworks into a solid "wizard" or recipe-like approach to combining frameworks/writing elements to create good, engaging, longform content
Proprietary AI used in addition to GPT3 for more flexibility: Allows you to write about sensitive topics that other AI writing tools (such as Jasper/Jarvis) do not allow, to include religious, political, talking about a protected class such as race or nationality, sex, or other sensitive topics
Team Function included, for collaboration (just assign a project to a team member and share permission) on whole projects or individual documents so that all can view and edit
120 Languages

Afrikaans, Albanian, Amharic, Arabic, Armenian, Azerbaijani, Basque, Belarusian, Bengali, Bosnian, Bulgarian, Catalan, Cebuano, Chinese, Chinese (Simplified), Chinese (Traditional), Corsican, Croatian, Czech, Danish, Dutch, Dutch (formal), Dutch (informal), English, Esperanto, Estonian, Finnish, French, French (formal), French (informal), Frisian, Galician, Georgian, German, German (formal), German (informal), Greek, Gujarati, Haitian Creole, Hausa, Hawaiian, Hebrew, Hindi, Hmong, Hungarian, Icelandic, Igbo, Indonesian, Irish, Italian, Italian (formal), Italian (informal), Japanese, Javanese, Kannada, Kazakh, Khmer, Kinyarwanda, Korean, Kurdish, Kyrgyz, Lao, Latvian, Lithuanian, Luxembourgish, Macedonian, Malagasy, Malay, Malayalam, Maltese, Maori, Marathi, Mongolian, Myanmar (Burmese), Nepali, Norwegian, Nyanja (Chichewa), Odia (Oriya), Pashto, Persian, Polish, Polish (formal), Polish (informal), Portuguese, Portuguese (BR), Portuguese (BR) (formal), Portuguese (BR) (informal), Portuguese (Portugal, Brazil), Portuguese (formal), Portuguese (informal), Punjabi, Romanian, Russian, Samoan, Scots Gaelic, Serbian, Sesotho, Shona, Sindhi, Sinhala (Sinhalese), Slovak, Slovenian, Somali, Spanish, Spanish (formal), Spanish (informal), Sundanese, Swahili, Swedish, Tagalog (Filipino), Tajik, Tamil, Tatar, Telugu, Thai, Turkish, Turkmen, Ukrainian, Urdu, Uyghur, Uzbek, Vietnamese, Welsh, Xhosa, Yiddish, Yoruba, Zulu

In app Thesauraus to improve the engagement of your writing (and avoid boring text) instantly by swapping out dull or repeated words with more engaging words
Plenty of Keyboard Shortcuts
Ability to export copy and documents as formatted Word documents, PDFs, or a low complexity landing page
Content Research using the "Compete" Function
Spam analysis and spam checking in the writing canvas
Embedded on page SEO optimization
Analyze the "Emotion" of Your Copy within the Editor (Copy Emotion Analysis)
Closers Copy Pricing – How Much Does it Cost?
Past Closers Copy discount codes to test
BOSSMODE
NUT30
UNLIMTED15
Akshay20
SUMMER20
CLOSERS10
AURA20
Should You Get Closers Copy?
If you want to become an AI enhanced writing powerhouse, I highly recommend signing up for Closers Copy. Plan to spend some time learning, adapting to, and refining your approach to the tool, but once you're done, plan on being able to do that 3,000-word article that took a few days once up upon a time in just a few hours.
Other Good Info About Closers Copy
Closers Copy LTD
For a limited time, Closer Copy is offering a Lifetime deal – but this offer won't last forever so act now. The offer comes in two levels and price packages. "Professional Lifetime" and "Unlimited Lifetime".
Professional Lifetime includes 200 runs per month and a limit of 120,000 words and will cost you a one time fee of $237 (the price of 2 months of Jarvis Boss Mode).
Unlimited Lifetime will allow you unlimited runs and no monthly word limit with the adding of 3 extra seats on your team to share documents for collaboration on, and all of this (in the unlimited package) will run you a one time fee of $367.
If you can spare the cash, I highly recommend getting the unlimited package.
**Click here to get the Closers Copy Lifetime Deal –> https://www.closerscopy.com/lifetime
Closers Copy Trial: A 30 day money back satisfaction guarantee
If you're after a test, Closers Copy doesn't offer a free trial, but they do offer a 30 day money-back guarantee (I cancelled my first subscription to test that it is valid…and it is).
So, for a Closers Copy Trial, simply signup for your monthly plan of choice, and cancel within 30 days if you're unsatisfied.
You can find Closers Copy's plans here –> https://www.closerscopy.com/plans
How Does Closers Copy Compares to the Other Major AI Writing Tools?
Of all of the AI tools and AI writing software I've tested, Closers Copy has the most potential for demanding writers that want copywriting software that writes as well as they do. Granted, you must be willing to invest a few hours into learning how to use example content to "train" the AI, and then invest another hour into understanding the "workflow" of pieces together frameworks to make great content. But, once you do, no other copywriting software on the market has the potential for writing high quality content – to the level that a human can – than Closers Copy.
Closer Copy vs. Jarvis (Closer Copy vs. Jasper)
Jarvis is easier to learn, but Closers Copy produces higher quality long form content. Both are fantastic writing tool options, but the "better" one will depend on your writing abilities and your "AI writing work flow" preferences.
Jarvis has a great, and well deserved reputation, but the hype comes more from community building than the tool's performance
Jarvis has benefited from heavy marketing and focus on community building and word of mouth advertising. This community of adamant proponents creates a strong positive perception AND a supportive community that are constantly solving each other's prblems and sharing best practices, which reduces the learning curve.
With research (through Closers Copy's training material) and self-guided training, I've found Closer Copy is just as powerful and has just as many hidden tools but it is in earlier stages of development with a smaller community, which requires more self-education (at the moment).
Take out the huge community backing Jasper/Jarvis and Closers Copy is just as good, if not better.
Closers Copy Pros
Closers Copy works in 120 languages vs. Jasper/Jarvis working in ~25 languages
Closers Copy allows you to maintain content formatting (headers, bold, etc.) that is crucial to on page SEO and good copy – whereas Jasper/Jarvis only allow plain text copy, and require reformatting after
Closers copy allows you to write on sensitive topics (religious, political, talking about a protected class such as race or nationality, sex, or other sensitive topics) that GPT-3 doesn't allow, thanks to Closers Copy's approach of using a proprietary AI with GPT-3
You can "feed" the AI samples of content you would like similar content to – in structure – using sample data, and you can save the sample data to be reused as a "framework"
Pros of Jarvis/Jasper
Jarvis/Jasper has SurferSEO integration
Plain language commands (in Boss Mode only)
Prior to converting to Closers Copy I was a consummate user of Jarvis and Jasper as a writing assistant for 3000+ word posts that rank consistently on Google, and is relatively easy thanks to the commands feature in Boss Mode. However Jarvis's cons – generating too much fake content (made up facts) made it cumbersome to use and limits how extensively you can use it without keeping a close eye on the output. The result is about 70% of the content is written by you, and Jarvis is great for writer's block.
On the other hand, Closer's Copy's approach of generating 5 visible options for text and giving you the option to add 1 or generate 5 new ones adds an oddly great level of control that makes for fewer rewrites later. Additionally, the ability to adjust Closers Copy's "creativeness" via a slider, from 0 (strict) to 100 (creative) allows you to generate straightforward content much more quickly
I noticed in other reviews that Closers Copy had a con of "taking longer" to run, but it makes perfect sense and is a worthwhile sacrifice – as it is generating 5x as much copy in the moment.
Ultimately, while I do love the commands feature in Jasper/Jarvis, because it allows free text and has a much shorter learning curve, as a professional blogger that has written over 1,000,000 words and published 4 books in a single year and ranks consistently on page 1 of Google, I prefer the latent power of Closers Copy. The ability to customize and "program" the AI in Closers Copy (using writing examples) and save the framework to quickly use and repeat later makes Closers Copy far more powerful and my tool of choice – as a professional long form writer and blogger – as it can replicate my style of writing in a way Jarvis/Jasper cannot.
However, I do recognize that Jasper/Jarvis is an equally powerful tool, appropriate to some writers due to the nuances of commands.
Jasper/Jarvis (only with the Boss Mode Plan) and Closers Copy are the two most powerful AI writers on the market and the only AI writing tool options I recommend for blog post writing and copywriting.
I do still recommend taking **Jasper/Jarvis** for a free test drive and taking advantage of Closers Copy's **30 day money back guarantee** to see which works best for you.
Learn more about my agency's experience with Jarvis in our Jarvis review –> https://themarketingbit.com/conversion-ai-review-jarvis-ai-review/
Closers Copy vs. Simplified AI
During my test of Simplified AI, Simplified proved to be more of an AI design tool and social media copywriter (short text) but was not nearly comparable in power, function, and performance as a copywriter and long form content writer. I wasn't able to generate long form copy that I was comfortable putting on any of my sites.
However, Simplified AI does offer a free trial (and a "Free Forever" plan) and is a great complement as an automated AI powered design tool and social media copy and content generation tool.
If you are looking for a short form AI content writer – aimed more at social media content generation than sales copy or long form – or you are looking for a free
**Click here to start a free membership on the "Free Forever" plan with Simplified.Co
What is GPT-3? The underlying tool kit behind Closers Copy, Jasper/Jarvis, and More.
According to Wikipedia, "Generative Pre-trained Transformer 3 (GPT-3) is an autoregressive language model that uses deep learning to produce human-like text…created by OpenAI, a San Francisco-based artificial intelligence research laboratory"
Source: Wikipedia
Generative pretraining text (GPT-3) is a new revolutionary model of language generation that learns how to generate text from scratch. It's based on a new architecture that makes it possible to generate very long and coherent sentences. GPT3 is a lot more than a text generator. It's a powerful tool for natural language understanding.
Conclusion: Everything you need to write great blog posts and advertising copy
If you are looking to make your writing process better and faster, then you have found the right place. I've spent countless hours creating content for blogs that draw 100,000+ and leveraged the most popular and innovative blogging, writing, and marketing tools in the process. In that time, I never found a writing tool that made my life so much easier. Once you've gotten over the learning curve and pinned down your personal AI assisted writing process, CloserCopy is a near perfect AI tool that will allow you to write your best copy in minutes with just a few simple clicks of your mouse.
The software is so intuitive that anyone can use it. Even with minimal experience, it will be easy to understand how to use the software. I used it myself and I've been able to write thousands of words for engaging blog posts with help and guidance from me in the AI's process. That's because I've already created the templates that guide the AI through the steps in delivering the content I want.
CloserCopy works for people who are just starting out as a writer and those who are more experienced but want to write their best copy.
Don't miss out on this jet fuel for copywriting. Join in on the AI-assisted writing train using the best tool on the market – before the price goes up!
Closers Copy FAQ
What is Closer copy?
Closers Copy is an Artificial Intelligence driven copywriting tool that uses copywriting frameworks (e.g., AIDA, BAB, PAS, etc.), topic information and context provided by the (human) writer, common writing components (introduction, hook, body, conclusion), and machine learning processes to produce original long form written content, sales copy, and more.
Is closers copy any good?
Closers Copy is arguably the best AI copywriting and long form content writing tool on the market right now. Closers Copy's ability to generate multiple outputs (~5) with a single click of a button, to adjust the strictness of fact representation vs. creativeness, and to program the AI for a specific writing style make it powerful as a writing assistant and content generation engine.
How do I use closer copy?
Start using Closers Copy by familiarizing yourself with the tool using the following tutorial videos
Ongoing Education
Is ClosersCopy free?
Closers Copy is not free, but does off a 30 day money back guarantee
Does Jarvis AI work?
Yes, Jarvis AI works extremely well as a writing assistant with different optimal uses than Closers Copy. Learn more in this full Jarvis review –> https://themarketingbit.com/conversion-ai-review-jarvis-ai-review/
What will Closers Copy do for me?
After a little familiarization with the tool, Closers Copy will, based on your shared example content and frameworks you use, generate new original written content that embodies the structure, style, and aim you dictate – based on the example content provided.
Do I need to know anything to get started?
Before you use Closers Copy, plan on spending 3 to 5 hours studying how to use the tool, familiarizing yourself with the nuances, and creating a strategy for using the AI based on your writing style and aims.
What makes Closers Copy different than other tools?
Closers Copy is cheaper than equally powerful AI writing assistants but is more customizable (by designing custom frameworks and saving them so they will be easily repeated).
Note: This article was written with the assistance of Closers Copy, and tuned with SurferSEO AI SEO optimization