Profitable blogging is the key to turning your passion into a real income, and its easier than you think…
---
Have you dreamed of creating a money-making blog around your passion, but have no idea where to start?
Are you an aspiring blogger that struggles to maintain consistent traffic, to grow traffic, and to make money from your efforts?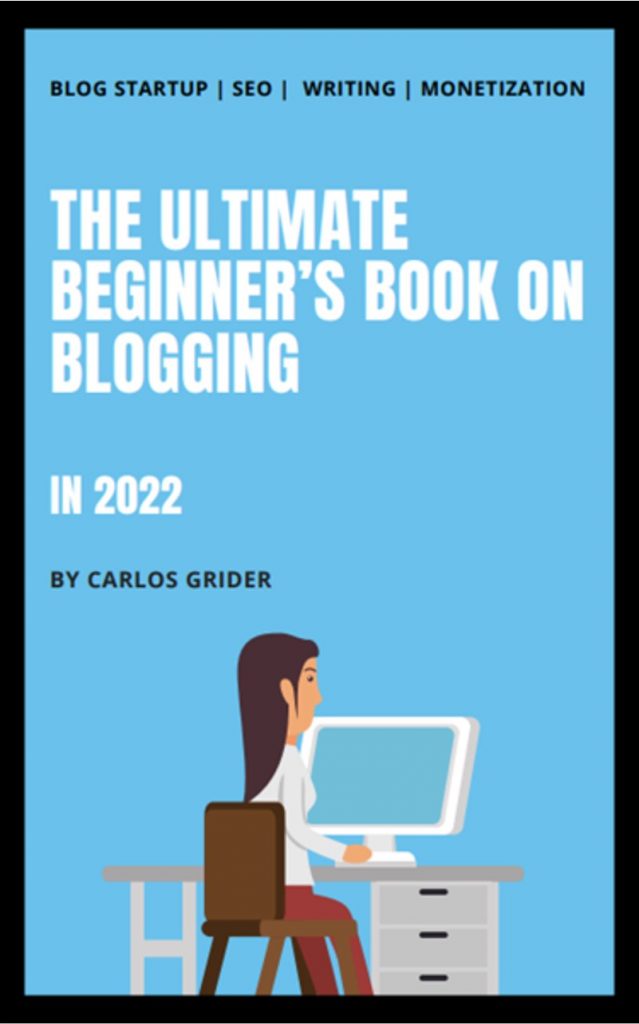 ---
To download the PDF copy of our Ultimate Book on Blogging for Beginners, along with the downloadable Kindle versions (.MOBI and .EPUB e-books), click below to visit Gumroad abd download
Visit Gumroad Now!!!
---
To buy the Kindle version of the ultimate book on blogging for beginners, click below to head to Amazon.com
As a passionate writer, traveler, and marketing consultant, I can relate to all three of these situations.
For years, I wanted nothing more than to wander around the world writing stories of travel and working on my own terms. Fast forwarding years ahead, I finally figured out the recipe for creating a website, filling it with engaging stories and content, attracting passionate and engaged readers, and earning money from that site – via my own products and sharing the products of others.
After 2 years traveling the world, writing, and researched, I finally learned a simple, straightforward process for building a blog that makes money around any passion. Today, I blog for a living – about travel, fitness, food, entrepreneurship and more.
---
If your dream is to blog about your passion and get paid for it, without a boss, or attract readers and potential customers to your products, this book,
---
If any of these apply to you, then this book, The Blogging Book: An Ultimate Guide to Blogging for Profit and Content Marketing is exactly what you need.

WHAT IS "THE BLOGGING BOOK"
The blogging book is a true manual for blogging, created from notes and lessons over 2 years of blogging, captured in a 275+ page book. The blogging book is organized by topic and blogging stage to be easily understandable by all levels of bloggers and digital marketers, and structured to help you solve your most pressing blogging problems as they come up.
What is covered in the Blogging Book?
The Blogging Book covers everything you will need to know in your first two years of blogging to build a site, content, audience, and income streams without any other training by covering the following topics
SEO Fundamentals
SEO Keyword Research
Onpage Optimization (SEO)
Technical SEO (Site speed, sitemaps, broken links, and more)
Digital Marketing: Pinterest, Reddit, Quora, Email Marketing
How to choose your niche and how to use it in blogging
How to create your brand, vision, niche, and strategy
Assessing whether blogging is for you based on potential profits, competition, and effort required (by niche)
The Blogging Book also covers the pitfalls to avoid that I tested but now forgo, and why using your time for other things (the above) is more worth your time
Don't waste your time on social media marketing (Instagram, Facebook, Tik Tok, etc.) unless you already have 10,000 followers
Don't waste your time on building links until you've reached 25,000 sessions per month – focus on writing good SEO'ed content instead
Don't pay anyone else to do your SEO
Some warnings to save you time and let you know we're not screwing around
The average "pro blogger" makes between $4,000 to $9,000 per month, depending on their niche
The average blogger blogs steadily for 2 years and writes 150 to 200 good articles (SEO'ed, marketed) before their blog can become a full time job
If those two facts work for you…then you may be up for the challenge of blogging, and I highly recommend getting The Blogging Book as soon as you're ready.

90 DAY MONEY BACK GUARANTEE
The Blogging Book has a 90 day money back guarantee, no questions asked.
So…if you start reading the book and realize the effort and diligence required isn't for you, simply contact us within 90 days about a refund and you'll get one…no questions asked.

FOREVER UPDATES
This book has been in the making for 2 years, and it will continue to evolve. Purchase now, and we'll update you with the newest version as soon as it comes out. Just quickly email us as info@themarketingbit.com to verify your purchase, and your updated book will be on its way.


SCROLL ON FOR A PREVIEW OF THE CONTENTS
Not convinced yet? Scroll on to read our full table of contents and discover exactly what you'll learn in this book
The Ultimate Beginner's Book on Blogging in 2022 is a complete manual for starting a money making, profit generating blog that will enable you to make a semi-passive income from anywhere in the world.
This book is the product of four years of experience as a professional blogger, writing on my own primary site for a 100,000 readers per month and receiving a semi-passive income twice that of the average American for 2 to 3 hours of work per day, and this is in addition to the handful of other blogs I've built as semi-passive income-generating engines and helped other bloggers build from scratch,
The content of this book comes from four years of trial and error and taking notes on the best practices within blogging to strategically write evergreen content that generates traffic from Google and is monetized in a diversified way with premium programmatic ads, affiliate marketing partnerships, and the development of your own products and services.
In this book you will learn how to start a blog on WordPress from scratch, how to build the site without a designer or developer, how to write content that Google loves, and how to perform basic and advance Search Engine Optimization on your articles and site to passively draw even more traffic from Google
We'll additionally cover how to draw readers to your site via Google, forums, Reddit marketing, and "borrowing Facebook groups, how to monetize that audience in an honest with different advertising platforms as your site grows, how to monetize from day 1 via affiliate marketing, and how to develop custom products for your audience as your audience grows.
This book is a no non-sense culmination of how I built my first site to a 100,000 reader per month audience and monetized to create a location independent semi-passive income for myself.
Just like every other book on Amazon, this book does not contain any secrets or magic bullets to succeed in blogging – because there are no magic bullets in blogging. To succeed there are simply best practices, of which you need to choose which work for you, the requirement to apply a diligent, consistent process, which I will share in this book, and the patience to continue – ideally driven by your passion.
If you have an area of expertise or passion that you believe you can write 100 pieces of good content on, I highly recommend this book and the business of blogging for you.

TABLE OF CONTENTS FOR THE ULTIMATE BEGINNER'S BOOK ON BLOGGING
Chapter 1: An Introduction: My Experience with Blogging Over Four Years
Chapter 2: How Blogs Work: The Business Model of Blogging
Chapter 3: The 20 Best Blogging Tips Upfront
Chapter 4: About This Blogging Manual
– What You Can Achieve Through Blogging and What You Should Expect from Each Area
Chapter 5: The Blogging Process
Chapter 6: Understanding Blogging
– Understanding & Assessing the Opportunity of Blogging From Day 1 and How It Fits You
– The Phases of Blogging
– The Milestones to Aim for In Blogging
Chapter 7: Blog Startup Steps
– Choosing Your Blogging Niche
– Define Your "Why", Brand, Mission, and How You'll Execute
– Build Your Blog on a WordPress Site
– SEO Fundamentals: The Essentials for Blog Startup
– Technical SEO For Beginners: Optimizing Your Site for Speed, Search Indexing, and User Experience
– SEO Keyword Research Process
– On-Page SEO and SEO Writing
– Writing Good Content
– Monetizing Content
– Blog Monetization: Planning How Your Blog Will Make Money
– Marketing Your Blog: How to Build an Audience and Get Readers On Your Site
Chapter 8: Other Essential Blogging Concepts and Lessons for Beginner Bloggers

MORE CONTENTS OF THE BLOGGING BOOK
WHO IS THIS BOOK FOR? (ASPIRING BLOGGERS, SMALL BUSINESSES, AND STARTUPS IN SEARCH OF CUSTOMERS)
HOW THIS BOOK IS WRITTEN (AS A STEP BY STEP MANUAL COVERING THE ESSENTIALS OF MONETIZED BLOGGING)
WHAT THIS BOOK WILL DO FOR YOU: GIVE YOU THE ESSENTIAL TOOLS, TACTICS, AND SKILLS TO BUILD AND RUN A MONETIZED CONTENT PLATFORM
ASSESSING THE OPPORTUNITY OF BLOGGING AND HOW IT FITS YOU ON DAY 1
WHAT WORK SHOULD YOU EXPECT WHILE BUILDING A SUCCESSFUL BLOG?
WHAT DOES IT TAKE TO SUCCEED IN BLOGGING?
A GLIMPSE OF OUTLIER SUCCESS IN BLOGGING
MY FAVORITE REASONS TO BUILD A BLOG AS A BUSINESS
BLOGGING FOR BUSINESS OWNERS: CONTENT MARKETING AS A SOURCE OF CUSTOMERS
UNDERSTANDING THE UPS AND DOWNS OF BLOGGING
MY EXPERIENCE WITH BLOGGING: HOW I LEARNED, AND WHY MY PERSPECTIVE IS WORTH HEARING
THE BLOGGING PROCESS OVERVIEW
INITIAL PHASE OF BLOGGING: WRITE AND PUBLISH THE FIRST 25 PIECES OF CONTENT
A NOTE ON MONETIZATION DURING THE INITIAL PHASES OF BLOGGING
STEADY STATE / MATURITY PHASE OF BLOG: REINFORCE RELATIONSHIP WITH READER AND IDENTIFY MORE NEEDS TO FILL
AN INTRODUCTION TO HOW BLOGS MAKE MONEY
HOW BLOGS MAKE MONEY (BROKEN DOWN BY NICHE)
HOW YOUR BLOG MONETIZATION SHOULD CHANGE AS YOUR BLOG GROWS
MONETIZING YOUR BLOG WITH AFFILIATE MARKETING
MONETIZING YOUR BLOG WITH PROGRAMATTIC ADS (E.G., EZOIC, MEDIAVINE. ETC.)
SELLING OWNED PRODUCTS (INFORMATION PRODUCTS)
SPONSORED POSTS
OTHER OPPORTUNITIES FOR MONETIZING YOUR BLOG
TRAFFIC ORIENTED MILESTONES AND THE ACTIONS YOU SHOULD TAKE TO ACHIEVE EACH AND CONTINUE GROWING
2,500 MONTHLY SESSIONS
5,000 MONTHLY SESSIONS
10,000 MONTHLY SESSIONS
25,000 MONTHLY SESSIONS
50,000 MONTHLY SESSIONS
100,000 MONTHLY SESSIONS
THE IMPERATIVES AND ESSENTIAL CONCEPTS OF SUCCESSFUL BLOGGING
"CHOOSING YOURSELF"
KEEP THE 80/20 PRINCIPLE IN MIND: DO WHAT CREATES RESULTS FOR YOU, AVOID WHAT DOESN'T
ADAPT AND PIVOT CONSTANTLY: IN CONTENT, AUDIENCE, MARKETING, AND MONETIZATION
ALWAYS PLANT SMALL SEEDS (AND PERFORM TASKS) THAT REQUIRE LITTLE TIME, AND LITTLE EFFORT, FIRST
WATER AND TEND PROJECTS THAT PROVE THEMSELVES
REMEMBER, YOU CAN ALWAYS RETURN TO IMPROVE LATER, BUT STARTING QUICKLY AND EFFICIENTLY IS ESSENTIAL
FOCUS ON LONG TERM OUTCOMES OVER SHORT TERM GAINS, AND UNDERSTAND WHICH ACTIONS LEAD TO SHORT/LONG TERM OUTCOMES.
YOU WILL NEED ONE, HEALTHY CHANNEL TO CONNECT WITH TRIBES. CULTIVATE THE HEALTH OF THAT "RELATIONSHIP"
ONCE YOUR PROCESS IS ESTABLISHED, TRUST THAT PROCESS
ASSESS ROUTINELY. REPEAT WHAT WORKS, ELIMINATE WHAT DOESN'T, EXPERIMENT BASED ON YOUR GUT
KNOWING YOUR WHY
"THE ONE THING" AND KNOWING YOUR "ONE THING"
THE LEAN STARTUP METHOD
THE LAST HOUR PRINCIPLE
CHOOSING YOUR BLOGGING NICHE
WHY DO YOU NEED A WELL-DEFINED NICHE IN BLOGGING?
AN OVERVIEW OF THE MAJOR BLOGGING NICHES, AVERAGE PROFITS, AND COMPETITION
A NOTE ON NICHE VALIDATION IF YOU HAVE ALREADY DECIDED ON YOUR NICHE
NICHE SELECTION GUT CHECK
DEFINING YOUR BLOG'S BRAND, MISSION, "WHY", AND HOW YOU'LL EXECUTE
DEFINING YOUR BRAND USING THE "THE GOLDEN CIRCLE": WHY, WHAT, HOW
STEP 1: DEFINE YOUR BLOG'S "WHY" AND YOUR BLOG'S PURPOSE
STEP 2: DEFINE YOUR HOW, YOUR ASSETS, YOUR STRENGTHS THAT EMPOWER YOUR BLOG'S MISSION, AND HOW YOU WILL DELIVER VALUE TO YOUR READERS
STEP 3: DEFINE WHAT VALUE YOU DELIVER (PRODUCTS, SERVICES, ETC.) THAT SERVE YOUR "WHY" BY ACCOMPLISHING YOUR "HOW"
NOW, USE THE "WHY, WHAT, HOW" APPROACH TO BEGIN DEFINING YOUR BLOG'S BRAND
A NOTE ON HOW YOUR "BRAND" AND PURPOSE WILL CHANGE AS YOUR BLOG GROWS
DEFINE YOUR MISSION WITH A VISION AND MISSION STATEMENT
DEFINING THE VISUAL ELEMENTS OF YOUR BRAND
BUILD YOUR SITE (FIND HOSTING AND BUILD YOUR SITE)
WHY SELF-HOSTING FOR BLOGGING?
WHY WORDPRESS FOR BLOGGING?
HOW TO START A SELF-HOSTED WORDPRESS SITE
CHOOSING HOSTING FOR YOUR WORDPRESS SITE
OVERVIEW OF HOSTING OPTIONS
HOW TO PURCHASE YOUR HOSTING
CHOOSING AND PURCHASING DOMAIN (WEB ADDRESS) FOR YOUR BLOG
ADVANCED BLOGGING TECHNIQUES: BUYING EXPIRED DOMAINS
CHOOSING THE RIGHT PLATFORM FOR YOUR BLOG (WORDPRESS, WIX, SHOPIFY, BLOGGER)
HOW TO INSTALL WORDPRESS WITH YOUR HOSTING PROVIDER
CHOOSING A WORDPRESS THEME FOR YOUR BLOG
HOW TO INSTALL A WORDPRESS THEME
STAGE 2 OF BUILDING YOUR BLOG: OPTIMIZING THE OTHER ELEMENTS OF YOUR BLOG
A BRIEF LESSON: SEO FUNDAMENTALS
INTRODUCTION TO SEO: WHY DOES SEO MATTER?
ESSENTIAL SEO TERMS AND CONCEPTS
HOW WRITING EXHAUSTIVE AND ENGAGING ARTICLES HELPS SEO
SEO KEYWORDS AND LOW COMPETITION KEYWORDS: WHAT THEY ARE AND WHY THEY MATTER
UNDERSTANDING WHAT MAKES A GOOD, LOW COMPETITION SEO KEYWORDS
UNDERSTANDING SEARCHER INTENT: WHAT IT IS, AND HOW TO RESEARCH IT FOR AN SEO KEYWORD
THE ESSENTIAL TOOLS FOR SEO: KEYSEARCH/SEMRUSH, GOOGLE ANALYTICS, AND GOOGLE SEARCH
A CLOSER LOOK AT THE TOOLS YOU NEED TO SUCCEED AT SEO IN BLOGGING
TECHNICAL SEO: OPTIMIZING YOUR SITE FOR SPEED, SEARCH INDEXING, AND USER EXPERIENCE
SITE SPEED
SITE SPEED ON MEDIAVINE: OPTIMIZE FOR MOBILE SPEED IN YOUR DASHBOARD
THE SEO KEYWORD RESEARCH PROCESS
THE CRITERIA FOR LOW COMPETITION SEO KEYWORDS: WHAT MAKES A GOOD, LOW COMPETITION SEO KEYWORD?
STEP 3: FILTER OUT KEYWORDS BY NUMBER OF RESULTS IN SERP (USING GOOGLE SEARCH OR SEMRUSH)
STEP 4: FILTER OUT BY KEYWORD DIFFICULTY RATING (VIA KEYSEARCH OR SEMRUSH)
STEP 5: CONFIRM THAT THE PAGE 1 RESULTS HAVE EITHER 2 RESULTS WITH LOWER DA THAN YOURS OR LACK ON PAGE KEYWORD OPTIMIZATION
STEP 6: FILTER OUT KEYWORDS BY MONTHLY SEARCH VOLUME (USING KEYSEARCH OR SEMRUSH)
STEP 7: COMPILE ALL OF THE RELEVANT WORDS IN A SPREADSHEET AND PRIORITIZE BASED ON A MONTHLY VOLUME/RESULTS EQUATION
ADVANCED KEYWORD RESEARCH TACTIC FOR ESTABLISHED BLOGS: CONTENT EXPANSION ON RANKING TOPICS AS AN AUTHORITY
ONPAGE SEO AND SEO WRITING
MONETIZING CONTENT
OVERVIEW OF THE MAJOR WAYS TO MONETIZE A BLOG, AND THE WAYS I RECOMMEND
GUIDELINES FOR MONETIZING YOUR BLOG EFFICIENTLY
DECIDING WHICH MONETIZATION PATHS TO BUILD YOUR BLOGGING STRATEGY ON
AFFILIATE MARKETING
HOW TO INCREASE AFFILIATE MARKETING INCOME
FTC DISCLOSURE REQUIREMENTS: AN ESSENTIAL COMPONENT OF AFFILIATE MARKETING
PREMIUM AND PROGRAMMATIC ADS FOR MONETIZING BLOGS
THE PREMIUM AD NETWORKS I RECOMMEND JOINING: EZOIC AND MEDIAVINE
SELLING YOUR OWN PRODUCTS (INFORMATION PRODUCTS, COURSES AND PHYSICAL PRODUCTS)
ACTION ITEMS FOR THIS SECTION
PINTEREST MARKETING CHECKLIST FOR BLOGGING
REDDIT MARKETING FOR BLOGS
QUORA MARKETING CHECKLIST FOR BLOGGING
IDENTIFYING YOUR SITE'S UNOFFICIAL AUTHORITY AREAS RECOGNIZED BY GOOGLE TO EXPAND CONTENT ON STRATEGIC AUTHORITY TOPICS
WHAT ARE "AUTHORITY TOPICS" AND WHY ARE THEY USEFUL TO US
HOW TO IDENTIFY WHAT AUTHORITY AREAS GOOGLE IS RECOGNIZING YOUR SITE FOR
REFRESHING AND MANAGING OLD CONTENT
WHY OLD CONTENT IS (POTENTIALLY) THE BEST CONTENT (AFTER A QUICK REFRESH)
QUICK CONTENT REFRESHES (FOR SEO)
CLICK THROUGH RATE OPTIMIZATION

Or, click the links above to ordered the paperback and Kindle versions on Amazon