Roadmaps, milestones, and blogging goals are the perfect way to stay on track, manage your expectations, and ensure you're shooting for the right objectives on any project. Understanding the miles specific to blogging will give you goals to shoot for and a short checklist of tasks to ensure are completed at each step.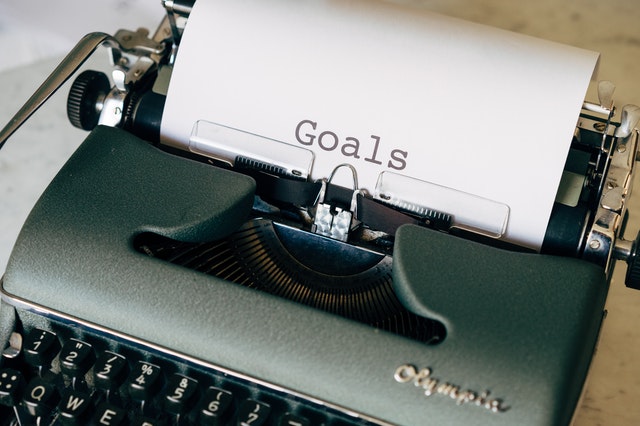 In this section, we'll review the milestones you should aim for in Blogging, the payoff that you'll likely net from each one, and the tasks you should ensure are completed with each milestone before focusing on the next.

IN THIS ARTICLE: BLOGGING GOALS
The major milestones and goals in blogging and what you should strive to achieve at each
---
THE TAKEAWAYS & FACTS UP FRONT OF BLOGGING GOALS YOU SHOULD SHOOT FOR
2,500 monthly sessions: Understanding blogging and affiliate marketing
5,000 monthly sessions: Understanding building sustainable traffic (SEO + one marketing channel), optimizing UX(speed, design, and flow)
10,000 monthly sessions: Eligibility for worthwhile programmatic Ads (Ezoic), introducing email marketing
25,000 monthly sessions: Eligibility for Premium Ad Networks (Mediavine); Defined niche, reputation, and authority (with audience and Google)
50,000 monthly sessions: A viable audience for delivering own products, Email marketing
100,000 monthly sessions: Mature, robust content catalog, audience to support income of any channel
Create a lead magnet
Create an email series for email marketing
Master two marketing channels (e.g., Pinterest, Reddit, Quora, Facebook, etc.)
1,000 email subscribers
---
CONTINUOUS BLOGGING GOALS
Write one post a week
Write every post around a well-researched, low competition SEO keyword
Incorporate 2 monetization strategies and an email opt-in into every blog post
Market every post in two marketing channels (e.g., Reddit, Quora, Email, etc.)
Solve a significant problem in your niche with every post

TRAFFIC ORIENTED MILESTONES
The blogging goals in this section all related to the amount of traffic your blog is seeing, measured in the number of monthly sessions. This metric only applies to organic traffic – search, social, and referrals – not paid traffic.

2,500 MONTHLY SESSIONS
At 2,500 monthly sessions your blog is likely still fairly new and you are also likely still establishing the blog – building pages for your site, refining designs, and refining your niche/sub-niche selection based on continuous feedback from your readers.
By the time you reach 2,500 monthly sessions, you should have the following
High Level Understanding of Blogging
Understand the basics of SEO (SEO keyword research, on page optimization)
Researched your first low competition 25 SEO keywords
Currently creating content based on a content strategy and content plan
Incorporating affiliate marketing links in all posts (embedded as in-text links and hyperlinked images)
Your site should have the following pages established at minimum
Payoff: If you have made even a single dollar on the path to reaching this traffic level, rejoice! If not, hang in there, your focus at this point is growth and refinement of your blog, not profit

5,000 MONTHLY SESSIONS
At 5,000 monthly sessions, you should have a clear view of the value your blog delivers and who it serves
Checklist for 5,000 sessions
Continue embedding relevant affiliate marketing links in your posts to monetize
Understanding of the basics for building sustainable traffic (SEO + one marketing channel)
Identified two "tribes" or platforms that welcome sharing your content (e.g., Reddit subs, Quora, Forums, heavily active Facebook Groups)
Reassess site to optimize for user experience (speed, design, reader flow)
Begin structuring content into "silos" based on sub-niches, connected by "content hubs" or pillar posts

Ensure your 2-4 most relevant and popular sub-niches are displayed in your menu for easy navigation

Design your "target content catalog" on paper, listing out all of the content you will need to create a one stop resource for your readers and your niche
Analyze your affiliate marketing efforts to see what has worked (brands, products, platforms, link presentation) and what hasn't. Optimize old posts and apply the lessons going forward
Payoff: A site that is well optimized for affiliate marketing should make ~$250 as a low estimate, and potentially much higher depending on the niche

At 10,000 monthly sessions, your blog should be out of the "Google sandbox" and receiving search traffic accordingly. Additionally, your site will have the minimum traffic to begin joining premium ad networks.
Checklist for 10,000 Sessions Per month:
Apply to and integrate the Ezoic ad system into your site
Analyze your SEO performance in Google Analytics and use the knowledge accordingly

Identify the "authority areas" Google is recognizing your site for, and continue writing for more keywords in that area

Look for "low-hanging fruit" opportunities to optimize your content – low CTR in SERP and average SERP position of 10-20

Leverage the SEO analysis to research your next 100 low competition SEO keywords and rewrite your content plan accordingly

Ensure you are capturing emails, complete with lead magnet and email opt-ins throughout site

Bonus: Create an email series to build rapport with customers

Begin brainstorming your first 3 products based on popular content with your readers.  Additionally, brainstorm how you can overlap your own product creation efforts with your content efforts
Analyze your site speed using Google Page Speed Insights and optimize plugins and images to achieve minimum 50 on the Mobile Page Speed and Desktop Page Speed, but optimally aim for 75 in both.

Consider signing up for the Ezoic Sitespeed Accelerator
Payoff: At 10,000 sessions per month, your payoff should be a minimum of ~$600 ($500 from affiliate marketing, $100 from programmatic ads)

25,000 MONTHLY SESSIONS
At 25,000 sessions per month, your site has significant traffic and is eligible for a higher paying ad network (Mediavine).
Apply to the Mediavine publisher network
Continue analyzing SEO performance to update old content, and continue writing in authority areas

Update old content once per quarter

Refresh content with low search CTR (less than 3%) or average search position of 10 to 20 in small clusters monthly or sitewide every 6 months

Continue reassessing SEO analytics to determine your authority areas within Google

Review your list of content for your "target content catalog" and incorporate this into your newest SEO keyword research and content plan
Ensure you have established email captures throughout your site (optimized email opt-ins and lead magnets) and an active, automated email series
Begin creating at least 1 information product
Continue testing and optimizing affiliate marketing techniques
Consider contacting brands that you are affiliated with to write Guest Posts (only if DA is 50+)
Signup for HARO to serve as a source for reporters and build genuine, valuable backlinks to your site
Payoff: At 25,000 monthly sessions your blog should be receiving ~$1,250 per month minimum, due to affiliate marketing and premium programmatic ads

50,000 MONTHLY SESSIONS
The 50,000 monthly sessions mark is a milestone for celebration, but the major reminder is to stay the course and begin redirecting effort to creating more opportunities for monetizing your blog and serving your readers.
Checklist for 50,000 monthly sessions:
Completely refined email marketing with optimized opt-ins, separate lead magnets for each sub-niche on your site, and individual lead magnets for your top 5 to top 10 posts.
Develop 3 of your own information products
Continue content creation and content refresh efforts in line with your target content catalog and using low competition keywords
Payoff: At 50,000 sessions per month, payoff should be minimum $2,500 per month, but more likely in the $3,000 to $5,000 range if you are selling your own products.

100,000 MONTHLY SESSIONS
At 100,000 monthly session your site becomes eligible for the highest paying ad network in the industry – as long as your audience is primarily US based. Additionally, as your audience growth will continue naturally and likely plateau near 500,000 monthly sessions, you should begin putting effort into higher dollar information products and course development
Apply to the AdThrive ad network
Continue regularly refreshing content for freshness and SEO
Continually developing your own products to sell via your site
Aim to create a course
Payoff: At 100,000 monthly sessions, payoff is heavily niche variant and dependent on how well you have developed your own products and courses for sale. $9,000 per month for an average professional blogger at this level is not uncommon.

First $1
Embedding affiliate links in first posts
Joining Ezoic
Joining Mediavine
Creating and selling your first product
Joining AdThrive
Developing a Course or Creating a Virtual Conference

ADDITIONAL BLOGGING GOALS YOU SHOULD AIM FOR
ONE TIME TASKS TO ACCOMPLISH ASAP
Create a lead magnet
Create an email series for email marketing
Master two marketing channels (e.g., Pinterest, Reddit, Quora, Facebook, etc.)
1,000 email subscribers
---
CONTINUOUS AND RECURRING BLOGGING GOALS
Write one post a week
Write every post around a well-researched, low competition SEO keyword
Incorporate 2 monetization strategies and an email opt-in into every blog post
Market every post in two marketing channels (e.g., Reddit, Quora, Email, etc.)
Solve a significant problem in your niche with every post