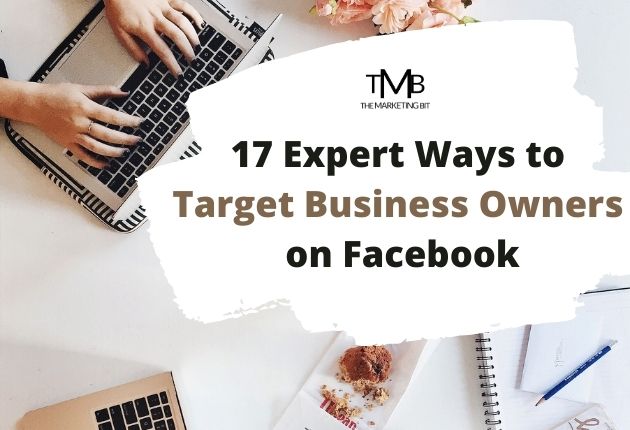 To target business owners on Facebook you need to create a detailed portrait of your target audience: what your ideal customer read, what are his/her interests, what kind of products, services they use, what kind of values they have? All of it you will implement in your ad strategy to get better results and understand how to target business owners on Facebook ads.
I suggest you 17 unique ways on how to target business owners on Facebook, including their interests, behavior, jobs, and services they use. You should have a strong product, a good funnel, and effective ads to beat your competitors, as business owners are one of the most valuable and right audiences for ads.
In this article I'd talk about essential tips in online marketing for b2b audiences:
---
How much Facebook ads for business and B2B company costs?
The real numbers and budget will depend on many factors and on the tests you'll run. Don't neglect it and try to test as many ads as you can to find the most effective and always check costs.
A study by Wordstream shows that the average cost-per-click in the B2B segment is $2.52, which is quite high. Your CPC can be lower or higher, but you can use this data to calculate the average budget.
Average CTR – click-through-rate – how many people will actually click on your ads, for B2B is about 0.78%. I'd say you can do better. In general, CTR is how appealing, how eye-catching and relevant is your ad. Don't do misleading ads, but try to research your audience so well, that you will find precise words and very relevant images or videos for them.
The average conversion rate is 10.63% for B2B. The average cost-per-action (cost per signing up, leaving contact, etc., depending on what action you need people to take) in the B2B segment is $23.77.
Based on it we can play with numbers and budget. Yes, it will be very average, very approximate, but it is the only option if you're just starting.
If you already have some numbers from the last Facebook advertising company, take them and calculate your budget based on real numbers!
EXAMPLE 1 
We need 100 leads from business owners.
We know that 1 lead can cost us $23.77, which means 100 leads can cost us $2377. 
100 leads will convert from ± 941 visitors of your landing page or lead generation form. 
(100 is 10.63% from 941)
941 visitors will come from 120,641 people who saw your ad, as average CTR is 0.78%.

EXAMPLE 2
We can calculate based on given budget too. Ex., we have $3000 for an advertising company.
We know average cost per click = $2.52. We can have about 1190 click then, and 126 leads.
If you service or product costs about $200, you'll get $25,200. 

Sales depend on so many factors, I'm just showing tha calculation process. 
Note: Each industry has its own average numbers. Ex., one click in healthcare is about $1.32.
---
How to target business owners on Facebook
I know at least 17 effective ways how to target business owners on Facebook Ads. All these settings happen at the ad set level.
1 – Use interests related to business owners
This is a very broad approach, that will include everyone who is interested in making money, not only real business owners. Still, it worth trying, as we know that the Facebook algorithm defines different interests based on how Facebook users interact with social media and we can't know exactly if this person has a business or not.
Facebook advertising categories – interests, behaviors, and demographic data – are unique and powerful tool to reach business owners.
Moreover, some services are especially good for those who are about to become a business owner. It can also happen that people in the same field of interest will share your ad with someone who has a company, or it simply could be an employee who will advise colleagues to use your product.
What interests you can use running Facebook ads:
Independent Business Owner
Small Business Owners
Real estate entrepreneur
Sole proprietorship
Entrepreneurship, etc.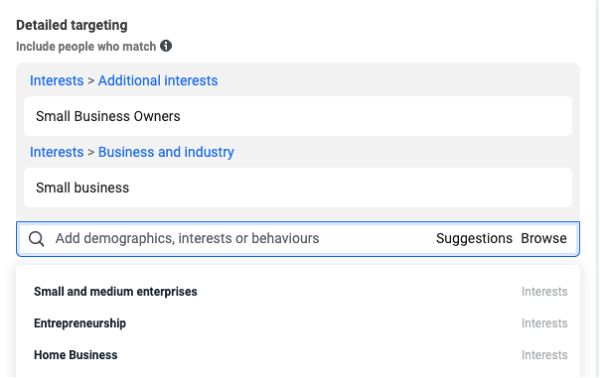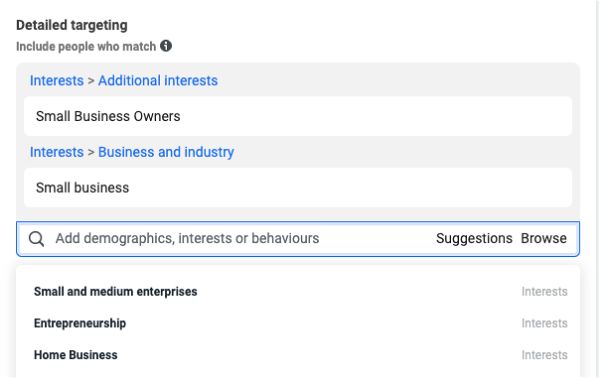 Remember that when you add interests on Facebook without narrowing, it means that algorithm choose the right people who are included in any of them, not all. 
---
2 – Use job titles
Job titles on Facebook ads are the titles people put themselves. It can happen that they are not accurate, but still, it is a great chance to target business owners directly based on the information they provided.
What specific job titles you can use:
Owner and CEO
Business owner
You can also target Personal assistants and they will recommend you to their bosses.
There are 2 ways to find job titles on Facebook ads:
Type the name of a target job title in the search box and choose it from the list:


2. Use "Browse" option to manually find all possible versions in the category "Job titles":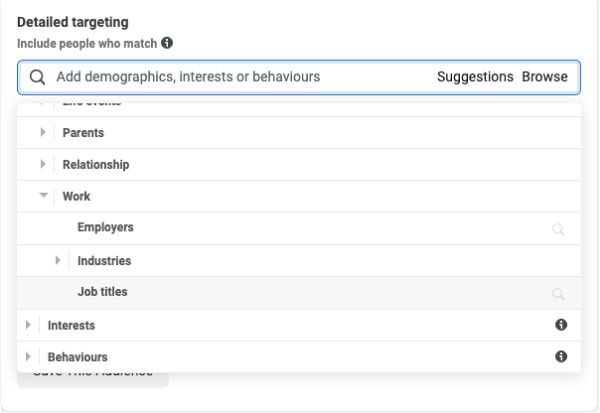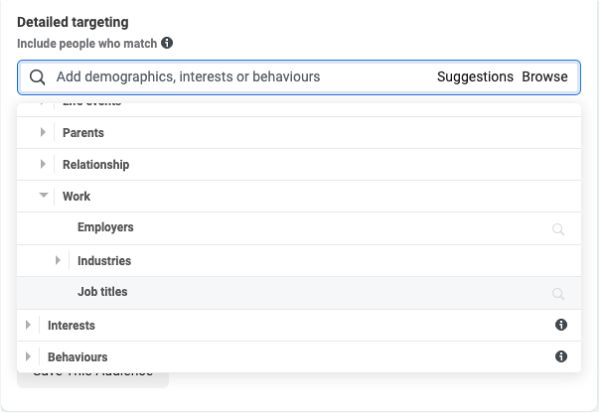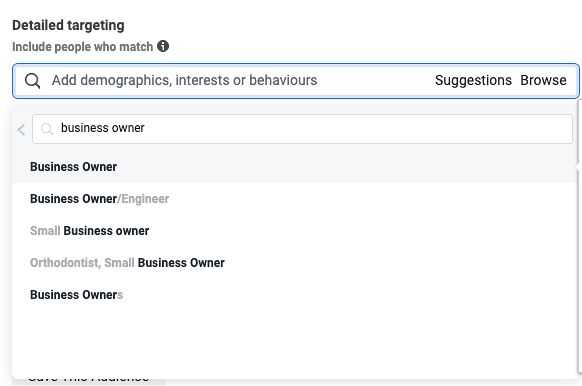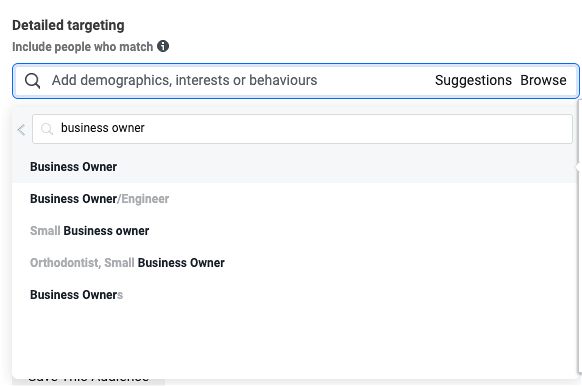 *I need to say that this option doesn't always work correctly, sometimes it just refuses to show me anything.
---
3 – B2B interests
This interest may show that a person not only has a company, but is actually involved in its development.
What interests you can use:
Business to business
Business networking


---
4 – Target Facebook Business page administrators
Every Facebook page has one or multiple admins. In general, an admin is a person who created this page and manages it, which can mean this person owns this business, or at least make some vital decisions.
Try to target business page admins. You can find Page admins in the category "behaviors" and even target a specific niche of the Facebook pages, ex. if you're offering a workshop for Hospitality TOP-managers, you can choose "Travel and tourism Page admins".
Type page admins in detailed targeting section:
---
5 – Target Facebook payments users
Same as the previous idea, people who advertise their products and services on Facebook using ads and paying for them are very likely to be owners of the businesses. The Facebook Payment system saves all data about businesses and their budgets.
To find them you use behaviours category in Detailed targeting options:
---
6 – How to Target Business Owners on Facebook Using Custom Audiences
Custom audiences include data from Pixel, Lead gen forms, video viewers, people who interacted with your Instagram account, uploaded data, etc.
Facebook pixel option will work only for those who already have a website with Facebook Pixel on it and have promoted the website. This way Pixel already has some data about your website visitors, clients, including business owners.
You can use retargeting to remind people who visited your website about you, or to test new offers.
The audience who interacted with your ads, your page, or your account, messaged you – another option to target business owners if they contact you directly or follow you. If your account is more personal, this will not work in terms of reaching out to entrepreneurs.
If you have access to any database with phone numbers or email list of business owners, your clients, for example, you can upload this file too. It has to be at least 300 contacts, better 1000.
To create a "custom audience" in Facebook Ads Manager, click on "Create New" bottom and follow instructions: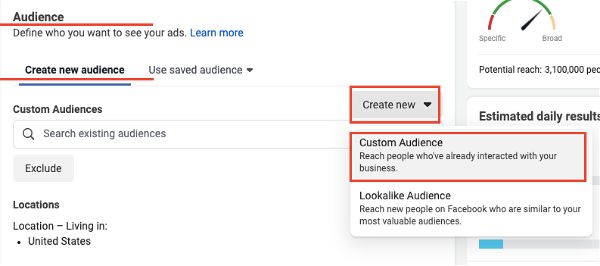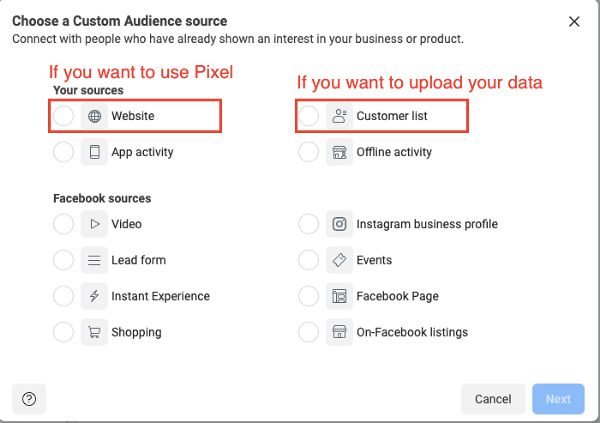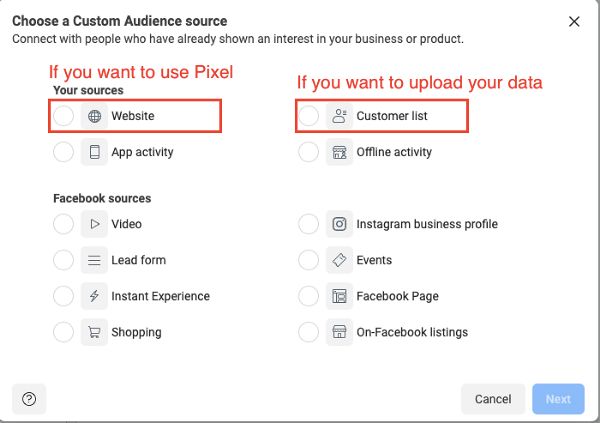 ---
7 – How to Target Business Owners on Facebook Using Look-alike audience
Lookalike audience is also an effective tool if you already had clients. It is an audience that acts the same way as the source audience.
Source audience can be: your pixel data, people who interacted with you, your own data from a file, etc. This is an easy way to find same people, who are very likely to use your product.
Try a few lookalike audiences: sometimes 1% doesn't show any results, but 4% will.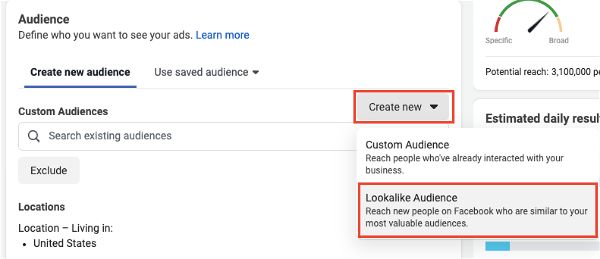 Create custom lookalike audiences to optimise ad spend and target audience segments that are much more likely to buy your product as your current clients did!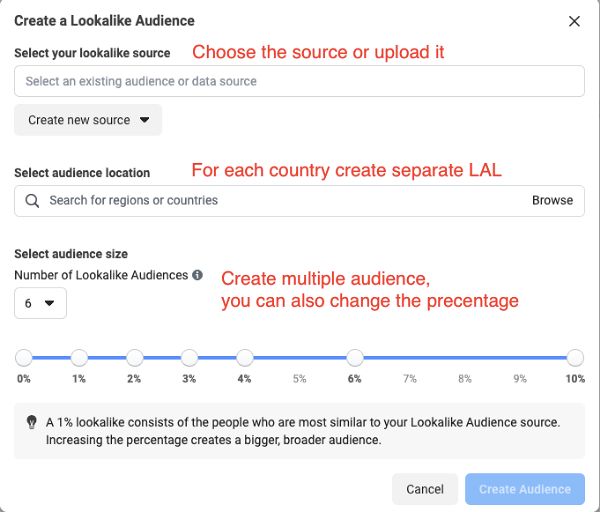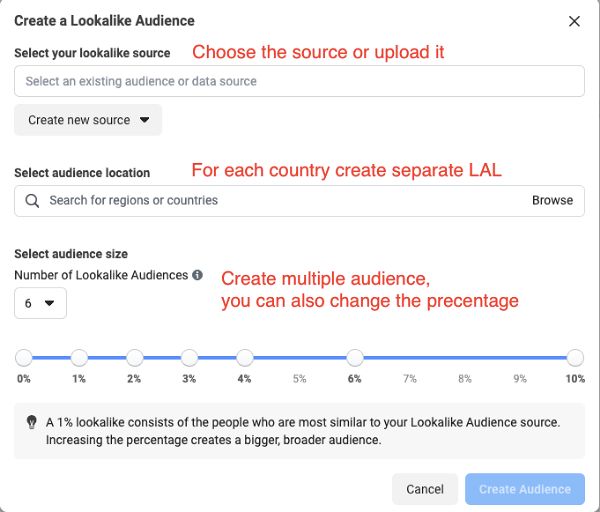 2021 Update: for some accounts, it is now not available to choose a location while creating a lookalike audience, don't worry. You can always add selected locations later on for each ad set.
---
8 – Media and brands for business owners
When we try to target business owners we need to start thinking like them: what media or product can only business owners of highly involved in business person use? Most entrepreneurs read online business publications and do so on regular basis.
We can find on facebook several big magazines for entrepreneurs: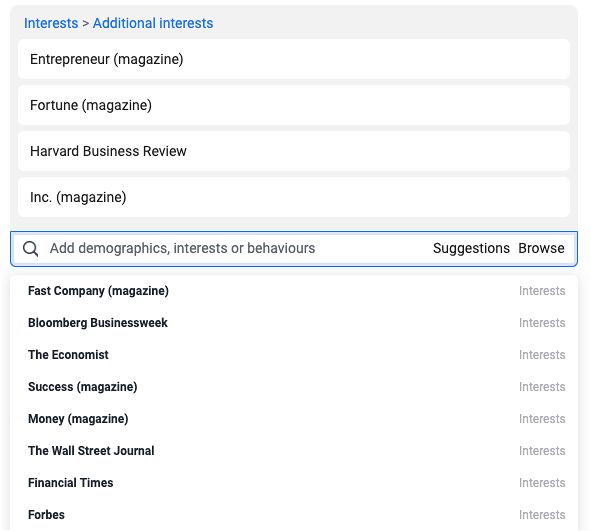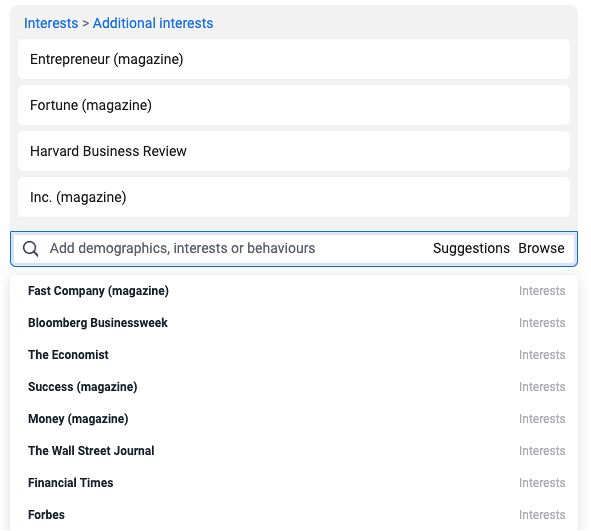 ---
9 – Narrowing
If you're looking for owners in a specific niche, the narrowing is what you need. Narrowing interests on Facebook ads means that one person should have both of the interests and not only one from the list.
This tool can help you target a very specific audience, but be careful, this tool is not universal, as sometimes it creates a too narrow audience that will not work effectively.
The optimal size of the audience should be 300,000 – 500,000 people. If it is less than 100,000 you can still launch the ad, but you may have more expensive clicks. In the end, you will measure the returns of investments, and it worth it, do it with any size of the audience.
Narrowing works for interests, behaviours and all kind of categories.
How to narrow audience: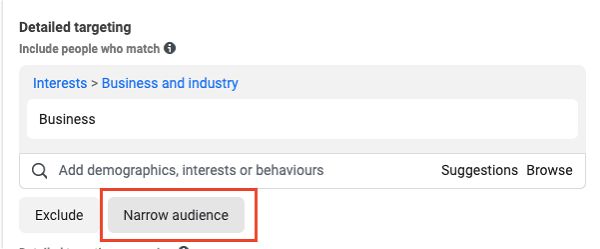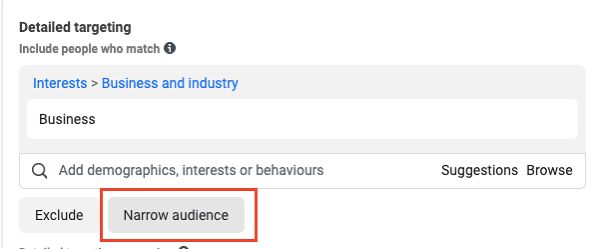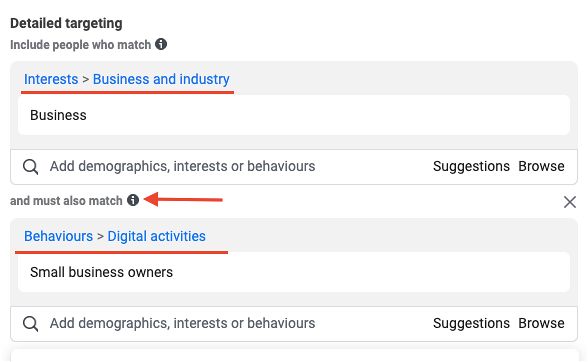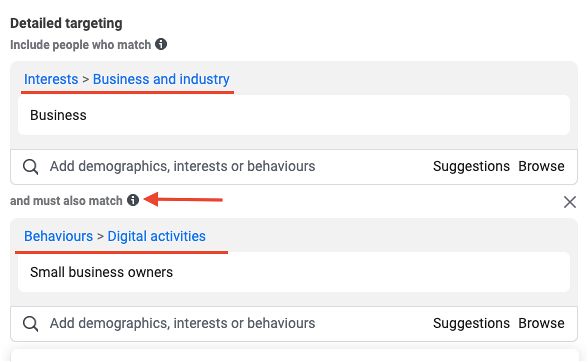 ---
10 – Income
This option is not available for all countries. Income-based targeting means that we can select households with a specific range of income. This data is not collected from tax services, we do not know the real income level of these families.
Based on the income we can assume that these people can have businesses. I agree that this is a hypothesis, but if you're looking for something to try, do it.
How to set income settings on Facebook ads:
---
11 – Education level
We can target people from specific universities, colleges, schools. There are at least 103 business schools on Facebook ads:
You can also try to target people with Master of Business Administration (MBA).
---
12 – Incubators, Accelerators for Startups
If you're providing services or products for new businesses, you can target startup founders, funds, accelerators and incubators.
Try to type "Business incubator" in Detailed targeting or directly the name of the accelerator.
---
13 – Female entrepreneurs
Female business community is large and strong. Women in business support each other, and many organizations encourage female entrepreneurship.
Targeting female entrepreneurs, you are very likely to find business owners.
To target female business owners, use detailed targeting and some interest like:
Female entrepreneur
Women in business
Woman owned business
Female Entrepreneur organizations.
---
14 – Choose interests that only Businesses would be interested in
Some interests on Facebook can be attributed only to people who actually have a business to manage, such as very specific software, desktop software vendors, legal entities, email marketing platforms, computer vendors. It is very unlikely that a random Instagram or Facebook user may be interested in ERP systems.
You can try following interests:
Small business software
Business valuation
SAP Business One
Types of business entity
Business process automation, etc.
---
15 – B2B events and organisations
Business owners or top management also visit niche events, expo weeks and are members of special communities.
These interests can be pretty narrow, but I think they are worth trying, as they are actually a concentrate of business representatives.
Another way to reach them out is to get guest lists, if possible and to upload it as custom audience.
Some events and associations I found on Facebook Ads:
Networking Events
Small Business Expo
Small Business Week
Federation of Small Businesses
National Federation of Independent Business
Small Business Owners of America
Global Entrepreneurship Week, etc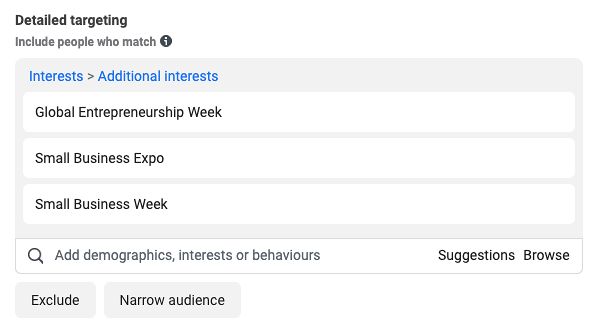 ---
16 – Geofencing
If you can think of any place where business owners are likely to gather, target these areas. It can be:
luxury residences
business centers
clubs with

limited

membership, like yacht or golf clubs, etc.
Locations like residences and golf clubs can include all kinds of people, workers too, but it is still a very cool hypothesis.
---
17 – Detailed targeting expansion
Detailed targeting expansion is an automatic choice of the ideal audience by Facebook. It is a "blind" and very broad approach, but with some products, it works better than anything. It is one of the easiest ways and best practices for someone who is not really familiar with Facebook's ad center.
It can be completely blind when you do not add any interests, or you can still add interests you think may be good and add expansion.
How to turn on detailed targeting expansion:


---
18 – Technology Early Adopters (Bonus)
If you'd like to target business owners based on their use of modern devices and technologies, you should try a special behavior category called "Technology early adopters". It may be very useful if you're targeting businesses in the IT industry, where it is vital to be first to know about everything new.
You can exclude tech savvy millennial buyers (if they are not in your ideal business owners age group), this way you will have an even more narrow targeted audience.

---
NON Effective strategies for targeting business owners on Facebook
There will be all-in-one: users and clients of all kinds, adepts, developers, employers. It is too broad.
If you still want to target a company, you can try to narrow it with business owner interests and exclude employers:
Target operating system, preferred browser or mobile brand
It sounds like a good idea: Facebook tracks what operating system you use and advertisers can use it to sell you special software or products. Also, some special operating systems like Linux are mostly used by a very tight group of people and concentrated around IT.
First of all, not all operating systems are listed on Facebook ad categories:

After all, there is no proof that all business owners use iPhones or a specific operating system or browser. From an ad spend perspective, such a strategy is not cost-effective and not performance-oriented.
Same as above – we can't generalize and say that all business owners have Yahoo email addresses.
However, most blogs copy and paste the same advice – use email to target business owners on Facebook Ads. Unfortunately, this advice is not only less effective than the other 18 ways I suggested, but it is also…outdated: there are no longer such settings on Facebook Ads! I'm sorry, but no, you can't target people based on their email provider.
You can still select Gmail or Yahoo as an interest, but it doesn't mean this person uses Gmail or Yahoo.
---
More tips for targeting business owners on Facebook:
Create Dynamic ads to test up to 10 images or videos, up to 5 ad copies, and different call-to-action buttons at the same time.
Dynamic ads help to optimize your budget, and you will find the best-performing creatives faster. Always test as many offers, creatives, landing pages as you can.
Choose the right Facebook ad campaign objective. Lead generation, Traffic, and Conversions are the objectives I would choose.
If you are offering local services or products, make sure you target only people living in this area: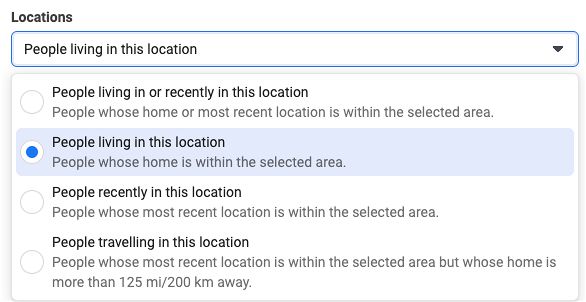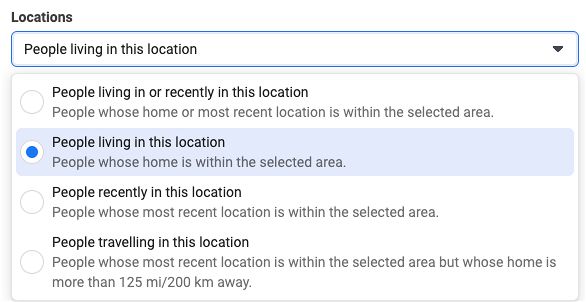 If you are promoting a website, always use Pixel and set events.
Make sure your domain is approved, all information is filled in Facebook Ads Business manager to avoid restrictions. Also, check that you comply with all policies.
Keep your branding and page content interesting for business owners. Even if you managed to target them properly, the next step is to capture them and make them stay on your sales page, buy your products or read your content.
Always choose Manual placements and select where you want to show your ads. Make sure your creatives are adjusted for feed or stories when you choose placements. It optimizes costs and effectiveness.
---
Targeting business owners on Facebook FAQ
How to target small business owners on Facebook?
You can effectively target small business owners on Facebook by adding relevant detailed targeting:
Interests: small business and similar interests like small business software.
Behaviors: small business owners
Industries: select small business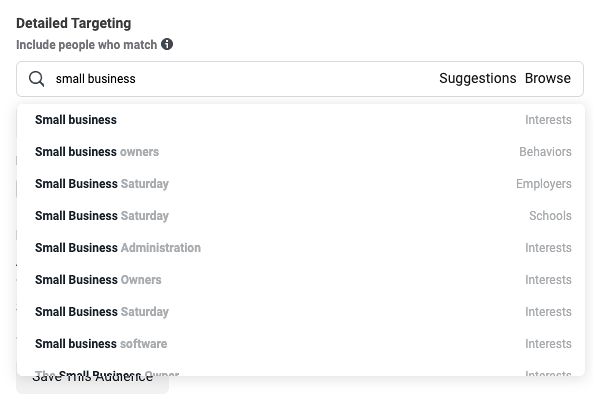 And by using one of my 18 effective strategies to target business owners on Facebook Ads.
Can you target specific business owners on Facebook?
You can target business owners on Facebook by using detailed targeting interests related to business, business process and software, business events, and magazines, but you cannot target specific business owners by using their names or Instagram handles. Unfortunately, not all brands and businesses have a specific ad category on Facebook.
However, you can target specific big corporations like Gucci as an Employer on Facebook:

How do I target a restaurant owner on Facebook?
To target a restaurant owner on Facebook you can follow one of these strategies:
select Food & Resaurant Page admins
select Restaurant owner as a job title
select Business owner and narrow it with Restaurant/Food behaviors
select Restaurant management or try names of specific restaurant software or event for Restaurateures.
or try any of the effective methods to target business owners narrowed by the industry Food & Restaurants.

How to target local business owners on Facebook?
To target local business owners on Facebook choose small business owners or Business page admins behavior ad category and always combine it with precise location settings. In general, all of the strategies for targeting business owners on Facebook will work to find local businesses if you will narrow it by the location.

Make sure you select "People living in this location" as it means we don't spend money on travelers. You can also always pick a city and target current city only, without including areas around.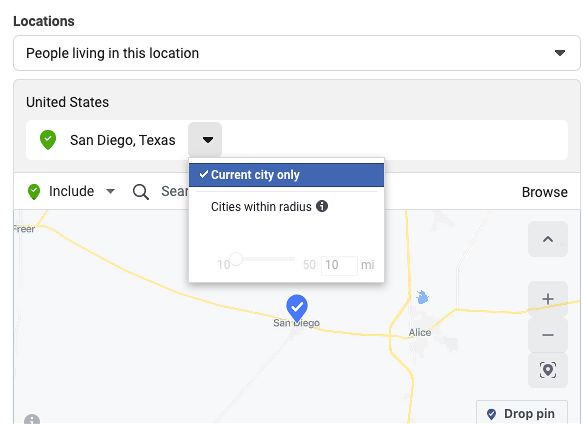 To go broader you can use your target location and the broad interest "Local Business".
---
If you feel like you need some help with targeting owners on Facebook or Facebook Ads in general, feel free to contact me by email at mariia@themarketingbit.com and I'll be happy to share my 5y experience and tricks with you!