Marketers and bloggers are constantly looking for new tools to help them create conversion or SEO-optimized copies. Jasper (formerly Jarvis.ai) is a great tool that can be used to boost conversion rates for your ads or blog. This AI writing software offers templates and powerful AI-generated content that will take the brainpower out of writing. It attracts more and more attention and every marketer is now looking for an honest and practical in-depth Jasper.ai review to figure out 2 things: can a robot write better than a human and is it worth money?
In this Jasper.ai review, I will share my first experience with Jasper and the first results for my blog. I also will explain how you can use this tool and what are some cons of Jarvis.ai (formerly Conversion.ai). I also tried 14 different AI writing tools and would share my thoughts.
Table of content
---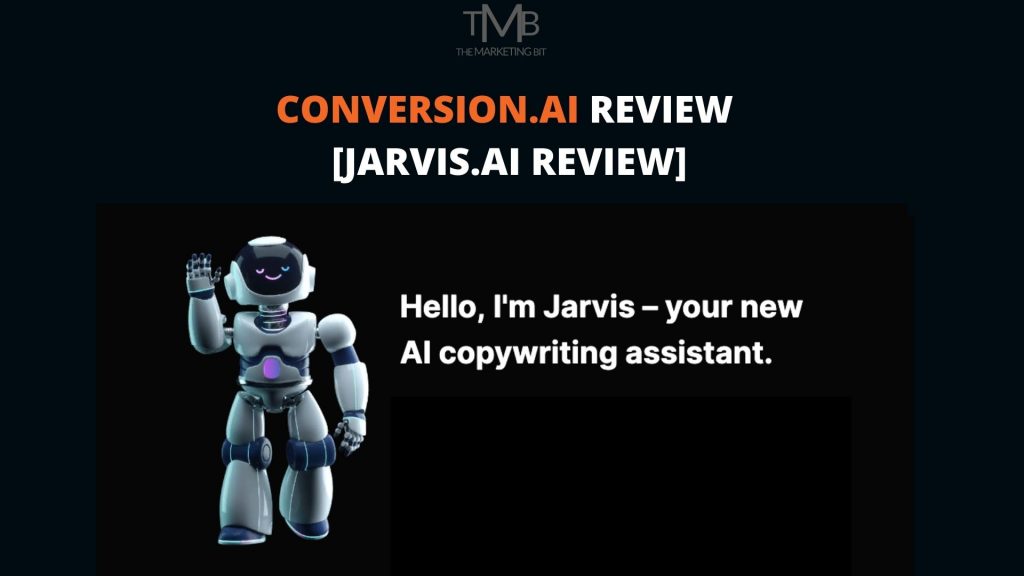 ---
HEAD'S UP: Jasper.ai really works. It is the only AI writing software on the market that really writes for you a relevant piece of content that can rank or an ad copy that converts. I would certainly recommend you at least get a maximum of their 10,000 free words.
---
What is Jasper.ai?
Jasper.ai (formerly Conversion ai and Jarvis ai) is a copywriting software based on artificial intelligence. It was designed to help marketers, bloggers and copywriters create conversion-oriented and SEO-optimized quality content. It offers 50+ templates for creating blog posts, copy for social media, including Youtube, and other conversion material like landing pages, and more.
Jasper.ai is a digital tool to overcome writers' blocks, get better rankings on the search engines or optimize your ads or website. The AI technology behind Jasper.ai will analyze what customers are engaging with on your website and give suggestions about how to improve it.
Simply put, Jasper.ai writes for you.
---
How AI writing looks like?
Here is how Jasper will introduce himself if you type the command: "Jasper, write a paragraph about yourself":
My name is Jasper and I'm a conversion rate optimization specialist and conversion copywriter at Jasper.ai. I specialize in conversion-oriented copywriting that will help businesses increase conversion rates, sales, and revenue.
One of my passions is writing conversion-oriented copy for websites, email sequences, landing pages, blog posts, product descriptions, and more so that customers are compelled to purchase your products or services, contact you for more information or share your blog posts on social media.
I write many of the content templates offered on Jasper.ai and am happy to give anyone free tips about conversion-oriented writing when they sign up for a free trial!
Nice to meet you, buddy!
---
What are the main features of Jasper.ai?
We agreed that Jasper.ai is an AI writing assistant tool, let's see what are main features I'd like to emphasize before we move on.
I made this list features based on my personal experience as a writer, my results, and, of course, official Jasper.ai team statements.
Main features of Jasper.ai
AI-based writing algorithm. Jasper was trained by marketing experts and copywriters.
Plagiarism-free content (Uniqueness rate is 99.99% – the highest on the market).
The best trial on the market – free 10,000 words to test.
The best on the market long-form AI writing – high-quality relevant outputs.
Proven increase in conversion rates for ads and websites.
Proven high ranking for blog posts.
Integration with Surfer SEO to back your blog post with SEO.
50+ writing templates for different purposes. You can combine them in one document! [ List of all 50+ Jasper.ai Templates]
The fastest AI writing tool – I checked more than a dozen.
25 languages available and growing.
24/7 Support.
Helpful Facebook community of entrepreneurs and writers. I like it! We discuss SEO, writing, and features.
Super affordable – the starter pack is $29 with a 5-day money-back guarantee.
Academy: live 101 session and recordings of advanced training on how to write better.
---
Who may benefit from using Jasper.ai?
Jasper AI is beneficial for many purposes and specialists. I would say the most profit AI writing can bring to:
Companies that don't want to pay professional writers but are too busy to hire creatives.
Bloggers who need to write consistently good SEO-optimized content for their blogs.
Anyone who writes and may experience lack of time or inspiration.
Copywriters working with simple orders on freelance websites.
Ad specialists who run a lot of Google Ads or Facebook Ads campaigns and need stable creativity and persuasive ad copies.
Small businesses that don't have extra budget to hire professional copywriters for their blogs, websites, or ads.
Anyone who doesn't like writing but has to fill in Personal bio or post caption, or even write a short section.
Marketing teams and agencies as Jasper.ai offers multiple seats.
Someone who wants to write a book.
In general, Jasper.AI has several sections of templates or several use fields:
Ads – writing headlines, primary texts, product descriptions.
Social media – writing a post caption, a script for a video, a title, or a description on Youtube.
Websites – SEO-optimized Home or Product page, blog posts, outlines or ideas, headlines.
Email composing
E-commerce & Business – Amazon especially, but also Google My Business, Real Estate listings
Q&A – answers, review responses, questions, multiple choice answers, etc.
Some templates are quite universal, such as the famous AIDA framework, or Explain to a child. List of all 50+ Jasper.ai Templates.
---
Can Jasper.AI Write Better Than a Human?
Even if Jasper.ai is now the best and most performing AI writing tool, artificial intelligence, and machine learning still can't work without humans.
This tool definitely writes better than a non-native speaker or a non-professional copywriter. Still, it needs your guidance: what topic Jasper should write about? You show the direction and correct it along the way.
The long-form editor also requires you to regularly add paragraphs written by humans to make sure Jasper has enough data to work.
So AI writing tools like Jasper can't exist so far without us, but they do save a lot of time, and they also don't have some human traits:
Jasper doesn't have a motivation or inspiration crisis.
He is never lazy.
And they are way cheaper than our human resources, how much cost a copywriter or an hour of bloggers work compared to the monthly cost of Jasper? Noone will work the whole month for $30-50, but Jasper will.
---
How does Jasper.AI work?
The Jasper.ai software is based on artificial intelligence. More precisely, machine learning.
SEO and marketing experts, copywriters have taught Jasper how to use data and turn it into performant content. The algorithm considers a large number of factors, but we only see the final output.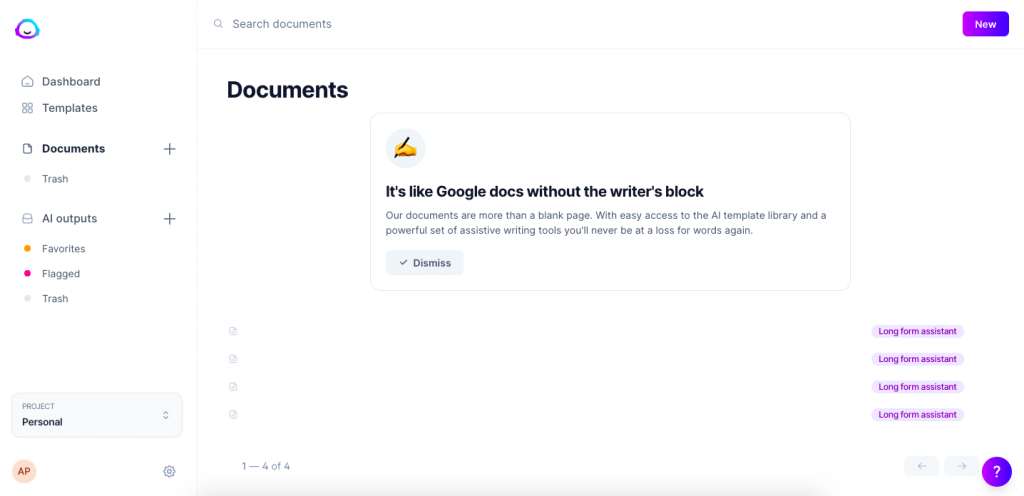 How Jasper.ai was trained?
Dave Rogenmoser, creator of the Jasper.ai tool, and Jasper explained in the private Facebook community how exactly Karvis was trained and how we should use it to get accurate results.
The underlying artificial intelligence model that drives Jasper was trained by reading about 10% of the published internet to understand how people write. Jasper has read millions of blog posts, Reddit threads, websites, newspapers, and other publications.
This gives Jasper an incredible command of human language impersonation and the creation of content that most people find exceptional. The basic training program was completed at the end of 2019. That means Jasper is unaware of current events in January 2020 and beyond. Jasper is unaware that COVID-19 occurred, yet it continues the learning process and the database will be updated soon.
BUT!
While Jasper is unaware of COVID-19 or who won the 2020 NBA Championship, he has a deep background in coronaviruses, pandemics, sports organizations, public figures, famous players, etc.
By providing Jasper with up-to-date information or direction about the topic you're writing about, he will write better.
The next thing about Jasper is that he uses patterns to understand what you want next. He uses predictive patterns for any next word or sentence. He predicts what should be a correct word, if you said I'm looking at Tour Eiffel in… He would add Paris.
But sometimes Jasper (formerly Jarvis) repeats himself as he doesn't know what is your intent. In that case, clarify it, by adding the first sentence or a subheading. Here are the screenshots of Dave's explanation and example: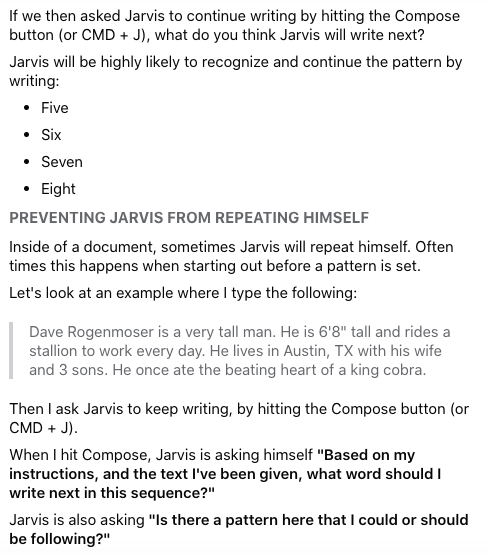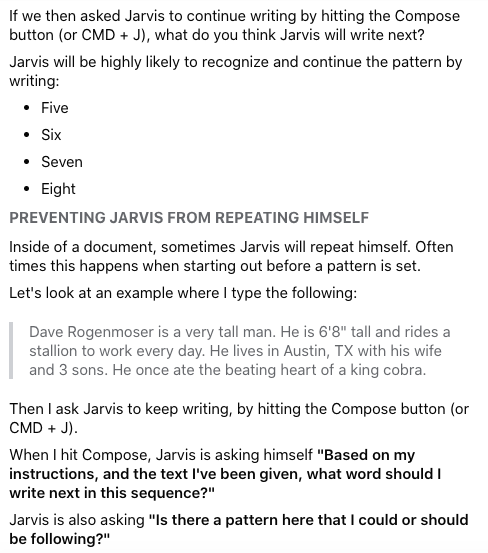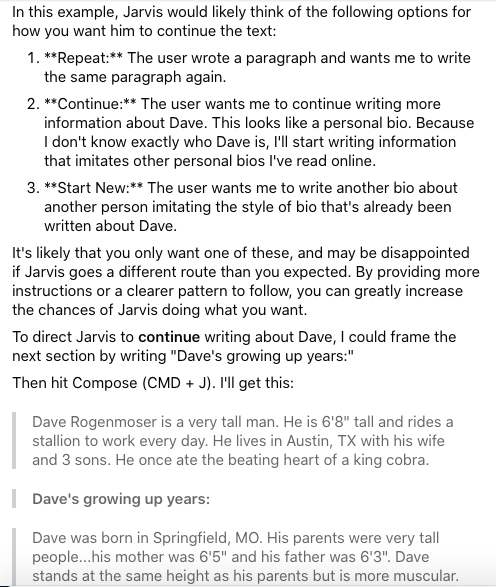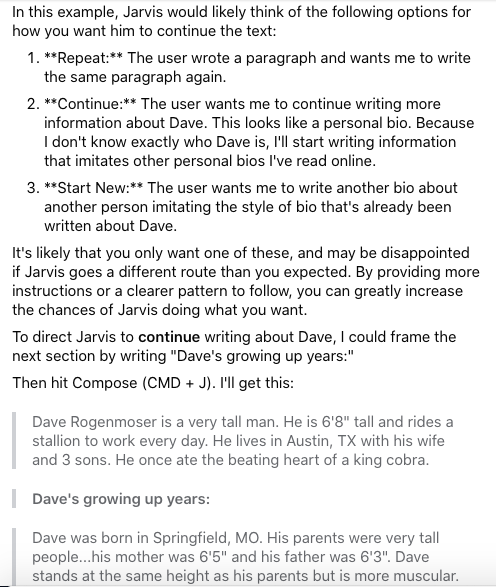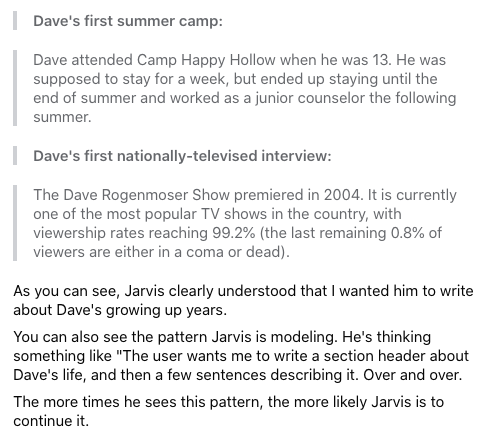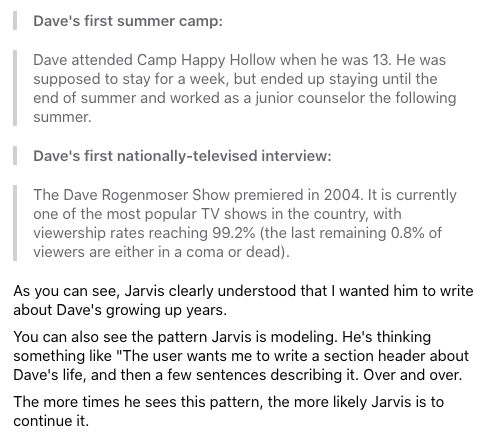 How Jasper.ai works with short content?
If you're working with short-form templates (all, except for blog post flow), the process of writing is super easy:
You choose a skill. I would call it a template, or a writing purpose: what do you need to write?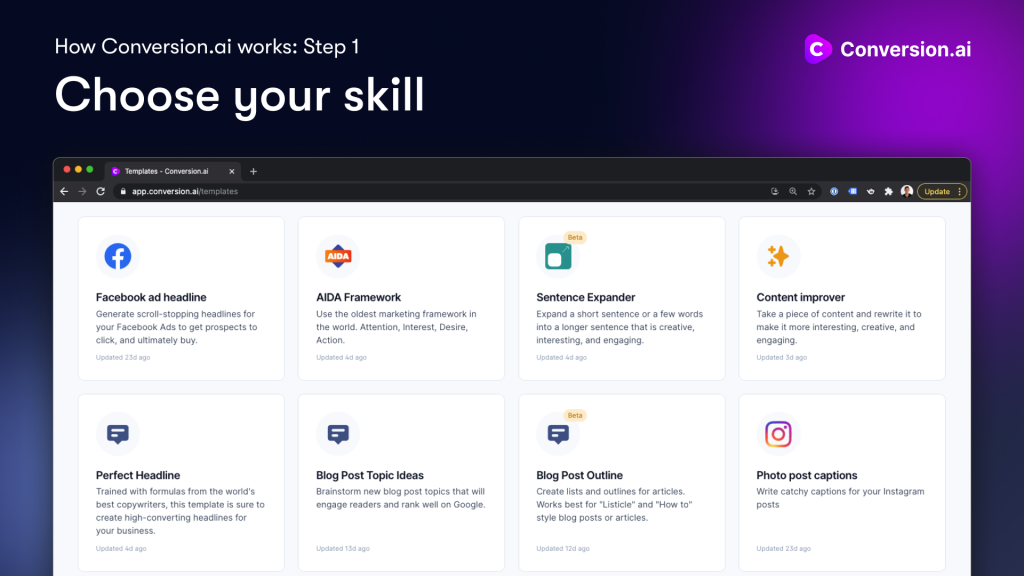 You fill in information Jasper needs to create a text: product name, brief description, tone of voice, and how many outputs you want to get.
The needed input depends on the template, or skill, that you choose.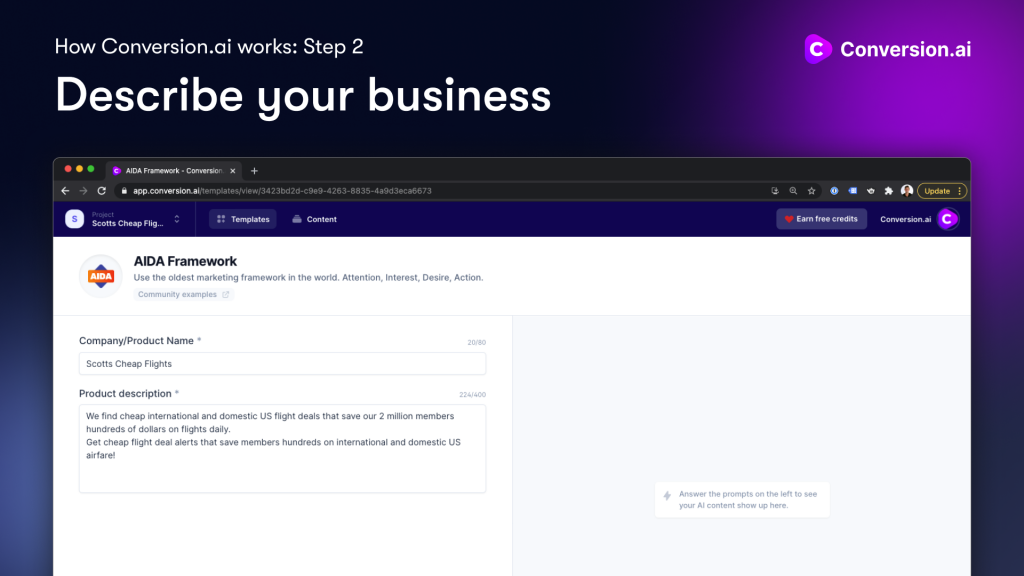 Wait for results, choose the output you like, or ask Jasper to generate more.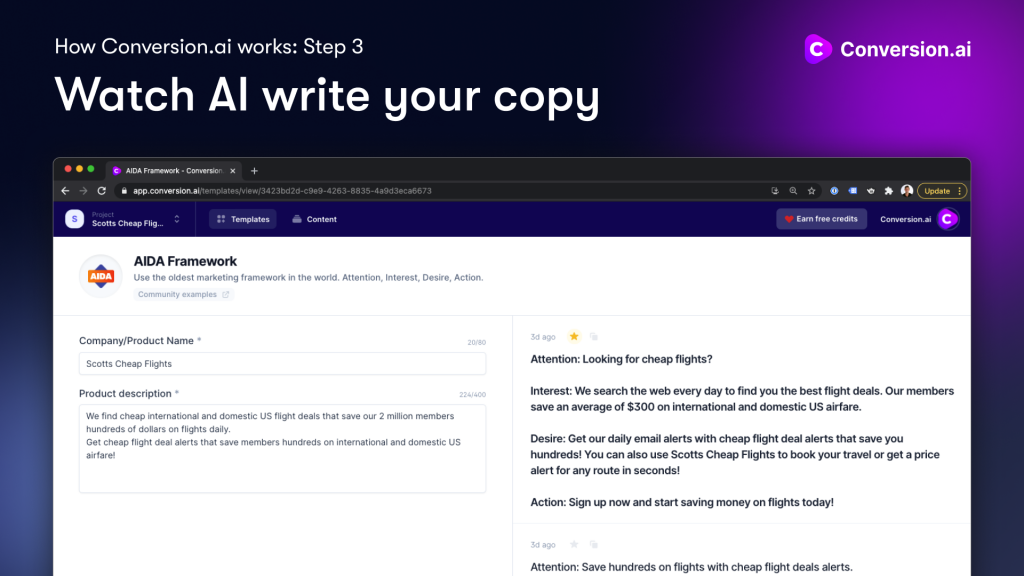 Copy and use it!
This is an example of short-form AI writing done by Jasper: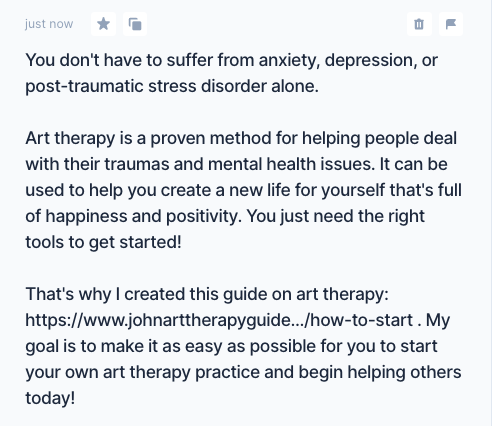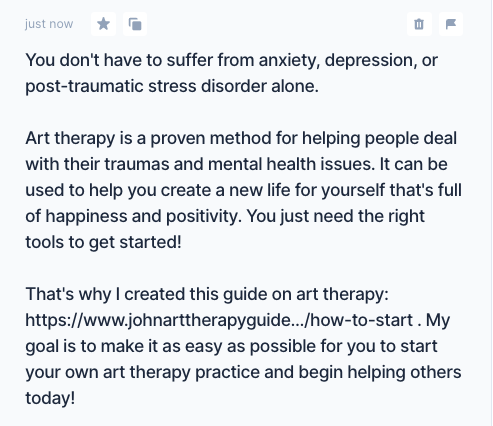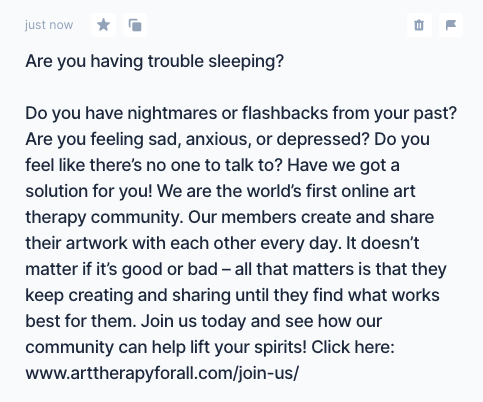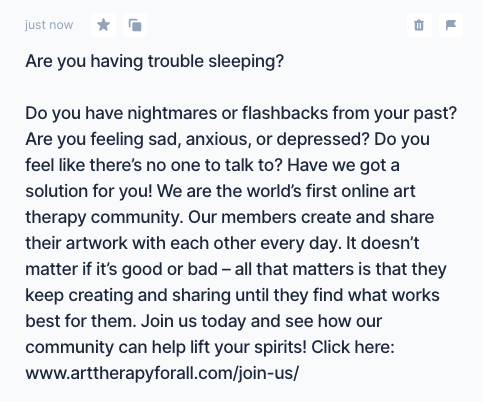 ---
How Jasper.ai Long-form works for blog posts?
A long-form assistant helps you write a blog post. It has three modes: Power Mode, Focus Mode, and SEO mode.
Within Power Mode, you can incorporate other templates in your writing. SEO Mode works only if you link your account to your Surfer SEO account, then you get SEO recommendations on how to optimize your content – I am using this mode and highly recommend it! Focus Mode is a distraction-free mode for writing.
How to write a blog post with Jasper.ai:
Choose New Document -> Blog Post
Provide information Jasper needs to write or ask Jasper for suggestions:

title
description – what is this post about
intro paragraph
Preliminary work is done, you can open editor now to write the full article.
Jasper has a lot of commands you can use to make him write about specific topics. AI scans your input and generates short to long pieces of content.
Using Power mode you can create the outline for your post and make Jasper write about each section.
Sometimes he needs you to write a little bit by yourself to keep his AI mechanisms moving.
1,000 words will be a matter of 8-10 minutes with Jasper.
It is important to know, that all content created by Jasper is unique, and plagiarism free. Fact-checking though is your responsibility.
Once you've done writing, save the document.
You can now copy-paste your new blog post to WordPress and publish it.
Don't forget to double-check grammar with Grammarly (it's integrated with Jasper too), add optimized images, and meta descriptions, and include some internal or external links.
This article is co-written with Jasper too 🙂
---
Jasper Boss Mode
Talking about writing long-form content with Jasper I need to mention the newly released Boss Mode feature.
Boss Mode is integrated into the editor and allows you to use shortcuts or written commands to control Jasper. As I showed before, I asked Jasper to write a paragraph about himself.
They say this approach helps write long posts 2 times faster, but for me, it is hard to compare, as with Jasper you write very fast, in general.
Why is it different from the standard writing mode?
Normally, Jasper considers all data you input in the document settings and tries to make from it a coherent article. You control where Jasper inputs his AI writing, and what are main topics, headlines, etc.
With Boss Mode, you're not only controlling the whole document, but I'd say, you can micro-manage and type very precise commands to Jasper. It is like before you're saying "Jasper, write!". Now you're saying "Jasper, write the next sentence about AI writing history".
Using command also means you can use voice to talk to Jasper.
With standard mode, Jasper looks back 1 – 1,5 paragraphs while writing. It means he doesn't scan all articles and may repeat himself. With Boss Mode Jasper looks back for 2000-3000 characters.
When you're writing without Boss Mode, you need to write some portion of the content to keep AI going. With Boss Mode, you can run Jasper unlimited times without you writing in between.
This mode is only available on Boss Mode Plan, but when you claim your free 10,000 words you'll get Boss Mode so you can try it.
---
What makes Jasper.ai different than other similar tools?
Jasper.AI has two unique features that make it stand out from its competitors: intelligent machine learning technology with predictive algorithms, as well as human expertise available 24/hrs through live chat support.
The Jasper.ai platform constantly analyzes and tests different conversion-oriented templates, to offer the best content for your needs at any given time. This means that Jasper.ai is always adapting its services to suit you.
From my experience few things really make Jasper worth trying:
immense expertise and tech background of the team. Once you use Jasper.ai, and you have any idea of how AI works, you will understand how much work they did and how well picked was the data AI was learning from.
constant support and growth. If you go to the Facebook group, you will see how leaders of the Jasper team answer questions and publish useful content. If you go to the Academy, you will find tons of free training videos on writing, conversions, and SEO.
really working on AI writing. After all, no matter how nice is your design or how experienced is your team, if your software doesn't deliver, it just doesn't. Almost all AI writing tools on market have quite similar features and they all offer to write for you. But the only tool that creates more profit than problems is Jasper.
blog post writing and SEO tool integration. So far, they are the only ones to really help you write large pieces of content faster and better.
---
50+ Jasper.ai Templates
This is the juice of Jasper.ai – the growing list of writing skills or templates for marketers, bloggers, and entrepreneurs.
As I'm writing this review, there are about 50 skills/templates Jasper's assistant can offer.
Jasper.ai Templates
AIDA Framework. Attention, Interest, Desire, Action. You input information about your product and get a paragraph for each section of the framework. Here is an example:
Attention: Are you looking for a new blog post?

Interest: Jasper.ai is the best conversion-rate optimization copywriting software on the market, and it's designed to help marketers, bloggers and copywriters create content that converts visitors into customers. With templates for creating blog posts, ad copy, sales pages and more, this tool will make your life easier by helping you write better content in less time.

Desire: You won't have to worry about writing anything yourself ever again! We offer templates that are proven to convert visitors into customers so you can focus on other aspects of your business or personal life. And with our powerful SEO features like keyword research tools and Google Analytics integration, we'll help get your content found online too!

Action: Click this ad right now and sign up for a free trial of Jasper.ai!

Real example of AIDA framework by Jasper
PAS Framework. Problem-Agitate-Solution.
Content Improver. Rewrites a short piece of content to make it more creative, and engaging.
Product description. Creates compelling and conversion-oriented that you can use anywhere.
Blog Post Topic Ideas. Generates potential topics that will engage readers and rank high on search engines.
Blog post outline. Based on your topic Jasper creates a few variants of an outline.
Blog post intro paragraph.
Blog post conclusion paragraph.
Creative story. Writes an engaging story with a selected tone of voice. Storytelling tool.
Explain it to a child. Rewrites texts to make them easier to read and understand. It is very good for SEO and engagement.
Sentence expander. Turn a short sentence or a few words into a long one. Helps get a higher word count.
Facebook Ads headline. Writes scroll-stopping and click-oriented headlines.
Facebook Ad primary text.
Google ads headline.
Google ads description. Writes high converting Description.
Google My Business New post. AI-generated new post for your GMB profile.
Google My Business Event post.
Google My Business Product Description. Jasper will write a product description that will be eye-catching and lead to clicks and orders.
Google My Business Offer post. Conversion-oriented offers generated by Jasper.
Amazon product features (bullets). Jasper helps to stand out from Amazon competitors and make people want your products.
Amazon product description. Compelling product descriptions for Amazon listings.
Perfect headline. Creates high-converting headlines for your business based on your needed Customer Avatar and product input.
Website sub-headline. The sub-headlines (H2) are important for your websites and landing pages. You need to know how to write a good one. Oh, no, you don't have to, Jasper knows.
Photo post caption. Tired of inventing catchy captions for your Instagram posts? Let Jasper do it. I actually tried it for my hobby and had so many ideas for my painting quotes and captions for Instagram.
Jasper.ai Testimonial helper. It is a testimonials template. So far it is only for Jasper testimonials but it will be transformed in a general Testimonial template.
Marketing angels. A great brainstorming tool for emerging businesses or old companies. Helps to see more marketing possibilities.
Persuasive bullet points. Can be used anywhere.
Youtube video topic ideas. Generate topics that are more engaging based on Youtube statistics.
Youtube Script outline. A right outline is one of the ranking factors.
Youtube video titles. Writes engaging, click-worthy titles.
Youtube video script hook and intro. Helps capture and hold people's attention.
Youtube video description. Writes ranking and creative descriptions.
Review Responder. Write responses to reviews.
Personalized cold email.
Email subject lines. Make sure people open your emails.
SEO Blog post title and meta description.
SEO Homepage title and meta description.
SEO Product page title and meta description.
SEO Services page title and meta description.
Company bio.
Personal bio.
Feature to benefit. Transform your product features into benefits that compel action.
Before-After-Bridge framework.
Unique Value Propositions. A clear and powerful offer is key to sales.
Real Estate listing.
Pinterest pin title and description.
Press release title and intro.
Engaging questions.
Quora answers.
Text summarizer.
Business or Product name.
Engaging Poll questions and multiple choice answers.
---
Who is Behind Jasper.ai?
Conversion.ai was created in 2020 by Dave Rogenmoser, an entrepreneur with over 20 years of experience in digital marketing. He wanted to create an all-in-one solution for all small businesses looking to grow their customer base without having to spend hours writing.
But it wasn't the first experience for the team. Their expertise had already helped them create other software products including Payfunnels and Proof. Both Proof and Jasper are backed by Y Combinator.
The team lives in Texas. It is a small group of AI specialists: Austin Distel, John Philip Morgan, Chris Hull, Megan Johnson, and James Morgan.
In 2021 Conversion.ai was rebranded and became Jarvis.ai. And later in 2021 Jarvis become Jasper as they faced some issues with Marvel. The top-notch quality of the software and the immense support within the community remained always the same 🙂
---
Jasper.ai Free Trial and Pricing
Jasper.ai offers a free 5-day trial with 10,000 words! It is the largest credit on the market and it will be enough to create 3-5 blog posts or up to 20 short-form content pieces, like ad copy, bio, product description. Well, it will be enough to try all features.
Jasper has customized pricing plans for your own writing needs. You only pay for what you really need. Ex., you're writing approx 10 articles per month and it's 30,000 words. With Jasper customized plans you will pay only $59.mo for this word volume.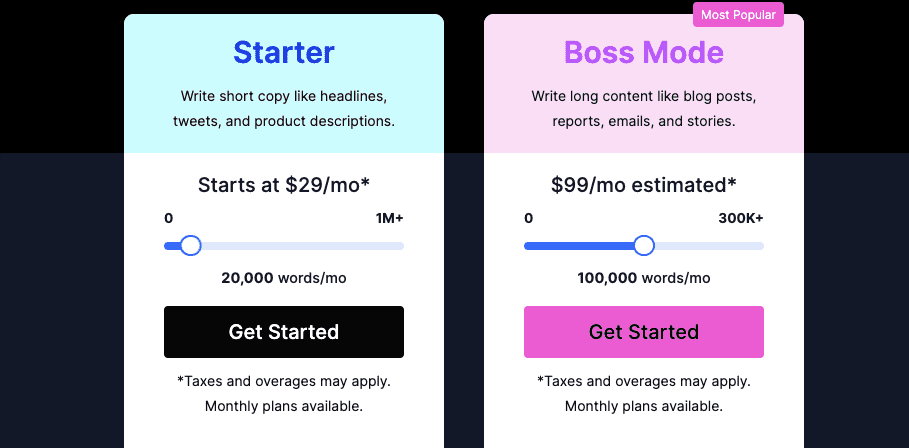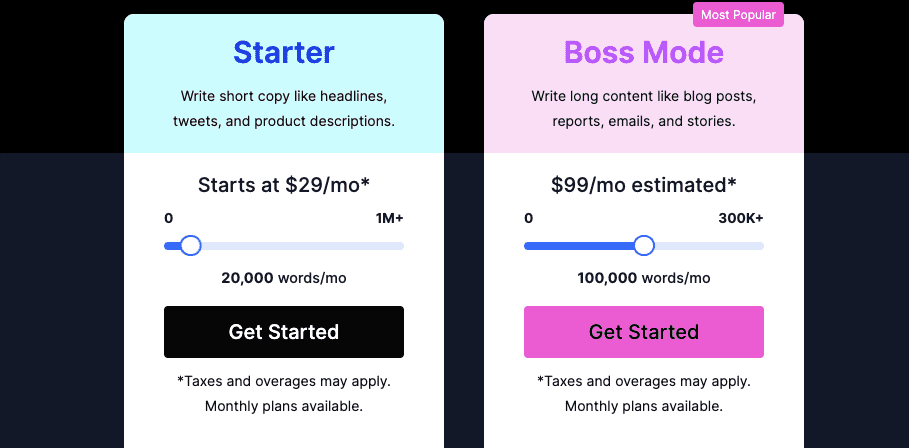 Starter Plan
Boss Mode
SEO Mode
from $29/mo
5-day Money Back Guarantee
from $59/mo
5-day Money Back Guarantee
any Jasper plan + Surfer SEO subscription for only $1
Only short form!
from 20,000 words/mo
50+ templates
Unlimited Users
5 Project Folders
25+ Supported Languages
Chat Support
AI Copywriter's Community
All from Starter Plan
+ Boss Mode:
Unlimited Runs
2,000-3,000 Character Lookback
Writing Commands
"Recipes" library – ready to fill the gaps template for writing any type of content.
Grammarly
Priority support
Possibility to become Jasper Certified specialist
You get Surfer SEO content optimizer to get your posts to the top of Google search results
---
My personal Jasper.ai Review as a blogger
One day a writers' block happened to me. I was sitting in front of my laptop, blank. No ideas, no motivation to write today. Again.
At that time I'd never even heard about any AI-powered tools for writing. I still did not believe we are in an innovative century.
My partner and a blogger also told me that some bloggers use AI to write content, but it doesn't seem legit. I was intrigued and curious: can AI write better than humans? Can AI write SEO-optimized content? Can AI just write…by himself?
And by chance, I found 10,000 free words from Jasper.ai. To say that I was super skeptical is to say nothing.
My results with Jasper.ai
I signed up, picked the next keyword in my Post planner, and told myself to just give it a try… In 10 minutes I had my first 1,000 words and I felt overwhelmed – is it really happening? I was anxious to double-check every single word as the topic was quite difficult.
It took me 2 days to write a large article with Jasper. I'd say we wrote it 50'50, but AI work boosted my writing.
The next day this article got the first organic hits from Google. In a week the average position was 5 according to Search Console.
In July this post is starting to rank for about 100 secondary keywords. The monthly KW volume isn't big, but it still gets results.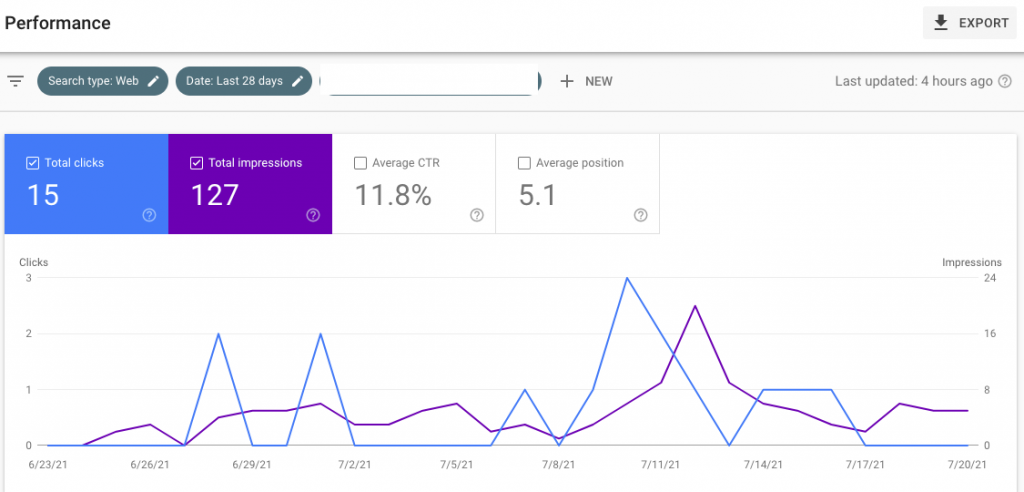 I was shocked but so happy! It means I can make my writing easier and enjoy it more. And my posts will rank faster, and I can create more content in the same amount of time.
It's like magic! Now I can work for hours and deliver much bigger results. I'm glad I found Jasper's team. They feel like a bunch of the best human SEO team I have ever been in touch with, like out of a movie with lots of smart people who care about their clients.
Now I'm using Jasper to help me write and their Facebook community to become better at it, share knowledge or ask for advice.
---
What are some pros of using Jasper.AI?
Summarizing all of it, let's see what are the PROS of using Jasper.ai:
saving time on writing copy.
creating SEO/conversion-oriented content without having expertise or skills in marketing.
being able to edit out mistakes before publishing as it will catch them automatically with predictive analytics technology—often called "continuous self-editing."
overcoming writer's block;
generating more quality content faster.
saving money on copywriters.
earning more money with high-conversion ad copy.
winning more loyal customers or website visitors.
best and unique AI writing tool that actually writes.
---
What are some cons of using Jasper.ai?
One possible downside of Jasper.ai is that it can't write as well for certain industries such as finance, law, or health care because they require a different type of persuasive writing and expertise than conversion-oriented copywriting does.
It also doesn't offer social media marketing templates and offers limited design options.
Finally, there's no guarantee that conversion rate optimization will work in every situation – it has seen success rates from .25% to over 150%.
Jasper the AI Writing Assistant provides pre-written copy ideas based on what type of content or purpose it's for (blog posts, landing pages, etc) and standard mode still needs a human to write some intro sentences to guide AI.
Jasper is the best performing for AI writing but may not offer as many contents optimizing features as another writing assistant. That's why it is the right way to combine them if you need more control over your content.
---
Jasper.ai alternative – 15 AI writing assistants
Among all AI-powered writing assistants I was lucky enough to first meet Jasper.ai, and only then test others. I did not test all tools, so I am sharing only my personal experience.
I would also mention that Jasper.ai (Conversion.ai) is in TOP-3 Best Ai writing assistants on G2.
TAKEAWAY: None of the 15 tested alternatives shows as good AI-written content outputs as Jasper. For SEO-optimized co-writing editor software, I would recommend also trying INK or Surfer SEO content assistant. Personally, I would combine Jasper with one of them, if you really need it.
15 AI writing assistants as Jasper.ai alternative:
I also was trying to check Quilly but it was just getting me outputs in another language for whatever reason, so I can't say anything about it.
Jasper.ai alternative
Pros
Cons
Free plan
Pricing
LongShot.ai
– Simple interface
– Makes simple brief research on headlines and outlines ideas based on your keyword.
– Shows recommended keywords to use
– Headline and paragraph ideas quality lower than Jasper.
– Divides post with subheadings but writes irrelevant paragraphs for each.
– Short outputs for blog posts (less than 300 words)
– Sometimes very general or repetitive outputs
– Only for blogposts
Free plan with 100 credits
Writesonic
– Simple interface
– Some unique templates like Growth ideas, Analogy maker, or Startup ideas.
– Doesn't generate articles intro paragraph as Jasper does.
– Blog post output is normally about 500 words which are too small for SEO-optimized content.
Free plan with few credits
Ink
– Extraordinary co-writing software with a handful list of incorporated SEO recommendations.
– Target Word count and reading time
– Predictable Ranking score
– 60+ templates for ads, youtube, pitches, etc
– WordPress plugin
– I would still consider it as co-writing tool rather than an AI-powered writing tool. The outputs are quite short.
– I think Jasper does a better job with ads templates and real AI writing.
– You need to download co-writing software if you're using it for long-form.
Free plan with 10 Long-Form SEO Articles/month
from $35/m
Outranking.io
– works both for creating new content and optimizing old ones.
– SERP analysis feature is great to use when you're doing keyword research – you can analyze up to 30 SERP results.
– Writes good enough
– Good for teams
– Algorithm uses SERP analysis to guide you through writing.
– The editor is a bit overwhelming and not easy to use
– Blog post ideas feature sometimes shows irrelevant results
– Writing is good, outputs are medium-sized, but the closest quality to Jasper I saw.
30 days free trial (no card)
from $39/m
Rytr
– Super easy to use
– Unique templates, like songwriting
– A lot of tones to choose
– up to 3 variants of a blog section
– It doesn't write a blog flow, it creates sections based on your topic, without considering previous outputs
– I didn't like the quality and relevance of the outputs for specific topics. It did well with general topics.
– Felt a bit too simple
Free plan with 5K credits
$29/m
Writer
– Chrome extension
– Check plagiarism
– Allows team
– It is not an AI writing tool, it is copyediting tool, more complex than Grammarly.
– It doesn't compose text.
30 days trial
$11/m
NeuralText
– The SEO content creation process includes SERP, and volume analysis.
– Shows outlines for TOP 10-20 results
– Shows topics to include
– No Gmail / Facebook sign up
– Has short-form AI writing templates but no blog paragraph writing
Free plan with 5 content slots
$39/m
Peppertype.ai
– Simple interface, looks very like Jasper.
– I used Headline expander and I was satisfied with the quality – as good as Jasper.
– No blog flow, only short-form templates, which means no coherent large piece of content, sadly.
– Blog intro paragraph ideas were not relevant for an SEO template.
Free 2,000 words
$35/m
Word.ai
You can rewrite articles in bulk.

– No Gmail / Facebook sign up
– Only for rewriting.
– Rewriting one article took more than 2 hrs, but during the whole process, you can't close the tab. The output is low in uniqueness and quality.
Free 3-day trial
from $24.5
Ai Writer
– Shows sources of the output.
– Shows plagiarism rate.
– No Gmail / Facebook sign up – can't sign up without subscribing to newsletters.
– You can only type the title of the article and wait
– Output article is not SEO-optimized – it is a collection of short paragraphs without headings, intro, or conclusion. You can't edit it, there are no settings, no options.
1-week free trial
from $19/m
Anyword
– Works for ads copies on social media.
– Predict performance.
Doesn't work for blogs.
1 week free with 5,000 words
from $19/m
TextCortex AI
Friendly interface.
– Only 2000 words max for a blog post.
– It took it around 2 hrs to create a 2000 words article, but it never did.
– Another 1200 words article came out being only 150 words, all of the – repetitive first phrase.
Free plan with 30 credits
from $19/m
Copysmith
– A lot of templates
– Requires blog intro and first 3 paragraphs first sentence.
– Quite long output – writes a whole article
– Mediocre quality of created content, mostly irrelevant
– I know people switched from Copysmith to Jasper.
Free trial with limited credits
from $19/m
Frase
– For creating new content and optimizing existent
– Simple interface
– Provides 20 SERP results analyses for your keyword
– This is a more AI optimizing tool. It doesn't write for you.
– Expensive
The free plan has 5 docs
from $44.99/m
---
Other AI optimizing assistants
These services do not write for you but help you stay in touch with SEO needs.
SEMrush content assistant – analyses 10 SERP results. The Word count is inaccurate. Free trial.
RankIQ content optimizer – shows what topics to include based on TOP-30 SERP results, target word count, and content grade. Helps to create conversion-oriented Titles. No free trial, $49/month.
Surfer SEO Content assistant – helps monitor ranking score, topics to include, word count, and other SEO-related factors. The extension is free, but you need to have an active subscription to Surfer SEO, which is from $59 / per month. Or $1 for Jasper users for their first month.
---
Jasper.ai and Surfer SEO Integration
Working with a long-form assistant you're likely to write a blog post to rank on Google. You probably want to be on the first page. In this case, the Jasper team recommends using their integration with Surfer SEO to optimize your writing for specific keywords that you want to include.
Surfer SEO is an SEO tool. It aims for content writing and basic SEO analysis.
It will tell you what your headings should contain, what words you should include, how many words you should write, and how many paragraphs you should write, and your content score will rise as a result. Typically, you want to be over 70.
Note, that Jasper.ai plans don't include a Surfer SEO subscription yet it comes for only $1 for the first month.
Once your integration is set, you will see SEO Mode on the top of the Jasper blog post editor.
---
Final thoughts
It is still not the day when AI will replace us. We see dozens of AI copywriting tools available on markets, but the common feedback is – that AI generates some rubbish. And it is understandable, we are still trying to figure out the tech side of AI writing.
We will see artificial intelligence and writing assistant make mistakes. We all humans make mistakes in writing. Why do we expect something perfect from a thing that is still learning?
Yes, Jasper can be wrong, but he also can correct himself and relearn. And you can rerun the same paragraph to make sure the content is good. How many times you can rerun text writing by yourself without feeling frustrated, demotivated, or just blocked?
Still, copywriting, blogging, and content making are hard work, and we'd really appreciate some help. Today, this help is Jasper. No freelancer will cost you $30-100 dollars per month and create unlimited content.
Jasper.ai figured out how to combine the best marketing and SEO practice and incorporate it into a writing tool. You have over 50 templates, some of them are universal, and some of them are crucial to any marketing strategy. Some of them will save time for bloggers, and some – increase CTR for ad specialists.
Writing faster, better, creating more content, ranking faster, converting more customers – I think these promises are worth a free trial and testing Jasper.

Are you curious about how the other best AI writing tool on the market stacks up? Then check out our review of Closers Copy, a similarly powerful AI writing tool that is cheaper (for a little while longer), customizable, and packed with just as many features.