SEO isn't easy. Trust me, I know. You're always trying to stay one step ahead of the competition, and it's a constant battle. Finding a good SEO tool that fits your needs – whether that tool is SEMRush or SEMRush alternatives that fit your needs and budget – is the first step to building a website that gets tons of traffic from Google and organic search traffic in general.
There are countless tools out there that can help you with your SEO endeavors—some good, some not so much — but many of them require a hefty investment to gain access to their full features and benefits.
In this article, we'll share the 100+ SEMRush alternatives that are free, cheap, perfect for beginners, perfect for power users. We'll even break these tools down by skill – best tools for keyword research, content writing for SEO, competitor analysis, and assessing domains to purchase.
Let's jump right in.
Table of contents:
---
QUICK LIST OF THE BEST SEMRUSH ALTERNATIVES UPFRONT
Best Free SEMRush Alternative: Google Analytics + Google Autosuggest + Google Trends and Browser SEO tools (used together)
Best Cheaper alternatives to SEMRush: Keysearch, Mangools, Surfer SEO
Best SEMRush Alternatives and SEO Tools for beginners: Keysearch
Best content editor and on-page optimizer: Surfer SEO
Best SEMRush Alternative for Power users: AHREFs
Best SEMRush Alternative for Competitor Research, Domain & Backlink Analysis: Moz
Best SEMRush Alternatives for technical SEO and site speed audits: Google PSI, Screaming Frog
Best SEMRush Alternatives for PPC specialists: SE Ranking, SpyFu
Read on to learn more about each of these options or click here to jump to our full list of the 100+ best SEMRUsh alternatives.
---
Best Free SEMRush Alternative: Google Analytics + Google Autosuggest + Google Trends and Keyword Surfer Browser Extension + Google Search Console (used together)
How:
Use Google Autosuggest and Google Trends for keyword brainstorming,
use Keyword Surfer browser extension to assess traffic volume, and
use Google Analytics and Google Search Console to monitor rankings and keywords.
Though this approach takes slightly more time, the tools are extremely accurate and the process of keyword research and content writing is 100% free. Though this approach is good for extreme novices, I advise getting at least a cheap SEO tool if you plan to turn your site into a true business. You will receive big returns on your effort (in clicks and money), so investing in a tool eventually is well worth the costs.
---
Best cheaper alternative to SEMRush: Keysearch
At $17 per month, Keysearch is absolutely THE best SEMRush cheaper alternative. Good keyword research tools and great domain analysis make this tool a steal.
Click here to start a free trial of Keysearch or Click here to learn more about Keysearch from us (jump to the section below).
---
Best SEMRush Alternatives for beginners: Keysearch, Mangools, and Surfer SEO
With all of the data, new concepts, and new words, SEO is already tough. The best SEO tools for beginners, Keysearch, Mangools, and Surfer SEO do an excellent job of simplifying this.
All three tools help you brainstorm keywords by suggesting related keywords based on your topic, give a reliable and color-coded "keyword difficulty score" so that you can more easily choose low competition keywords and all of the other tools you'll need as you succeed.
---
Best content editor and on-page optimizer: Surfer SEO Content Editor
Writing good content is already tough. Writing good content that is optimized for your keyword and searcher intent is even more difficult and requires an in-depth understanding of search algorithms and SEO – or it just takes a good tool.
Surfer SEO's content optimizer tool we found for writing optimized content. This tool allows you to choose your keyword and simply write while Surfer's content optimizer suggests how long your article should be, what words to include, assesses readability, and does so much more to guide you to writing the perfect post.
We tested normally written posts by re-optimizing them with Surfer and each ranked higher and more quickly.
---
Best SEMRush Alternative for Power users: AHREFs
For those that have an in-depth understanding of SEO and the data, and simply want more, the AHREFs tool is the best option.
AHREFs is regarded as having the most accurate and up-to-date data in the industry, is packed with the tools and features to accomplish any SEO task, from ideation to technical auditing, to keyword tracking and content optimization.
Click here to learn more about why we recommend AHREFs.
---
Best SEMRush Alternatives for Keyword Research: RankIQ, AhRefs, Keysearch
Good SEO, and getting traffic from Google, start with good keyword research – identifying low competition keywords and then understanding how to write on them based on searcher intent and the Google algorithm.
These 3 tools, RankIQ, AHRefs, and Keysearch, are the best options in the industry for keyword research based on your budget and skill level.
For Beginners & Small Budgets: Keysearch – easy to use interface and keyword ratings that are easy to understand at $17/mo.
For Experienced Users: RankIQ – This new, artificial-intelligence-driven research tool is a straightforward, pre-screened, and hand-picked list of ultra-low competition keywords by niche and a great deal at $50/mo.
For Advanced Users: AHREFs ample data and a powerful toolset is the best option for power users.
---
Best SEMRush Alternative for Competitor Research, Domain & Backlink Analysis: Moz
If you are assessing domains for purchase and need to understand the domain's authority, spam level, and backlink profile, Moz is the industry leader in all of these areas. Anytime I buy a new website or an expired domain to repurpose, Moz is the only tool I trust.
Click here for Moz's 30-day free trial or click for more of our thoughts on Moz.
---
Best SEMRush Alternatives for technical SEO and site speed audits: Google PageSpeedInsights, Screaming Frog
Technical SEO, including site speed, technical aspects of user experience, and security, are commonly overlooked elements of SEO that can drastically improve or damage your site's rankings in Google. These two tools, Google Pagespeed Insights, and Screaming Frog are the two best site audit tools in the industry and are both free.
---
BEST SEO Browser Plugin: Keyword Surfer (Free)
For users on a budget or not performing heavy SEO research, a browser extension may be the perfect option. Surfer's browser extension overlays plenty of great data onto your Google results page including search volume, the number of words in articles for each Google SERP result, number of clicks per month for each result, and even recommended keywords.
Click here to download the Surfer SEO plugin.

LIST OF FREE TRIALS FOR SEMRUSH ALTERNATIVES
For your convenience, we made a Spreadsheet with all 105 SEO tools including 60+ Free SEO tools and links to their trials. Below you'll find a table with free trials to any paid SEMrush alternatives.
The full list of free alternatives is both in the spreadsheet and in this article (this is the section about all free tools).
Some of them:
HOW TO USE THE INFORMATION IN THIS ARTICLE…
SEO tools are generally a significant investment for small businesses, however, having a good SEO tool is essential for writing content and building sites that naturally bring in traffic. To get the most of your money and ensure you're getting the right tool for your needs, follow these steps:
Identify specifically what you want to do with an SEO tool from these functions.
Signup for the trial use of the tool.
Tips for saving money on SEMRush Alternatives:
Do your SEO keyword research and analysis in batches. Pay for a single month (or trial period) and perform all of your keyword research in that month
Use free tools combined with free SEO browser plugins to do small SEO research projects between larger SEO research projects
Rely heavily on Google Analytics, Google search console, and Google Trends for your research as these are THE most accurate SEO tools on the planet, and free
HOW TO CHOOSE THE BEST SEMRUSH ALTERNATIVE FOR YOU
With the hundreds of choices for SEMRush alternatives, picking the right SEO tool can be confusing. The best approach is to 1) decide what you need your SEO tool to do and 2) pick a tool that does that function well. However, before you can decide this, you need to understand the major functions of SEO tools.
The major capabilities of SEO tools are:
Keyword research: Identifying how difficult it will be to rank for a keyword, and the amount of traffic you can expect per month from a keyword
Backlink analysis and domain authority & strength assessments: Showing the number of backlinks, the strength of each domain, and how "spammy" a domain is
Competitor analysis: Showing the keywords that competitors rank highly in Google for and their traffic
Performance tracking: Showing how your domain has gained or lost rankings in Google for keywords and gained or lost organic search traffic
Technical SEO assessment: Testing site speed, security, and user experience
—————————————-
NOW THAT YOU KNOW WHAT SEARCH TOOLS OFFER…HOW TO FIND THE RIGHT SEO TOOL FOR YOU
Decide what you want to do with your SEO tool and what you need your tool to do.
Find an SEO tool on our quick list above and the full SEO tool list below that does the function you need and fits your budget.
Considering using the free trials (as many as possible) to batch process your SEO projects and decide which tool fits best for your needs
---
WHY SEMRUSH MIGHT BE THE RIGHT TOOL FOR YOU
(SEMRUSH OVERVIEW)
SEMRush is a trusted market leader in the search engine marketing and digital marketing industry, and that's for good reason. SEMRush offers tons of data and a packed set of features that will allow you to do allow manners of SEO research – keyword research, on-page optimization, ranking tracking, competitor and domain analysis, and technical SEO site audits.
SEMRush is an absolutely great tool for SEO – I've achieved thousands of 1st page Google rankings from using SEMRush – but it is definitely not perfect for everyone.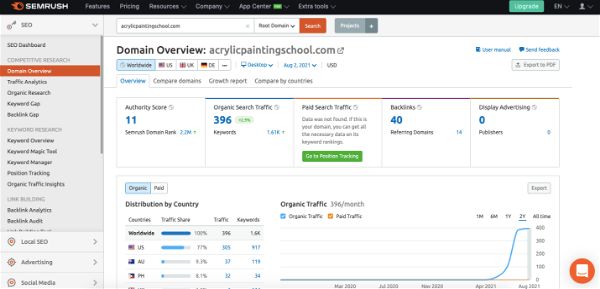 The most common, and very understandable cases in which users prefer a SEMRush alternative are due to price (check out our cheaper alternatives to SEMRush), complexity (check out our beginner-friendly SEO tools), and general preference (check out our SEMRush alternatives for advanced SEO users).
If you've decided you prefer something besides SEMRush, we're here to help. We'll quickly review the functionality SEMRush offers, and pricing, and share the 100+ SEMRush alternatives to make your decision process easier.
---
SEMRUSH PRICING AND CHEAPER ALTERNATIVES TO SEMRUSH
SEMRush's Pro plan retails for $119 per month. Additionally, SEMRush offers a 14-day free trial.
SEMRush offers the functionality (and potentially results) to warrant a $119 per month price tag, but if you only plan on using a portion of SEMRush's tools, pick a cheaper SEMRush alternative that delivers just the functionality you need at a lower monthly price.
List of all cheaper alternatives to SEMRush
Ultimate Spreadsheet with all 105 SEO tools including 60+ Free SEO tools is available for you.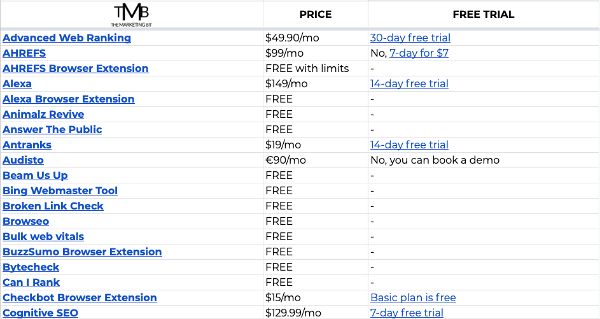 SEMRUSH FUNCTIONALITY
SEMrush is packed with functionality (which is why the price appears to be so high) – it is officially a 20-in-1 SEO tool with the biggest database which has 20 billion keywords for your relevant research. This tool basically covers all needs an SEO professional can have.
SEMRUSH FEATURES & TOOLS
SEO

Competitive Research

Domain Overview
Traffic Analytics
Organic Research
Keyword Gaps
Backlink Gaps

Keyword Research

Keyword Overview (Bulk review of keywords)
Keyword Magic Tool (In-depth keyword analysis with recommended additional keywords)
Keyword Manager
Keyword Position Tracking
Organic Traffic Insights

Link Building Tools

Backlink Analytics
Backlink Audit
Link Building Tool
Bulk Analysis Tool

On-Page & Technical SEO Tools

Site audit tool
SEO Content Template
On-Page SEO Checker

Ranking Tracking

CONTENT MARKETING

Topic Research Tool
SEO Content Template
SEO Writing Assistant
Brand Monitoring
Post Tracking
Content Auditing
And SEMRush offers quite a few additional tools and features in these other areas:
LOCAL SEO
ADVERTISING
SOCIAL MEDIA
COMPETITIVE RESEARCH
——————————————–
WHO SHOULD GET SEMRUSH?
If you need a full feature SEO tool that allows you to analyze SEO and local SEO, Advertising, Social media, Content marketing efforts, and Competitors, and you have the budget to afford $120 per month, then SEMRush may be the tool you need.
SEMrush is perfect for SEO experts, and it is worth every penny if you have the budget. If you're a freelancer and need to rank your client's website quickly, SEMrush will get you there. You should also consider SEMrush if you want to do keyword research and find out what keywords are generating traffic from different sources (e.g., Google).
——————————————–
WHO SHOULDN'T GET SEMRUSH
However, if you are a beginner SEO, have a smaller budget, or don't have the additional features beyond basic SEO (e.g., local SEO, advertising planning, Social media analysis, and competitor analysis), then opt for a different tool.
Click here to jump back to our quick list of recommended SEMRush alternative SEO tools or continue reading to review our full list of the 100+ best SEMRush alternatives based on your budget, skill level, and what you need for your SEO tool to do.

FULL LIST OF SEMRUSH ALTERNATIVES
Spreadsheet with all 105 SEMRush Alternatives including 60+ SEMRush Free SEO tools + links to the free trials.
*Please, note that some tools are mentioned in multiple categories, such as Keysearch, as it is both cheaper than SEMrush and better for keyword research.
Below you'll find the list first and then a review of each tool. Feel free to jump right to the tool you're interested in or scroll through all suggested SEO tools. I promise you'll find a lot of very interesting small tools to try!
🔝 AHREFS
🔝 Moz Pro
---
---
Surfer Content Editor
Keyword Surfer Browser Extension
Ahrefs
Mangools
Moz bar
SerpStat Browser Extension
SEO Review Tools Browser Extension
Seoquake Browser Extension
Serp Preview Tool Browser Extension
SEO Minion Browser Extension
Link Redirect Trace Browser Extension
Detailed Browser Extension
BuzzSumo Browser Extension
Alexa Browser Extension
Keywords Everywhere Browser Extension
Checkbot
Majestic Browser Plugin
---
HIGHEST PERFORMANCE SEMRUSH ALTERNATIVES
$99/mo. No free trial, 7-day for $7
Ahrefs is the number #1 SEMrush competitor among all SEO tools and an all-in-one SEO tool. Marketers from Facebook, Adobe, Linked In, Uber, and other big companies use Ahrefs to analyze competitors and optimize their websites.
What are the main features of Ahrefs?
Keyword research tool
Site audit
Competitor analysis with a Site explorer
Top performing content analysis with Content Explorer
Rank tracker
Domain Comparison
Batch Analysis
Link Intersect
Content Gap
Email Alerts
SEO Checker
Word Count
Traffic Checker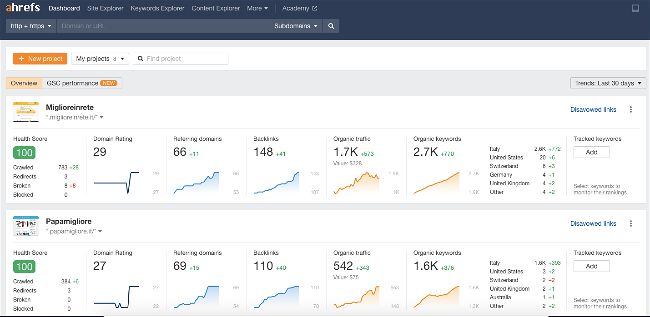 Ahrefs offers FREE tools as well, but almost all Ahrefs free tools work only if you've verified domains and their subdomains with Ahrefs.
Webmaster Tools
Backlink Checker
Broken Link Checker
Website Authority Checker
Keyword Generator
YouTube Keyword Tool
Amazon Keyword Tool
Bing Keyword Tool
SERP Checker
SEO Toolbar
WordPress Plugin
Keyword Rank Checker
Keyword Difficulty Checker
Website Checker
SEMrush vs Ahrefs
A brief comparison between SEMrush and Ahrefs cheapest plans. The cheapest Ahrefs plan is Lite – $99. This table doesn't cover all features of both tools but can give you an idea.


SEMrush
Ahrefs
Price monthly
$119.95 (Pro Plan)
$99 (Lite Plan)
Included per month
1 user
500 KW queries per day
10 000 row results per report
3000 reports
250 updates for target KW
100 000 pages to crawl
50 social profiles to monitor
5 scheduled and auto-generated report Content assistant
Site Audit Competitive Analysis
1 user
500 KW queries in total
10 000 rows per report
350 reports per week
500 target KW
10 000 pages to crawl
Alerts
Batch Analysis
Domain comparison
Social profiles to monitor
Scheduled and auto-generated report
WHAT THIS TOOL IS BEST FOR. This tool is especially good for very precise keyword research and competitors' analysis, including their backlink profile.
WHO THIS TOOL IS BEST FOR: Ahrefs is best for advanced users with a quite good understanding of all aspects of SEO. It is also more recommended for full-time bloggers or website administrators who already have income from their sites.
---
2 – Moz Pro
Moz | $99/mo | 30-day free trial
WHAT THIS TOOL IS BEST FOR competitive analysis, spam score check, domain authority, and backlinks checks.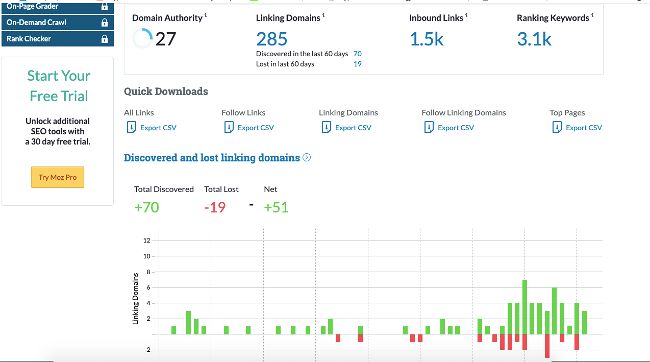 Features:
Keyword Research
Rank Tracking
Site Crawl
On-Page Optimization
Link Research
Custom Reports
SEMrush vs Moz
For $99 you will only get 150 KW searches per month, which is quite a low quantity. But, Moz Pro is more trustworthy in terms of domain authority: the data is more accurate than SEMrush. As well as some features that SEMrush doesn't provide, such as website spam score checks and more accurate backlink monitoring.
Both SEMrush and Moz don't offer content assistants that can compete with Surfer SEO content editors or other tools on the market.
—————————————-
3 – SE Ranking
SE Ranking is an all-in-one SEO and online marketing tool with its own mobile app for iOS and Android. It suits both individuals and big agencies.
$39/mo | 14-day free trial with no credit card required.
SE Ranking FEATURES
Keyword tools

Keyword Research and Suggestion Tool – KW difficulty score, search volume, KW ideas, CPC and paid competition, filters and export options. Competitors' paid campaigns history, bulk keyword analysis
Keyword Grouper – SEO structure, segments of KW, PPC grouping. Keyword variations, synonyms and closely-related terms with volume.You can group by country, language.
Keyword Rank Tracker – track Google, Yahoo, Bing, YouTube, Yandex rankings for all locations, including cities, and devices. Check Google Ads, Maps, SERP features. Option to check up to 5 competitors and compare your website with theirs. Top-100 search results and their dynamics to analyze and tag.

Website Audit – full health check, domain overview, pages analysis, meta analysis, content analysis, links analysis, images analysis, page load optimization for desktop and mobile, usability and technologies check. All with links and recommendations. Here is a PDF example of an audit
On-Page Checker – analyze specific page for target KW and gives you recommendation on optimizing it. Analyzed parameters: domain characteristics, titles and meta description, URL structure, index status with last snapshot, images and content analysis, links, tags, page load optimization, keyword density, social media, usability and tech analysis.
Marketing Plan is a kind of seo and social media strategy checklist which is easy to follow.
Competitive Research includes detailed report about competitor's traffic, kw ranking, backlinks, domain and page trust, popular pages and ads.
Page changes alerts – the service will monitor content, meta tags, links, index status for specified pages.
Backlink Checker and Monitoring – check yours and competitors domains or exact URLs. Analyzed parameters: do/no follow links, link types, anchor text, domain trust, page trust, Alexa rank, first/ last seen dates, IP addresses, status of backlink, index status, UGC/Sponsored. Each domain can be added to Monitor backlinks tool where you can connect Search Console, import backlinks, filter them, disavow, budget link strategy, etc.
B2B Features: Lead Generator, SEO Reporting Tools, Page Changes Monitoring, White Label, API
Social Media Platforms Management includes auto-posting and analytics.
SE Ranking VS SEMrush
SE Ranking offers discounts when you subscribe for more than 3 months (5-20% off) or if you change how often the service will check the ranking (daily, weekly), you can also have an additional discount of 10-20%. E.i. you buy 3 months (5% discount) with a weekly ranking update (20% discount), your total discount will be 25%!
They also have a nice Pricing Plan Calculator which can help you decide on your needs and best solutions.
For $39 with SE Ranking you'll get 500 keyword credits for a month, the same main features all SEO tools offer, except content optimization, scheduled reports, or position change tracking. Both SEMrush and SE Ranking can help you manage your social media accounts, but I'd recommend using SEM tools for that.
SE Ranking compared to SEMrush has some uniques tools: keywords grouping, Marketing plan, Page changes monitoring, mobile app, etc. Both tools offer a variety of useful features, but SE Ranking is almost 3 times cheaper than SEMrush and the trial is 2 weeks. Why not trying?
—————————————-
4. Web CEO
$99/mo | 14-day free trial
Web CEO is another all-in-one SEO tool for experienced users and agencies. This tool allows you to do keyword research and SEO audits, track your rankings and your competitors', analyze domains, internal links, and backlinks, but also manage social media and paid search campaigns, and more.
Main Web CEO features:
Dashboard with all key metrics, including domain overview, social media activity, site optimization score, ranking positions and distribution between search engines, etc.
Keyword research
Unique parameter in keyword research Local KEI – shows how effective is this keyword for the chosen location.
Allows to check positions in up to 3 search engines for target location and language.
Keyword rank tracking (up to 10 key terms)
Allows to integrate Google Analytics, Google Search Console and Google My Business
Competitors' tracking
Site Health monitoring with Tech Audits
Backlink profile
Traffic analysis for organic and paid traffic
Google My business
Social media analytics
Quick domain analysis
SEO reports
SEO leads for agencies
Web CEO may be useful for agencies and website owners focused on technical site optimization and tracking their positions and their competitors.
Web CEO offers a 14-day free trial with no credit card required. Monthly pricing starts from $99/mo. The $99 plan is for individuals and small businesses, the corporate plan is $299 / mo.
Web SEO vs SEMrush
SEMrush is more universal in terms of SEO possibilities and better for keyword research, while Web CEO is better for local SEO purposes, SEO agencies, and domain audit than for keyword research.
While the Web CEO is slightly cheaper I would stick to SEMrush considering the 20B database the tool uses for keyword research. While if I'm a small SEO agency I would consider Web CEO as an option.
—————————————-
5. SEO Powersuite
SEO Powersuite is a freemium SEO software tool for windows, mac, and Linux.
When you download it, you get 4 apps and a 103-pages ebook about SEO needs for marketing and business. SEO Powersuite will download all data from your website to find out how well it is optimized for search engines like Google or Bing.
The 4 main programs:
Website Auditor is a tool for technical SEO, on-page optimization and content analysis. This tool can also create for your website Robots.txt and Sitemap files.
Seo SpyGlass is a backlink research app. You will get the standard detailed backlink profile for the domain you choose.
Link Assistant helps website owners discover backlink opportunities. Can be a great tool to find where to write a guest post.
Rank Tracker pulls data from 327 search engines. It also let you use 16 different keyword suggestion mechanisms, all standard KW metrics, but also unique "Not provided" traffic estimates. For free you will be able to track 1 competitor ranking.
SEO Powersuite VS SEMrush
Seo Powersuite is almost free-to-use software. For free you will get an unlimited number of keywords and websites to check, but no saving projects or exporting option. It is an offline tool, while SEMrush is an online tool. SEO Powersuite software is a good SEMRush alternative.
The keyword research has no limits on the free plan of SEO Powersuite, but an on-site audit will check only 1/3 of your website. Link tracking will also be limited. The full edition is $299 per year (±$25/mo).
SEO Powersuite software stays up-to-date and constantly receives small performance updates.
————————————————————
6. Monitor backlinks
Monitor Backlinks is an SEO tool for monitoring backlinks and analyzing competitors' backlink profiles. It will also help you recover valuable backlinks you've lost.
Backlinks are a crucial part of SERP strategy. They're important for ranking well in search engines but they're also important for visitors to visit your site. High-quality backlinks provide Google with the information that your content is credible and worth following which will help your website maintain a higher rank in search engine results pages. It has been shown, too, that backlinks can increase organic traffic by up to 5 times.
If you're a beginner and not quite sure you have the spare budget, you probably won't spend an extra $25 on the backlink tool, but invest it in a keyword research tool.
The tool seemed less easy to use than Moz for backlinks, and definitely less useful in terms of position tracking than SEMrush. It is still a great tool to see your backlink profile.
————————————————————
7. Majestic
$49.99/mo | NO free trial
Majestic is an SEO tool for power users to monitor backlinks and build a backlink strategy. It is one of the largest links databases – historically Majestic crawled 2,5B+ links.
This tool has also an industry-leading API for SEO agencies that specialize in link building.
Majestic can beat SEMrush if you're interested in backlink analysis, but it can't replace it by any means. If you have an in-depth understanding of how to build a backlink strategy and some extra budget, try Majestic. If not, use Moz or Majestic Free Backlink Analyzer browser plugin.
————————————————————
8. Cognitive SEO
Cognitive SEO is an all-in-one SEO tool for advanced users. It covers position rankings, backlink profiles, eventual penalties, site audit, competitive analysis, and content optimization.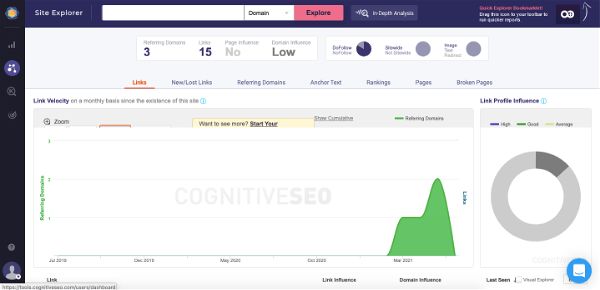 The main goal of the tool is to flag any issues with your website or content and help you to fix them.
Cognitive SEO is even more expensive than SEMrush.
————————————————————
9. SerpStat
$69/mo | No public available free trial, but easy to get it upon request.
SERPSTAT is an award-winning all-in-one SEO tool and the most upvoted SEO tool on Product Hunt.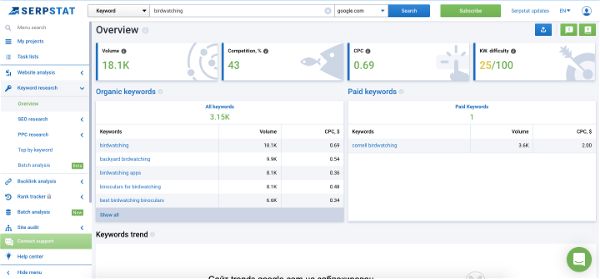 Main SerpStat features:
Rank tracking

Paid and mobile search results
Market share tracking
Local tracking
Keyword grouping

PPC research

PPC ads analysis
Keywords in РРС
Competitor ads

Tools

Keyword clustering
Text analysis
Keywords Quality Control

Keyword research

Keyword difficulty
Search queries
Keyword trends
Related keywords

Site audit

Site audit
Page audit
Custom report

Serpstat Website SEO checker extensions for Chrome, Mozilla and Opera
Website analysis

Domain and URL analysis
Missing keywords
Top pages
Tree-view analytics

Backlink analysis

External links
Top pages
Referring domains

Other features

API, integrations and checklists
Team management
Reports and infographics
SEMrush VS Serpstat
Serpstat is much cheaper than SEMrush. It also allows you to check more keywords and domains daily, as well as up to 500 backlinks. Serpstat is more technical and doesn't offer social media management or content optimization features.
---
10. Woorank
$79.99/mo | 14-day free trial
Woorank is a marketing tool for websites with several features: competitive analysis, keyword research and tracking, technical website audits, and reporting.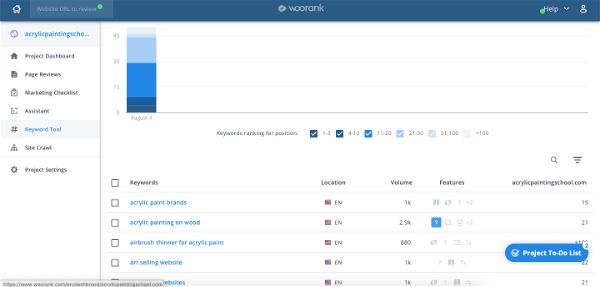 Woorank will show you the rank of your website in a search engine and indicate how well it is doing compared to your competitors. It easily shows you what steps you can take to improve your SEO, for example, adjusting content on your website or creating keyword-rich content.
This tool has been created by a team of SEO experts who know how to optimize websites for Google's algorithm. The Woorank report is easy to read and understand, which makes it a great choice for beginners, advanced users, and a small marketing agency.
Woorank offers a unique opportunity to get 4 free months if you're paying annually.
---
11. Keyword Tool
$89/mo | Free plan available
Keyword Tool helps you to pull keywords ideas from Google autosuggestions, Bing, Youtube, Amazon, eBay, PlayStore, Instagram, and Twitter.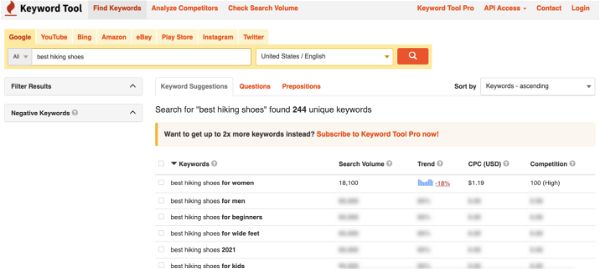 The keyword report is pretty accurate but doesn't have SERP results volume. All keywords you like you can copy or download.
If you're looking only for keyword ideas, the free plan will be enough for you. But if you need precise volume, trends for the past 12 months, Ads bids, and keyword competition score, you'll have to update to Keyword Tool Pro.
The tool supports all countries and languages.
I find it quite expensive as a single-purpose SEO tool, and would probably recommend it only for power users who can evaluate the quality of data and use a maximum of it. For most users, I would still recommend the Keysearch tool.
---
12. Sistrix
€100/mo + taxes | 14-day free trial
Sistrix is an SEO toolbox that has been designed to provide you with a holistic overview of your website's search engine ranking and to monitor your competitors to see how well they are doing in the SERPs (Search Engine Results Pages).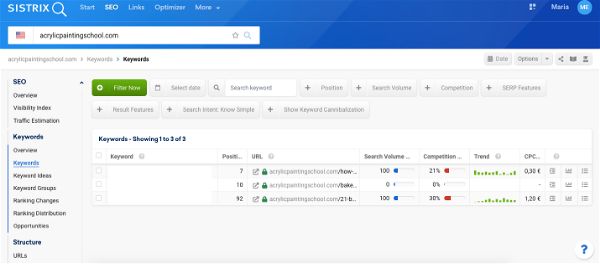 The one thing that makes Sistrix stand out is its ability to analyze your competitor sites. It also provides you with insights into their backlinks, traffic flow, and more. This makes it perfect for content strategists.
Main Sistrix features:
SEO tools: visibility index, ranking tracking and changes, top content, keyword discovery.
Link tools: broken links check, link opportunities, top links, web technologies.
Optimizer: content assistant, on-page analysis.
Sistrix also has Amazon SEO and social media influencers research tools (separate pricing).
Limitations
I find the Content assistant is non-competitive compared to other separate tools available on the market such as Surfer SEO. My domain Keywords report was also inaccurate. Only the backlink report was on point, but the presentation wasn't comprehensive for me. I would not be able to pay 100 euros for the tool and rather invested money in power tools like Ahrefs or SEMrush.
---
13. Audisto
€90/mo | No free trials available
Audisto is software focused on in-depth technical audits of websites. Audisto analyses your webpages structure, rank, duplicate content, and SEO issues. Then, it visualizes the report and helps you fix errors.
The tools will also constantly monitor your site and signal any errors.
Only for advanced users able to read technical reports, even if Audisto really thoroughly presents them.
---
14. XOVI
€99/mo | 14-day free trial
XOVI is an all-in-one online marketing and SEO suite. Xovi offers 4 main SEO features: link tools, keyword tools, on-page tools, and social medial tools.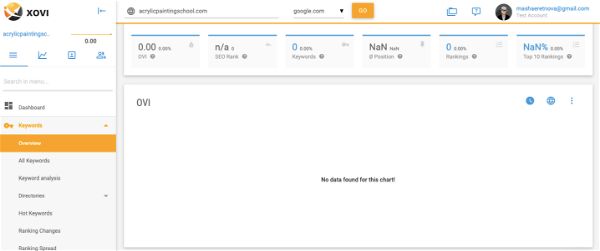 It will also help you analyze competitors, Ads trends, and published ads, disavow irrelevant backlinks, and more.
The tool uses Google Keyword planner to pull monthly search volume. While Google Keyword Planner is completely free to use to anyone, it is also providing inaccurate volume data.
I had troubled to test XOVI as it constantly was saying No data or demonstrated very limited rows of real data with inaccurate volume.
For keyword research, I would recommend using other tools, cheaper. This time SEMrush is undeniably better than its alternative.
---
15. Dyno Mapper
$129/mo | 14-day Free trial
Dyno Mapper is a visual tool to organize websites, audits, content inventory, daily tracking, and testing. Even content planning can be done with Dyno mapper.
It also has a unique Visibility Accessibility Content Quality Score® that evaluates the overall health and quality of a website.
It may be worth subscribing when you have big websites, work with clients' sites, and have a lot of data. Dyno will be great for people who need specific accessibility tests and visual sitemaps.
Once you add your domain, the tool will retrieve the sitemaps and create an inventory with all pages, links, documents on your website.
DynoMapper vs SEMrush
Even if both tools work for SEO, Dyno Mapper and SEMrush are completely different. While SEMrush is an all-in-one SEO tool with a range of features, Dyno Mapper works better for specific tests and visualizations of data.
Dyno Mapper is definitely not a beginner tool and can't help you with keyword research. It is also even more expensive than SEMrush, so I could recommend listing tasks you need to cover and make them during a free trial or one-month subscription (if you really find them useful for you).
---
16. Screaming Frog
FREE
Screaming Frog is a well-known software mainly designed for detailed technical SEO analysis and optimization. This tool may seem complicated to beginners and all writers or marketers not familiar with technical SEO.
Screaming Frog is a pillar SEO crawler for many years already. If you need very detailed in-depth reports and you can read and use them, please, download this tool right now.
By the way, I spent 2 minutes playing with a fly and frog on their website…
Free features:
Find Broken Links, Errors & Redirects
Analyse Page Titles & Meta Data
Review Meta Robots & Directives
Audit hreflang Attributes
Discover Exact Duplicate Pages
Generate XML Sitemaps
Site Visualisations
500 pages Crawl Limit, and more
The interface is not really user-friendly and is very tech-oriented. It seems complicated and you have no hints about what exactly all that means:
The software has free options for Windows, Mac, and Ubuntu with some limitations and paid license for $149 per year.
With a Free license, you don't have access to technical support, integrations, content checks.
Screaming Frog vs SEMrush
First of all, with Screaming Frog you get your SEO tool for free. Second, you can't really compare SEMrush and Screaming Frog, they can easily complement each other.
Screaming Frog can't help you with keywords, content, or competitors, but it will do a better job with tech stuff than SEMrush.

BEST CHEAPER ALTERNATIVES TO SEMRUSH (UNDER $50)
17. Group Buying
Warning! We don't promote group buying and highly recommend you purchasing regular subscriptions to not violate anyone's Terms and Conditions. Still, we realize that group-buying exists and many people use it.
Group buying is a way to purchase one subscription for multiple SEO tools, e.g. Group buying subscription will cost you only $20, but provide access to all major SEO tools we cover in this article.
It means that you and several other users use the same account to sign in to SEO tools. Some tools have special plans with multiple seats, but you don't know if the Group buy owners pay extra for extra seats or just share basic plans.
————————————————————
18. RankIQ
$49/mo | No free trial
Best pre-selected keyword libraries for 200+ niches and sub-niches
RankIQ is the only hand-picked keyword library database on the market. It was created by the SEO expert and entrepreneur Brandon Gaille and offers up to 5,000 easy-to-rank keywords for each of 200+ niches and sub-niches.
It also has an AI SEO report feature that makes AI scan TOP-30 SERP results for your keyword and sum up keywords for appealing title, 80+ topics to cover, targeted word count, and the content grade you should aim for.
This SEO tool is best for beginners and all-level bloggers who don't want to spend weeks researching good keywords.
Read our full RankIQ review where we showcase results from 3 niche blogs: RankIQ Review & Results from Blogger.
————————————————————
19. Keysearch
$17/mo | 30-day free trial
Keysearch is THE best tool for keyword research and a cheaper SEMrush alternative. Find low competition and long-tail keywords for your target term in a matter of minutes. It is also one of the greatest beginner-friendly tools as it offers not only keyword research.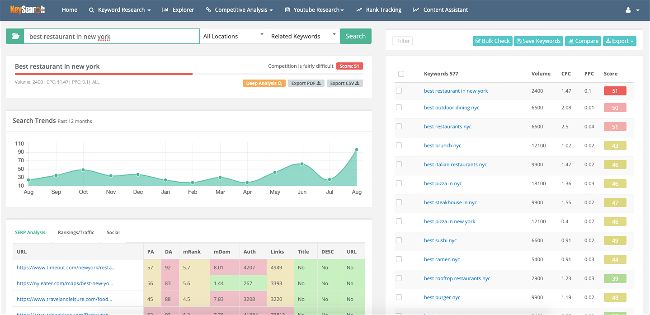 Keysearch main features
Daily Searches & Analysis with unique competition score
quick difficulty checker
brainstorm tool – get ideas from twitter or google trends for your KW, check amazon movers
creating your own lists of kw
Domain Explorer with recommended competition score to target, domain strength, backlinks, top competitors, organic KW list, etc
YouTube Research by KW and location with competition score for each KW
Content Assistant
Rank Tracker Keywords
Competitive Analysis Access: analyze pages, backlinks, KW gaps, organic KW, URL metrics such as Page Authority, Domain Authority, Domain Strength, Total Backlinks, Dofollow Links, Alexa Rank, Rank Strength, Ranking Keywords, Domains Traffic, URL Ranking Keywords
Content Assistant
Reporting
Opportunity
Keysearch free tools:
Daily Searches & Analysis (5 per day)
YouTube Research
Content Assistant
Reporting/API Access
It is an ideal tool for bloggers and small businesses of any level, as you can find east-to-rank keywords with low competition.
Keysearch VS SEMrush
Keysearch basic plan will cost you only $17 per month with access to all features and 200-250 daily keyword searches. Keyword research is something you must do for your SEO strategy, and Keysearch is the best choice.
Limitations: the thing I personally miss in Keysearch is having SERP results volume for each keyword.
————————————————————
20. Mangools
$49/ mo | 10-day free trial
Mangools is a beginner-friendly all-in-one SEO tool on a budget. It offers 5 main paid features and a couple of free SEO tools. The best cheap all-in-one alternative!
Main Mangools SEO features:
KWFinder for Keyword Research – keyword research and keyword ideas tool.
SERPChecker for SERP Analysis both for desktop and mobile with 49 metrics in total. For each serp result you can click and find backlinks.
SERPWatcher for Rank Tracking: enter the domain and kw and start tracking your or competitor's ranking
LinkMiner for Backlink Analysis
SiteProfiler for SEO metrics & Insights has 4 parts:

1) overview: domain and title, DA, PA, Alexa rank, referring IP addresses, citation flow, trust flow, FB shares
2) backlink profile: active and lost backlinks for last 4 months, all backlinks, link type, dofollow links ratio, active links ratio, referring domains, IP addresses and subnets wit hAvg. links per domain/ IP or subnet, Top referring domains with export option, Alexa rank distribution. Anchor texts and Anchor text distribution.
Top content by ref domains or FB shares.
Competitors: Shared kws, Alexa Rank, Referring IPs and FB shares for each briefly or you can go and do full analysis through Site Profiler for each competitor.
FREE SEO tools:
Browser extension
SERP Volatility checker – Significant changes in Google SERP positions can be caused by Google algorithm updates. SERP volatility index shows how big are these changes day-by-day. desktop and mobile. Keywords with unchanged positions, Changes in top positions
SERP Simulator – enter your title tag and meta description to see your website's SERP snippet preview for chosen location, mobile or desktop
Nice user-friendly interface, free, quick and simple sign up, access to all features, all acronyms and metrics have a question mark with brief and very clear explanation.
SEMrush vs Mangools
Mangools offers the same major tools every SEO enthusiast needs, but at a better rate – only $49/mo. Compared to SEMrush the Basic plan is cheaper, but also has fewer keyword credits per day (only 100). In general, Mangools isn't at all worse than SEMrush and definitely worth trying a 10-day free trial.
Mangools doesn't offer social media management tools or content optimization features, but to be honest SEMRush's ones can't beat niche leaders like Surfer SEO content optimizer, Frase or INK too.
I would also note that they added a few good vibes to their product – everything is juicy!
————————————————————
20. Surfer SEO
Best Content optimization feature. $59/mo | No free trial
Surfer SEO is all-in-one SEO tools and content optimization plugin
Surfer SEO Features:
Keyword research
SERP analyzer
Content planner for website
Content editor
Site audit
Chrome extensions – KW surfer and Content Editor
While the keyword research feature is great, I would like to mention Surfer SEO Content Editor.
Surfer SEO Content Editor is an AI-based copywriting assistant. You can easily integrate it with your WordPress or Conversion.ai (Jarvis) account.
You enter your target keyword and location, write or paste your text and discover topics, headings, word count, paragraphs, images to use. Your SEO score will be updated in real-time. Once you hit 80+, you are good! This assure you create SEO-optimized content that will rank higher and get more traffic.
SEMrush vs Surfer SEO
Surfer SEO is much cheaper than SEMrush – $59/mo. For this price you have unlimited keyword research, 25 credits for a content editor, credits for backlinks check, and SERPs monitoring.
While keyword research and other tools are similar to other tools on the market, the most valuable part is the Content editor. It's much better than the Content assistant from SEMrush. If you're working with WordPress you can integrate two services and create better content for search engines.
Plus, you're not a copywriter, or writing is not your favorite part, you can use AI to write for you, Jarvis.ai can do it. It also has integration with Surfer SEO, so you can have both: faster writing and better optimization.
————————————————————
21. Spy Fu
$39/mo | No free trial
SpyFu is an SEO tool for PPC specialists, website owners, and marketers.
Spy Fu provides us with many useful features:
SEO RESEARCH
SEO Competitor Analysis
SEO Keyword Research
Ranking history (top 10 results history form 6 months to 5 years and more)
Competitor Backlinks
Domain Comparison
Rank Tracker
PPC RESEARCH
Google Ads Competitors
PPC Keyword Research
PPC Keyword Suggestions
Google Ads Templates
Ad History(best advertisers and their ads plus budget)
EXTRA FEATURES
SEO Reports
Keyword Rank Checker
SERP Checker
Domain Overview
SEMRush vs SpyFu
While SpyFu is almost three times cheaper than SEMrush, it has one big inconvenience – it pulls data only for the US and UK, while SEMrush works with all countries and languages.
Regarding features, both tools are all-in-one kinds of tools and offer major SEO tools you may need: competitor analysis, keyword research, backlink checks. SpyFu doesn't provide technical SEO tools, but it has a lot of features for PPC campaigns.
————————————————————
22. SE Ranking
$39/mo | 14-day free trial
We mentioned SE Ranking as an SEO toolset for advanced users seeking high-performance all-in-one SEO tools, but it is also a cheaper SEMrush alternative.
Check our overview above.
————————————————————
23. Ubersuggest
$12/mo | 7-day free trial
UBERSUGGEST is another Semrush alternative. It is an SEO tool created by SEO guru Neil Patel. It is super popular among bloggers for its price and easy-to-navigate interface, but, as well, for its keyword research performance.
Main Ubersuggest features:
Keyword analysis
Competitor analysis tool and similar websites discovery
SEO analyzer (in trial you can only crawl 150 pages max.)
A/B testing calculator
Backlinks
Chrome extension
Ubersuggest vs SEMrush
Ubersuggest's interface reminds me SEMrush a lot, but of course, it may be my subjective perception.
Don't need to mention that Ubersuggest is almost 10 times cheaper than SEMrush. And for $120 you can either get one month of SEMrush or a lifetime subscription for Ubersuggest.
The keyword research feature Ubersuggest offers is really cool: you have not only common kw difficulty, but also related to this specific key term PPC difficulty, average DA of websites ranking for this keyword, backlink profile, and more. The tool also pulls data from Facebook and Pinterest, which is great, because Pinterest is a huge source of traffic for blogs and e-commerce.
Still, I need to admit that Ubersuggest doesn't offer the same toolset as SEMrush does. Ubersuggest is great for beginners, while SEMrush may be too complex for someone who just started.
————————————————————
24. Advanced web ranking
$49.90/mo | 30-day free trial
Advanced Web Ranking is an SEO tool mostly focused on tracking website rankings, your competitors' analysis, and creating comprehensive SEO reports.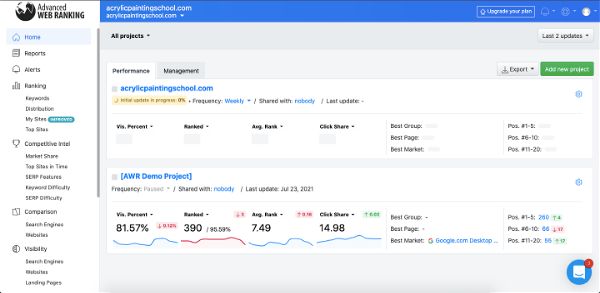 Advanced Web Ranking Main features:
Rank tracking for 4,000+ search engines, including local ranking and device-based ranking
Keyword opportunity discovery
Competitors' research and analysis, including discovering emerging competitors and their strategy
SEO reporting
AWR free tools:
Google SERP analysis with incidence of SERP Features and how to better optimize your website for them.
Google Algorithm tracking shows how volatile are SERP results due to algorithm updates.
Organic CTR insights offers monthly analysis of CTR per SERP features, branded or unbranded content, search intent, categories and more. Ex. you can see that people are more likely to click on a long tail keyword.
Wattspeed tests your website speed.
Search Demand Trends pulls trends and shows changes in Google Search Impressions by industry.
AWR offers a 30-day free trial with no card required. Paid plans start from $39/mo.
This tool is great for those who don't need all SEO in one place, and especially, who don't need keyword research or content optimizing features. It will be great for advanced SEO users for daily position tracking and analysis.
It is good for tracking positions and integrating them with the Search Console and Google analytics.
Comparing to SEMrush which only covers Google, Advanced Web Ranking gets data from 4,000+ search engines.
---
25. Raven tools
$49/mo | 7-day free trial
Raven tools is an SEO and Reporting Tool. Raven Tools has also integrated with the TapClicks SEM platform.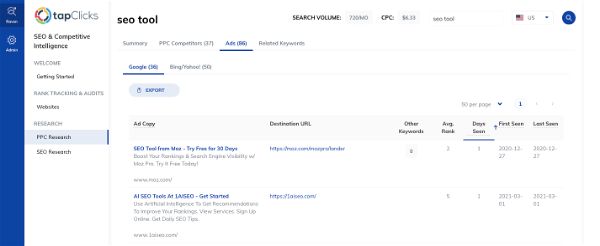 Main Raven features:
website audit
backlink tool and link building manager
rank tracking
reporting
competitor research and SEM Competitor Research
keyword research
Google Data Studio integration
Social media campaigns reporting
Freelancers can benefit from a Free plan with 1 website to track and a limited amount of queries per month. Paid plans start from $49/mo for SEO tools and $149 / mo for SEO+SEM tools.
SEO research felt less useful for me than keyword research other SEO tools offer. The ranking report didn't also impress me.
Raven is good though to see PPC search results and spy on competitors' ads. But in the PPC field, it has its own competitors such as SpyFu, SerpStat, SEMrush.
---
26. Long Tail Pro
$37/mo | 7-day free trial
Long Tail Pro is an SEO tool created to help you find long-tail keywords faster. Long-tail keywords are effective if you want to rank faster and higher on Google. They are especially useful for beginners as they allow you to rank without competing with websites with high domain authority.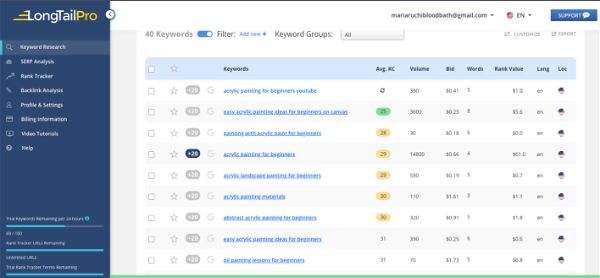 But it is not the only feature of Long Tail Pro. This service still provides you with a rank tracker, SERP analysis, and backlink analysis.
The free trial lasts 7 days and you can activate it only with your card. A trial doesn't let you use the software without limits: you get 100 free keyword searches per day and 1 rank tracking item. The cheapest monthly plan is $37/mo. Surprisingly, they will also charge you a $1 setup fee.
The tool may be great for what it stands for: looking for long-tail keywords suggestions and pick them faster. But I would not choose it, unfortunately, overall all alternatives. I would prefer Keysearch which is cheaper or Keyword Pro that can also find long-tail keywords.
Honestly, using any keyword research tool you can find long-tail low competition keywords, even with SEMrush. Especially, with SEMrush as it also has SERP volume filters.
---
27. Screaming Frog
FREE | Paid version also available
We nominated Screaming Frog as one of the best high-performant SEO tools for advanced users too. Feel free to check our thoughts about it above. It is the most detailed audit tool, but this crawler is only for advanced users.
You will also see Screaming Frog below among other Best Free SEMrush alternatives.
---
28 – Screpy
$12/mo | 7-day free trial
Screpy is an AI-powered SEO tool, cheaper than SEMrush. It fits beginners as the interface is simple. This tool is for monitoring SEO metrics and ranking, but it can't do keyword research for you.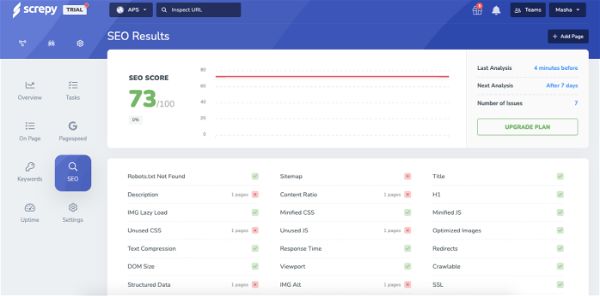 Main Screpy features:
PageSpeed Insights tests (by Google)
Keyword tracking
SEO monitoring
Uptime monitoring
Syntax checking
Auto-generated SEO tasks based on reports – cool feature!
All features have a simple intuitive interface and nice visualization.
Limitations:
If you are an advanced user or have a technical background, you can find the same speed report for free using the Google PSI tool.
Position tracking is a bit confusing: for some terms, it is accurate, for others – no.
---
29. Ranking Spy
€9.90/mo | Free plan with limits or 14-day free trial
Ranking Spy allows you to check your or your competitors' positions in different search engines. The service itself looks very simple, kind of old-fashioned, but the ranking data is pretty accurate.
Free monitoring lets you check up to 5 keywords and 5 different search engines.

---
30. SEcockpit
$39/mo | 7-day free trial
SEcockpit is a keyword research tool both for SEO and PPC (Google Ads paid campaigns). With these tools, you can discover profitable keywords for advertising or organic traffic, and track your rankings.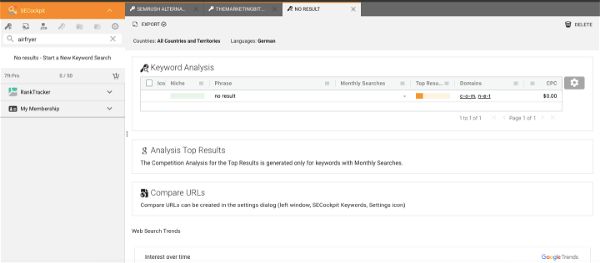 Agencies also may like this tool, as you can work with PPC clients and make branded reports. I can't say that the interface is beginner-friendly.
I would rather use this tool to find out real CPC for my Google Ads campaign than for keyword research.
Overall, my sign-up and cancelation experience + nothing surprisingly good about the tool don't let me say that this tool is better than SEMrush. No, choose SEMrush, SpyFu, or other tools for PPC. This is the only SEO tool where you need to email them to cancel a free trial or subscription!
---
31. SEO scout
$49/mo | 7-day free trial
Seo scout is an SEO analysis tool: it analyses content, optimization, rankings, competitors, technical issues and helps you fix them to improve performance. SEO Scout is a beginner-friendly and cheaper SEMrush alternative.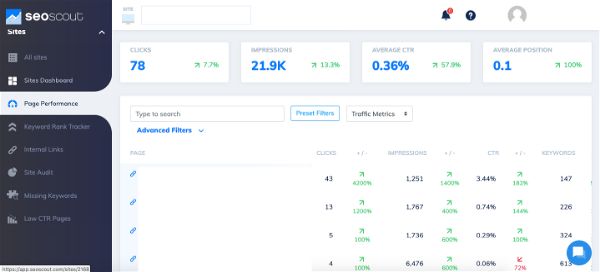 Seo scout allows you to find good linking opportunities, missed keywords, monitor how changes affect your overall website search engine optimization.
I like how friendly and intuitive is the interface. The rank tracker tool is great – shows you all keywords, impressions, clicks, CTR, positions, and changes. I find it unique and easy to use.
The overall depth of research and data presentation is very good and clear.
SEO scout also has 3 separate features I'd like to mention:
Low CTR pages – pages on your website that can perform better, but now only few people click on them. For each page you can create a test to see if changes will bring you more clicks. Amazing!
Missing keywords
Topic analysis is a great feature for bloggers – what people ask on Quora that you can include in your outline? what word count to target? Which topics to cover in the blog post? This content optimization tool is alike RankIQ.
For SERP analysis, keyword opportunities, and page opportunities SEO scout is one of the best SEMrush alternatives. Please, note, that this is not an all-in-one SEO tool and it doesn't offer link-building tools or some in-depth technical reports.
---
32. Seomator
$5 lifetime | 7-day Free trial
Seomator is a website crawler. It is a less SEMrush alternative than Screaming Frog competitor.
Seomator scans your website, usually, it takes up to 15 min., and report to you any issues with technical SEO.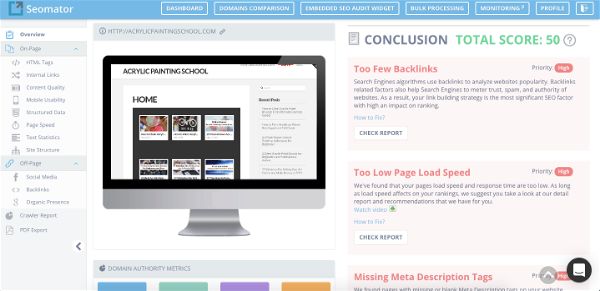 The report will include an on-page overview with different metrics, site structure, page speed, and an off-page section with backlinks, organic presence, and social media shares.
Seomator seems to be a beginner-friendly crawler, but still, technical audits are not easy to read if you're not familiar with them.
---
33. Seoptimer
$19/mo | 14-day free trial
Seoptimer is another SEO audit and reporting tool. It is simpler than Seomator.
It also offers some basic Free SEO tools such as generators, minifies, validators, usability, and performance checkers, e.g. you can check if Google Analytics is installed, generate Sitemap, minify JS, check SSL, and more.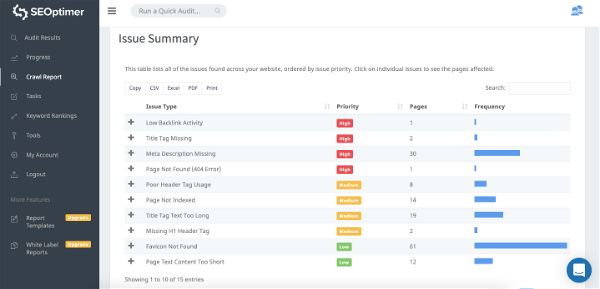 Embeddable SEO audit feature is only available for Premium users ($59/mo).
The crawl report is simple and accurate, but will not explain how to fix any of the issues or why exactly some of them are important.
---
34. Sitebulb
£10 + VAT/mo | 14-day free trial
Sitebulb is a crawling software with actionable SEO audits for Windows and Mac.
Download the software, set up your account, and crawl your website. The report is ready in few seconds and will include SEO, links, indelibility, redirects, on-page optimizations, delicate content, structure audit, and more.
Such an in-depth report is easier to process than one from Screaming Frog but still needs some experience and knowledge.
---
35. Wincher
€29/mo | 14-day free trial
Wincher is a keyword tracking tool with daily updates. You can track your positions, but also daily competitors ranking changes.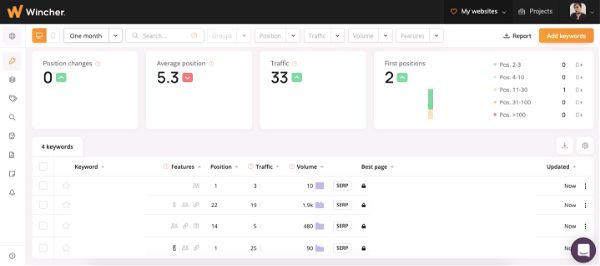 Simply add your website, import keywords from Search Console, and start tracking. The tracking tool provides accurate data, including SERP preview, volume, and Google features you get for this keyword.
For rank tracking purposes Wincher is cheaper than SEMrush but doesn't have as many metrics as SEMrush.
---
36. GrowthBar
$39/mo | 5-day free trial
GrowthBar is a beginner-friendly SEO tool for a site audit, AI content generation, rank tracking, and keyword research.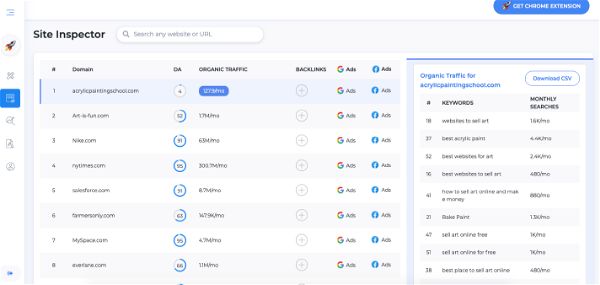 The content generator is fun and has potential, but at the moment it doesn't offer accurate target word count or topics to cover. It has great general tips though. It suggests you build a post like drag and drop builder which is nice!
A site inspector is not a full SEO site audit, like you may think. It provides basic data about your domain authority, monthly traffic, and organic keywords. It may be a great feature to check competitors Ads on Google and Facebook.
The ranking track is accurate but doesn't track related monthly volume. It offers interesting features like calculating Difficulty to Get on Page 1 and the average word count on the first page. These features may work, but it is better to consider top-3 pages and not only the first one.
Keyword research seemed to pull inaccurate data for monthly volume.
While GrowthBar looks really cool and is way cheaper than SEMrush, it doesn't offer the same accuracy of data and depth of reports.
---
37. Antranks
$19/mo | 14-day free trial
Antranks is a keywords rank tracker for three search engines: Google, Bing, and Yahoo. A simple, straightforward tool for monitoring your and your competitors' ranking.
I've checked few keywords from one of my blogs and the data was accurate.
---
38. Matomo
€29/mo | 21-day free trial
Matomo is basically a paid Google Analytics alternative. Its main advantage is 100% protected data. As we know some people are concerned that Google can use their personal information for its own purposes.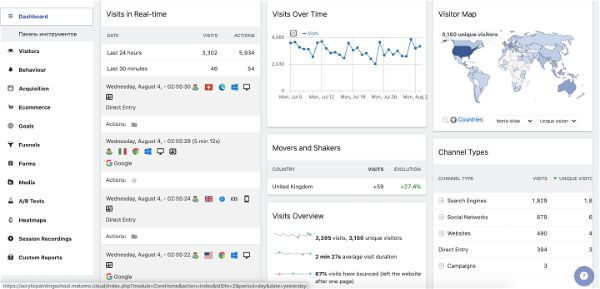 Matomo also says that it offers enhanced and 100% accurate data. And it really does. Matomo analyses forms, media, A/B tests, heat maps, and also make visitors' sessions recordings. It also shows you data from multiple search engines and queries you get traffic from by type and engine.
---
39. Monitor Backlinks
---
40. Majestic
$49.99/mo | NO free trial | Check our overview above
---
41. Seobility
Free or $50/mo | 30-day free trial
Seobility is an SEO tool for website crawling, backlinks monitoring, rank tracking, and reporting.
The free plan includes limited pages for crawling, but some more SEO tools, like:
SEO checker
Keyword optimization checker
Rank checker
TI*IF checker
This tool is absolutely beginner-friendly: all reports are clear and every step is explained. You can check your website and get some actionable advice.
IF you have a small website right now, use the free plan. The crawling will give you many interesting facts about your site, including if your domain is blacklisted or not.
Cons:
this tools can't help you with keyword research or content editing.
ranking checker doesn't provide accurate data about your position

BEST SENRUSH FREE ALTERNATIVES
Here you'll find the list and brief overviews for good and SEMrush free alternatives. Some of them are completely free, some offer a free plan that is enough to work with 1 website.
For SEO purposes best SEMrush Free alternative will be Google Analytics (traffic, pages performance) + Google Search Console (indexing, ranking, positions) + Google Trends + Google autosuggest (use alphabetic approach to find long-tail keywords) + Google Page Speed Insights (check page speed) +any browser extensions or other free tools you like.
Some more free SEO tools that surprised me upfront:
Browser extensions free and paid are here.
---
42. Hypersuggest
Hypersuggest is a freemium keyword tool that can help you find keyword ideas, related questions people ask on Google, related hashtags people use on Instagram, as well as thousands of keywords and ideas from networks like Amazon, eBay, Youtube, etc.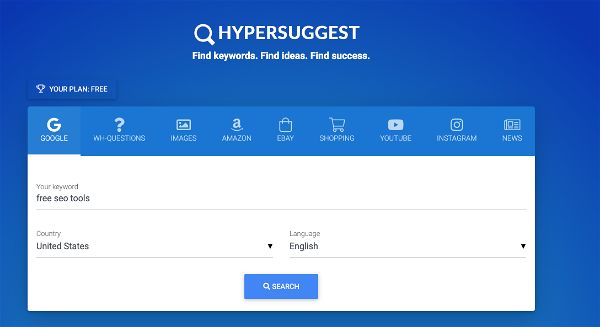 A free plan is limited to 10 results, while pricing depends on the modules you need. If you're looking for a keyword research tool, the module will cost you about €14.90/mo. If you need access to extra tools, like e-com, you'll have to pay an extra couple of euros.
Potential cons of the tool:
This tool is very general. Keyword research tool is more for ideas than for precise analysis, as it doesn't offer accurate voluma data. To know the exact search volume you have to pay an extra €19.90/mo which is less beneficial than using alternative keyword research tools.
---
43. Keyword Hero
Keyword Hero's main feature is accurate organic traffic analytics. We all face at some point the "not provided" in Google Analytics report, so Keyword Hero will use 9 different sources of data and AI to find out where exactly your organic traffic is coming from.
Then, it uploads it to your separate Google analytics property and you can have access to it.
It is super easy to try it out, as you have a 90-day free trial! Even after it, the paid plans are extremely affordable, starting from $9/month and depending on your monthly sessions volume.
Note, that this tool will need access both to your Google Analytics and your Search Console. There will be nothing to look at in your Keyword Hero's account, you just click view analytics and it will open special Google Analytics property with data from Keyword Hero.

I was surprised by the performance: now I have a separate Google Analytics property where I can get very clear data about search queries my content is ranking for. I couldn't get it before even with Search Console integration.
Recommend to try! Great source for content optimization.
---
44. Exploding Topics
Exploding Topics is a fun tool to monitor emerging trends and check if any of your keywords or niches are going down, up, or staying stable for a period from 1 month to 15 years. This tool is not only for SEO but for marketers in general.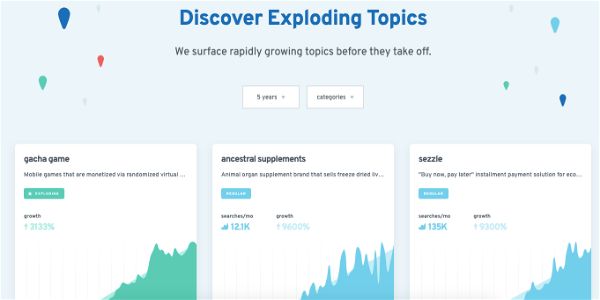 For each topic, the tool offers a short clear description to make sure you can understand what is it, as well as you will know if it is a keyword, a topic, or a company.
Why do you need this? To launch a product people will buy, write a post that will rank not only now but in the next 6-12-18 months and still bring you traffic. To pick up new topics that nobody is really writing about yet and become an expert and industry leader.
They have a limited free plan, but if you want to have access to all coming trends in your industry and emerging companies or products first, you have to subscribe. The simplest plan is $67/mo, but you can first try it out – for the Pro plan 14-day trial is only $1.
You can always check your own keyword for free and find out its current trend and related topics.
I would also recommend their newsletters – once a week you get a free selection of exploding topics! This is definitely a tool to beat the competition and be the leader.
---
45. GTMetrix
GTMetrix simply tests your site speed and tells you why it may be slow so you can fix it.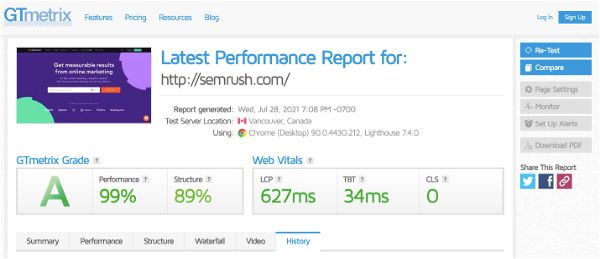 If you only have one website and you don't want to test different locations, the tool is completely free for you. If you need more settings and slots, you can sign up for a paid plan, starting from $12/mo.
The report has several parts: a dashboard and a summary with core vitals and total grade; performance metrics; structure audit; waterfall chart; page-load video, and reports history.
---
46. Animalz Revive
Animalz Revive is a must-have free tool to find out content you need to refresh. It is necessary for anyone whose content is 6 months old and older.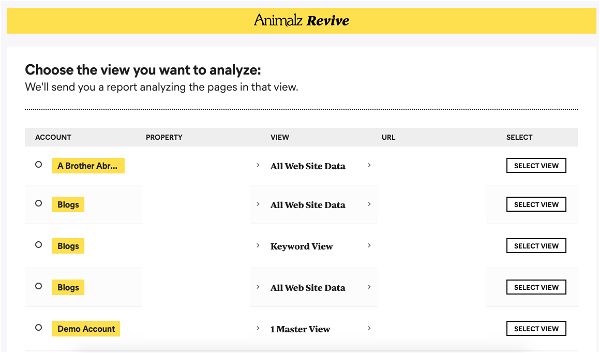 One part of SEO strategy is creating new content, but don't forget that another one is to update the old one to make sure you don't lose any traffic.
Simply grant access to your google analytics, enter your email, and within 24 hours you'll have a list of pages/posts you need to update. 100% free for as many websites as you need.
---
47. Answer The Public
Manual keyword research may be overwhelming and time-consuming. Answer The Public saves you time and shows related questions, modificators, long-tail keywords you can use in your SEO strategy.
The tool is completely free and easy to use: type your keyword and get results clustered by type and represented either as a visual mind map or rows.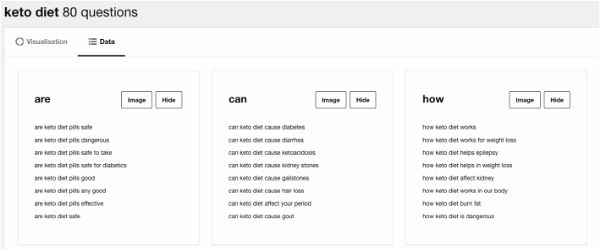 The service shows you related questions, comparisons people are looking for, an alphabetical list of related keywords, propositions used with your keyword, and more.
Great free resource of ideas for content responding to people intent, which means Google will love it!
---
48. Beam Us Up
Beam Us Up is a downloadable SEO crawling software. Available for Mac, Windows, and Linux.
This tool was more popular 5 years ago than now, and mainly was created as a free alternative to other crawling tools like Screaming Frog, which doesn't let you export your data if you're using a free plan.
Best for advanced users and big websites needing regular crawling to detect and fix technical SEO errors.
I tried to test it on Mac – no success, the tool doesn't work right now. I would stick to well known Screaming Frog.
---
49. Bing Webmaster Tool
Bing Webmaster Tool is a free developer tool offered by Bing search engine to help you with website analysis and optimizing for search engines.
Bing Webmaster Tool has some free SEO tools: backlinks analysis, keyword research, SEO reports, technical audit, mobile-ready check, and more.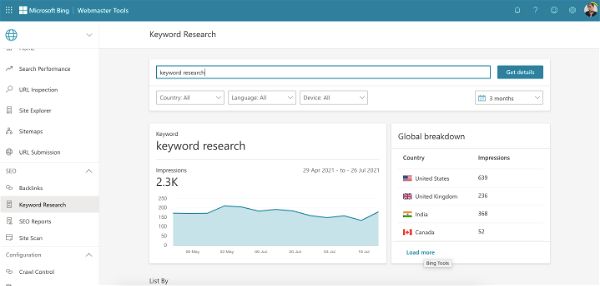 Simple integration with Google Search Console makes the performance data even more accurate.
Be aware, that the Keyword research tool shows monthly impressions, not volume as other SEO tools do. There is also no position tracking tool.
This tool is beginner-friendly and very basic. To monitor my keywords performance I would stick to Search Console, but Bing Webmaster Tool is a good option too if you need more simple tools with basic data.
---
50. Broken Link Check
Broken Link Check serves exactly the purpose you can guess – it checks if there are any broken links you've missed. 100% free and easy to use.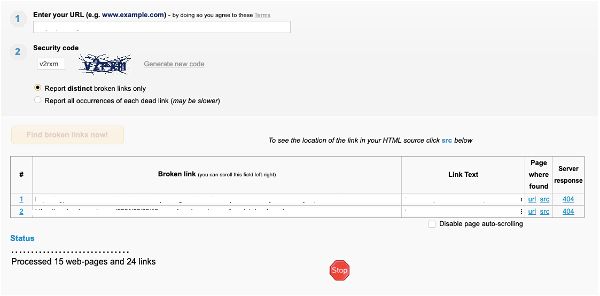 If you have a lot of content, you'll need to wait a little bit until the service crawls all the pages. When it's done, you will have a list of your broken links, and all you need to do is to fix them 🙂
---
51. Browseo
Browseo is a free browser simulator that shows you a "raw" page you need and highlights data important for SEO. This way you can update your headings, title, or meta description, check SERP preview.
It may be an interesting tool for advanced users, but a beginner will be confused. This is how semrush.com will look in Browseo: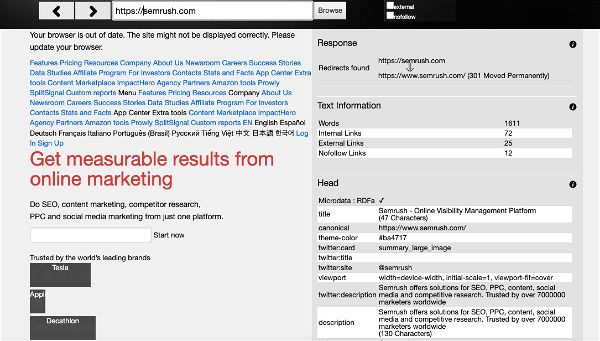 ---
52. Bulk web vitals
Bulk web vitals tool allows you to monitor core website vitals. It became important after Google released an algorithm update saying that now your website speed and first load are key factors for better ranking and users' experience.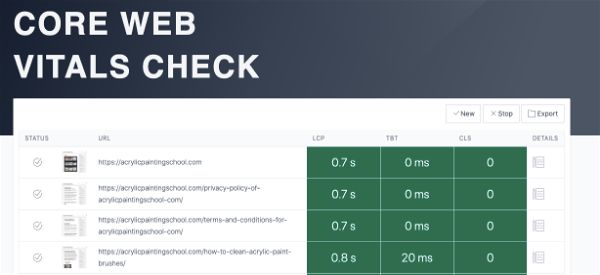 The tool is free and easy to use: when everything is gree you're fine. You'll get a general report and a link to a detailed Page Speed Insights report too. It is important to check both mobile and desktop, as they have different scores.
---
53. Bytecheck
Bytecheck is a super easy tool with one main function: check your site speed, more precisely, how much time it takes to load the first byte of your website. Again, it is important for Google's indexing and ranking.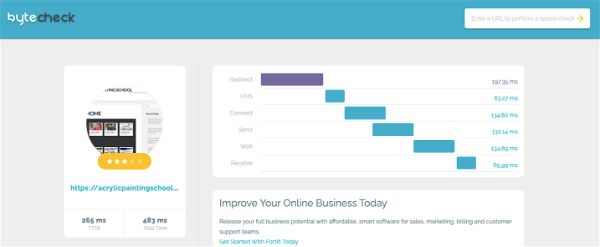 ---
54. Can I Rank
Can I Rank is an AI-based SEO tool that can predict topic ideas for better ranking based on your website and 1 to 5 competitors. You have 5 free reports to go.
You provide your website URL, main keyword, 1 to 5 competitors, and let AI analyze it. Then, you get easy steps for on-page optimization.
The waiting process is quite fun, as you see a crawl line saying what is going on right now and they did a really good job including humor in it. Sometimes you can see: NOT THIS BUTTON! or My boss says… and other funny lines like this.
When the report is ready, your first reaction will be "Wow!" – this is a very unique tool with opportunities report you've seen nowhere. After scanning your website and your chosen competitors, the tool will suggest you:
what pages need improvement
how much time it will take
new keywords for free traffic based on competitors research
how much money you could save on advertising
how traffic you can get with updated content
either do it yourself or delegate the task to the CanIRank team
how to get good backlinks
which forums you can join
to check ranking possibilities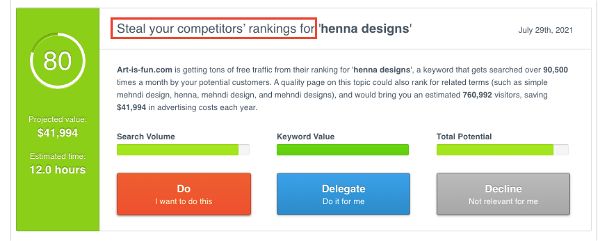 The upside of this tool is 3+ pages of opportunities – impressive! It also includes very precise data in terms of volumes, money, hours, links, everything.
The downside is that I found not all tasks really relevant for my niche and topic. The major inconvenience about this tool is that it doesn't consider your current DA when it suggests you rank for a keyword.
For me, as a blogger, the money saved evaluation was a bit confusing. As a blogger, I immediately thought about how much money I can get from an ad network writing an article and not about PPC.
I see potential in this tool, but it needs adjustments and longitude analysis on a blog using all these suggestions. I would also still combine it with common SEO tools like Keysearch or SEMrush.
---
55. Copywritely Keyword Density Checker
CopywritelyKeyword Density Checker is a tool to check keyword density in a given post. It helps both to make sure your density is good and to avoid keyword stuffing, as it was one of the old school SEO schemes which are no longer effective.
The report shows the keywords most used in your text and the frequency of each one of them. The full report will also contain stop words you need to eliminate from your text to make sure Google won't penalize you.
The tool will check grammar, uniqueness, and readability as well.
A free plan lets you check 4 pages up to 2500 words. Unlimited checks and an AI text editor will cost you $18/mo at least.
I would recommend another AI writing and editing tool though – Surfer SEO, INK, Frase. Copywritely seems to consider even introductory phrases as plagiarism, which obviously won't be the case for Google.
---
56. Dofollow Link Checker
Dofollow Link Checker helps you discover quality backlinks for a given article. Only dofollow backlinks play a role in our domain authority and backlink strategy should always focus on getting more of those.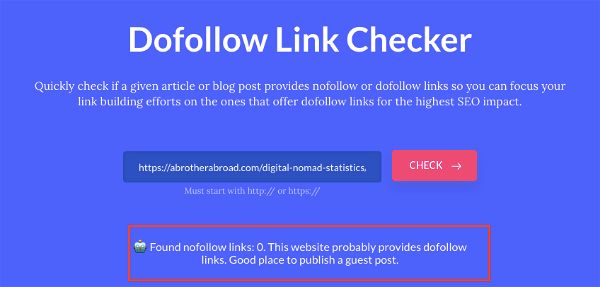 If you want to find a blog to write a guest post for, check it first with Dofollow Link Checker.
The tool is 100% free and super easy. It also doesn't give you any detail or list of links, just brief info:
---
57. Good keywords
Good keywords is a downloadable keyword idea generation and brainstorming for Windows only.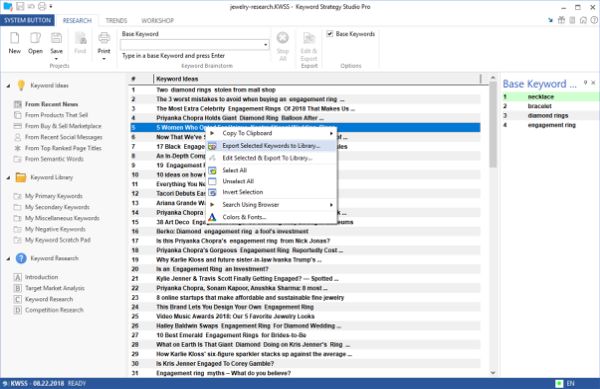 It helps you get ideas from recent news, products on marketplaces, top-ranking pages, and more. It also manages your keyword libraries and can expand given keywords with related keywords.
The design seemed old as well as screenshots, and I couldn't try it as I'm using Mac. I also couldn't find any information on how they update and collect data from different sources to make sure it's accurate and up to date.
---
58. Google Adwords Keyword Planner
Google keyword planner is a completely free and simple tool for keywords research. In fact, it is a part of the Google Ads platform, and the full name of the tool is Google Adwords keyword planner which aims to help to create more effective search and display advertising campaigns.
It doesn't offer detailed analysis or difficulty scores for each keyword.
Keyword Planner helps you to check historical data for the chosen topic and see the performance of the ads prediction, but also to get some ideas based on your website or root keyword for specific language and location. Based on the data you found you can create a Plan for upcoming advertising PPC campaigns for you or your clients.
To use it, you will need to log in to your Google Ads account.
The main advantage of the tool is that it is provided by the most powerful search engine, which gives you approximate costs, volumes, keywords ideas. But, the keyword volume tends to be inaccurate, so please double-check with another SEO tool, like Keysearch.
---
59. Google Analytics
Google Analytics is a service offered by Google that generates detailed statistics about website traffic and other data, including page impressions, demographics of site visitors, and new versus returning visitors.
It also offers more advanced features such as conversion tracking, funnel analysis to see how users are navigating a site (or app), search term reports for SEO purposes, device type split reports to identify the most popular devices used in visiting your site, or app.
The free version of Google Analytics provides basic information; you can upgrade to the premium version that includes all these capabilities as well as real-time insights and custom dashboards.
---
60. Google Autosuggestions on Google search
When you type anything in the Google search box, you will see the autocomplete suggestions which are listed based on your past search history as well as what Google thinks is the most relevant result. It works similarly to an index in a library – it's easier to find the information you need because it's already been presented to you.
You can tap these words and have certain articles or websites opened immediately.
It is the easiest and free way to do your keyword research – the old-school alphabetical method.
Type your keyword and browse through all variants Google suggests. They are more likely to be the keywords that can bring you more traffic. Aim for long-tail keywords
Check SERP results and top ranking websites: if there are a lot of forums on the first page and no snippet, go for it – choose this keyword and write a good piece of content!
---
61. Google Data Studio
Google Data Studio is an interactive data visualization builder made up of different modules that suit all kinds of needs from marketers to sales managers.
Google data studio is a collection of fast, flexible ways to visualize your data insights. It offers a wide range of templates and tools that allows you to add filters and create customized reports from top-of-the-line data.
Furthermore, it integrates with other Google products like Adwords and analytics so you can see the big picture while focusing on specific aspects. The dashboard is a great way to share your insights with the people around you, such as investors or colleagues, as they can watch your dashboard live whenever they want.
---
62. Google Page Speed Insights
Google Page Speed Insights is a free report tool scanning your website speed and technical errors slowing down your pages. It helps with SEO in many ways.
First, it can be used as a way to get your website ranked higher in Google by rating it and providing suggestions for improvements.
Second, it is a great tool if you are the owner of an e-commerce site and want to know how your website performs so that you can do adjustments that will make your site faster and therefore convert better.
---
63. Google Search Console
Google Search Console is one of the most important tools for webmasters and SEO specialists. It offers a wide range of tools to help you in your work on the site's optimization. There's no need to be afraid if you don't know how to manage all that Google offers you.
The most common reports are:
crawl errors which are pages with a 404 or 500 status code
HTML improvements which apply available modifications to your site
Sitemap and XML sitemap information allow easy submitting of new content
Googlebot desktop crawling errors which identify errors made by Google's bot when trying to crawl your website
Indexed pages to keep track of how many pages have been indexed
website performance over last 3 months, 28 or 7 days or custom range
each page performance with a list of keywords it ranks for. As well as average position and more metrics.
---
64. Google Serp Simulation from Mangools
Mangools has a very powerful tool for SEMRush alternatives that is called Google Serp Simulation.
This tool allows you to find out what your SERP position will be in the top 10 and top 3 rankings for any keyword, with monthly data. It also provides metrics such as Pagerank, Trust Rank, Alexa Rank, Domain Age, and more.
---
65. Google Trends
Google Trends, a free Google product, is helpful for SEO. It offers data on how many people are searching for terms and how popular they are over time.
One of the more popular features of this product is Trending Searches which provides information on what people are searching for. This information can be invaluable to companies who want to advertise their products online and to bloggers.
As well as if the trend is decreasing, don't waste your time on creating content for this topic, as your traffic will only go down.
---
66. I search from
With I search from you can simulate using Google Search from a different location or device, or perform a search with custom search settings. It's useful for searching Google as if you were somewhere else, as well as for SEO & SEA testing.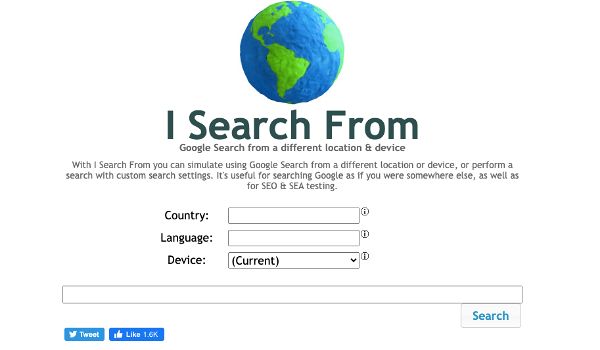 I Search From allows you to simulate different locations without using a VPN or incognito mode. The interface is very easy and this tool is absolutely free.
---
67. Keyword Pro
Keyword Pro is a keyword suggestion tool that many find useful. You enter a keyword and you can see the different keywords ideas: from short-tail to long-tail keywords.
It doesn't provide you any other data except keyword suggestions. It also offers it as a mind map or a tree view to help you prioritize and cluster keywords.
I suggest only using this free SEO tool in addition to Keysearch or any other tools where you'll get precise data about each keyword volume.
---
68. Keyword shitter
Keyword shitter is an excellent free SEMRush alternative and keyword suggestion tool if you're looking for tons of ideas. It really stands for its name.
The keyword sh*tting will not stop until you stop it. I had to stop it when it suggested over 300+ ideas for the core keyword "SEO tools".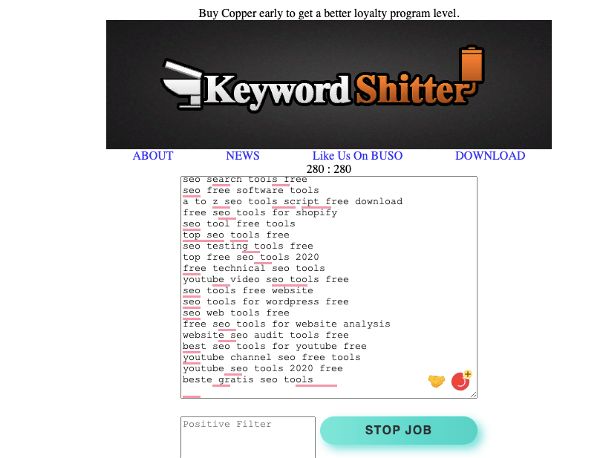 This is helpful for SEO specialists who want to enter markets with easier, less competitive keywords that are more likely to rank. Always check all keywords with a keyword research tool like Keysearch, SEMrush, or any others.
---
69. Keyworddit
Keyworddit is an excellent tool for free SEMRush alternatives if you need to get ideas from Reddit.
It offers a great way to find keywords that have been mentioned in the Reddit discussion. Choose a subreddit and see what related keywords it has. The bigger subreddit is, the more results you'll get.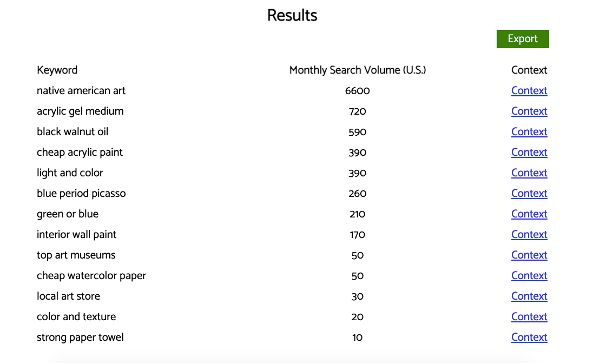 For each keyword suggestion, you'll have a monthly volume and the context. The context is basically the list of discussions you can go through and find this keyword.
Cons: I haven't found some subreddits I'm following on the list.
Can be good to share your findings and building authority for your website by participating in relevant discussions.
---
70. Lighthouse
This is a free tool from Google Dev Tools that every SEO specialist should know about. Lighthouse audits a site and can detect any issues with content, accessibility, performance, SEO, among others.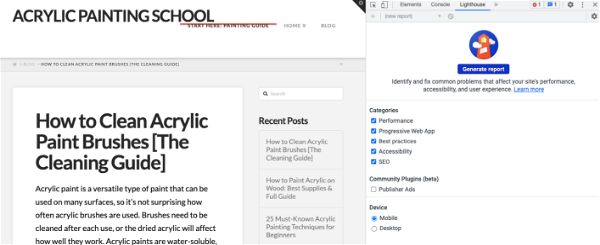 The Lighthouse Score is calculated by looking at different metrics such as HTML rendering time, URL size indexibility warning. It then assigns a score based on the results found. It looks like an expanded PageSpeedInsights report.
A rating of "good" or "excellent" means you don't have to make any changes to your site. It is vital to get a good score if you want your website to rank high.
---
71. Live keyword analysis
Live keyword analysis is a simple free tool to check keyword density in real-time in your text.
You can use up to 3 target keywords. Paste your text in the box and click Update to see the density ratio for each of the 3 keywords.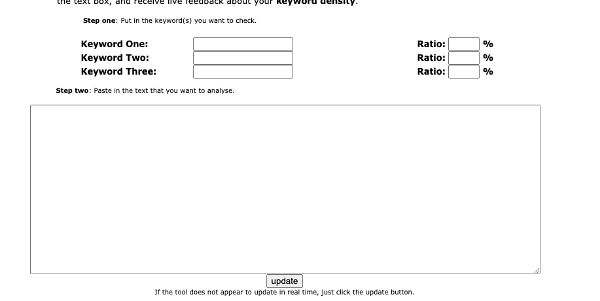 ---
72. Mobi ready
Mobi ready is a universal tool for marketers and bloggers to test your website on mobile devices.

Google pays a lot of attention to mobile performance. Your website needs to be mobile friendly and users' experience shouldn't be worse on mobile than on desktop.
Just think about it, in 2020 68% of all global traffic was mobile. A report by a major UK-based traffic measurement firm shows that in the first quarter of 2021, mobile devices (excluding tablets) generated 54.8 percent of global website visits.
The report will include:
your mobiReady score
graph benchmarks your website against 1000 Alexa sites
page weight
page test results with lists of fails and passes. For each major fail you'll have a How to fix it page.
---
73. Northcutt SEO Tools (44 tools)
Northcutt SEO Tools (44 tools)is a suite of SEO tools including 44-tools, to help you with everything from Keyword Research to Page Speed Optimization.
There are performance tools for every stage of the SEO process:
Optimize your website for Google and Bing.
Save time with automation and eliminate errors with alerts and reports.
Edit on the fly, preview your pages live in Chrome.
Check and analyze backlinks
Rank checker and more
All tools are completely free and easy to use: insert your URL or keyword and hit Go!
Still, this tool can't replace SEMrush or its alternatives in keyword research, as none of the tools offer it. These are just simple small SEO tools that may be helpful along your SEO journey.
---
74. Screaming Frog
Check the brief tool review above or click here to check their website.
---
75. SEO Review Tools (58 tools)
SEO Review Tools is another free collection of small SEO tools that can be a great free alternative for a complex SEMrush.
SEO Review Tools offer 58 SEO tools covering main needs:
SEO authority tools
SEO content tools
Technical SEO
Webmaster tools
With SEO Review tools you can easily check a website's domain age, find and check backlinks, test webpage experience, extract keywords from a competitor's page, do keyword research for Google or major e-commerce platform like Amazon, check Core Web Vitals, optimize a blog post and more!
These tools seem to be perfect! Unfortunately, I couldn't check any keywords I normally check with Keysearch, the tool just couldn't find them. I would recommend trying a free Content editor for beginners – it will boost creating SEO-optimized content. For advanced users, there won't be enough features.
---
76. Seorch
Seorch is also a combination of free SEO tools for webmasters and website owners. Seorch is perfect if you want to save a little bit of money on an SEO tool with great features.
With Seorch you can check your Google ranking, generate questions based on the keyword, get related keywords ideas, crawl your website or simulate Google's snippet.
It is easy to find keyword suggestions and long-tail keywords with Seorch but the tool doesn't offer monthly volume data or keyword difficulty score, and you'll need to check it with another tool.
---
77. Serpsim
Serpsim is a free and super easy to play with tool to check how your webpage will look on Google. This is its only function.
Enter the link to your page or a blog post and hit Fetch. Look at the results and adjust them to make sure your title and meta description are relevant. It is a great way to see where your title may be cut, especially if you have a long title.
---
78. Similar Web
Similar Web is a very powerful and free SEMRush alternative for basic competitor research.
SimilarWeb helps you find out about your competitors such as what they rank for in Google, how much traffic they are getting from search engines and other sources, how their website is performing on mobile devices, top organic search terms, and more.
Please, note that SimilarWeb is free only with limited credits for reports, if you need unlimited access you need to book a call with their representative.
Once you sign up and get a free account you'll have access to main features but also you can browse trending websites in a given region, trending apps, and trending keywords.
---
79. Siteliner
Siteliner is a basic free tool that scans your website to find broken links, duplicate content, and related domains.
---
80. Small SEO Tools
Small SEO Tools offers you a lot of simple tools aimed to fix one specific problem:
around 20 different small content tools that you can use for plagiarism, grammar checks, word count and more.
some simple design tools to make a nice logo or email template.
10 image editing tools to compress or convert your images before you upload them to your website. Remember not to use .png and always resize your images.
10+ keywords tool
10 backlink tools
30+ website management tools including tools to minfy JS or page speed test.
25+ tracking tools to check links, authority, Facebook ID and more.
Proxy tools
Domain tools will help you check domain age, authority, hosting, etc.
Meta tag tools.
Dev tools, like JSON formatter.
and many more different online services you may need including PDF converter.
It is a great resource for someone who starts blogging or managing a website. But I find it hard to use for a task such as keyword research when you need to focus and have more precise data because there are a lot of ads on the website.
I'm still using some of these tools like domain authority checker.
---
81. Sure Oak's SEO Tools (11 tools)
Sure Oak's SEO Tools(11 tools)
The first thing that you should know about Sure Oak's SEO Tools is that they are all good and free. The tools are great for beginners. SEMRush and other competitors have a lot of complex software that can be confusing for beginners. Sure Oak's SEO Tools are basic and have a much friendlier interface.
Here is the list of all 11 Sure Oak's Free SEO Tools:
SEO Score Checker
SEO Crawler Tool
Domain Authority Checker
Redirect Checker
Header Status Checker
Keyword Rank Checker
Keyword Density Checker
Sitemap Generator
Robots.txt Generator
Meta Tag Generator
UTM Builder
---
82. The Reaction Engine
The Reaction Engine is a tool for quick SEO analysis of a given link for a target keyword.
A simple report will let you know the grade of the content on the page, errors and warnings, content analysis report including title, meta, heading analysis, as well as links check.
I found the search engines report being inaccurate, as I tested a page ranking on the first page of Google (data retrieved from Google Search Console and SEMrush) but the tool said it doesn't have any ranking.
The tool also flagged the page as being spammy for sending emails while the blog itself doesn't even have any email subscribers and any opt-in or email campaigns.
For accurate spam score check use Moz Pro.
---
83. Thruuu
Thruuu is a simple SERP analyzer. It is 100% free.
Enter your query, select location, language, search engine, and how many search results you want to scan.
You can also include Core Web Vitals and page performance metrics in the report.
---
84. Up city's SEO Report Card
Up city's SEO Report Card is not really a tool but rather a service with only one function – for your given website and main keyword, you will get a PDF SEO report including:
total score
rank analysis on Google, Bing and Yahoo
link building compared to a competitor you mentioned
basic on-site analysis
accessibility report
trust metrics
current indexing (just yes/no)
This is a very simple and generic report but it may be useful for a quick superficial check of a website as it still covers important SEO factors.
---
85. Wappalyzer
Wappalyzer is a website auditing and diagnosing tool. It helps you identify which technologies your competitors use, ex., if they are building websites on WordPress or no, what kind of plugins they use, etc.
It can also show you what kind of CRM or sales tools they use.
Additionally, you can find websites using specific key terms in their content or product to check if there are any competitors you're missing.
The tool is also free if you don't need more than 50 monthly checks.
---
86. Wayback Machine
Wayback Machine is a free project that uses web crawling and archiving software to create an archive of World Wide Web pages. The crawler starts at a given web address, such as "http://example.com/", and follows hyperlinks in the page's code.
As of 2019, the Wayback Machine contains more than 298 billion URLs. It is a big archive of all ever existed pages.
Why we may need it?
buying an expired domain, check what kind of content they published before.
check how a website changed over time, ex., how your competitors changed their main offer – tips for you what works and what doesn't.
looking for old content that was published on the given website and then replaced, deleted or moved.
---
87. Website penalty indicator
Website penalty indicator simply answers a question if your website got penalized by search engines, especially Google.
If you noticed a significant drop in your traffic and you're not sure about the reasons, check the penalty indicator or if Google currently has any updates. As any new update is a potential for more penalties.
While I list it as a SEMrush alternative, this tool is actually using SEMrush and Moz data to build the reports.
---
88. Whats My SERP
What's My SERP is a free rank & SERP tracking tool.
Add your domain, list of keywords, location, and start tracking your positions changes and traffic volume.
To check your SERP you just enter a target keyword, device, and location.
---
89. Xenu
Xenu is a tool that serves only one purpose: find broken links. It's quite an old tool and the interface and webpage may scare you a bit. It also doesn't seem to be updated since 2010.
---
90. Yoast SEO WordPress Plugin
Yoast SEO WordPress Plugin is a very powerful and popular SEO tool. If your website is using WordPress, this tool will not take you long to install and has the ability to optimize your page.
I would recommend using the free version as it is much better than the premium one even if it has less functionality.
The main features of the free version are:
keyword optimization
readibility score and tips
SEO score and tips
Google SERP results preview
Schema
SEO title, slug and meta description editor
and more
Must-have for all website owners working on WordPress!
Related post: Yoast vs. Rank Math: Which WordPress Plugin is Better for SEO in 2022?
---
91. SEO Powersuite
We've already introduced SEO POWERSUITE as one of the SEO tools for advanced users, but it is also free, so it has its own place in this list.
Check the brief overview above or download SEO Powersuite software.

BEST BEGINNER-FRIENDLY TOOLS LIKE SEMRUSH
92. Keysearch
We nominated Keysearch as the overall best SEMrush alternative for keyword research, but it is also a cheaper alternative and a beginner-friendly SEO tool.
We covered it above, please use quick links to navigate.
Check our review here | 30-day free trial | $17/mo
---
93. Mangools
Magools is one of the great alternatives to SEMrush, especially if you're looking for a cheaper one. We overviewed it above.
Check our review here | 10-day free trial | $49/mo
---
94. Surfer SEO
Great beginner-friendly SEO tool. Cheaper SEMrush alternative and the best Content editor within SEO tools.
We shared our thoughts above, in the «cheaper alternatives to SEMRush» section.
Check our review here | No free trial | $59/mo (money-back guarantee)
---
95. Moz
Moz Pro is a powerful SEO tool for both beginners and professionals. It is highly recommended to use for backlink checks, domain overview, and authority checks.
It is also very helpful if you're flipping websites or buying expired domains – check spam score before buying!
We mentioned and briefly reviewed Moz Pro above as a high-performant SEMrush alternative.
Check our review here | 30-day free trial | $99/mo
---
96. Ubersuggest
Ubersuggest is a very easy-to-use SEO tool. Great for keyword research and cheap!
Check our review above | 7-day free trial| $12/mo
---
97. Seobility
Free or $50/mo | 30-day free trial | check our review above
---
98. Screpy
$12/mo | 7-day free trial | Check Screpy overview above
---
99. Alexa
$149/mo | 14-day free trial
The Alexa tool is one of the leaders for competitive analysis and quick website analysis created by Amazon. The free extension offers some basic data, but the paid plan includes:
top keywords
audience overlap
keyword research
content and topic analysis
competitive analysis
audience analysis
backlink analysis
Alexa global and industry ranking, and more.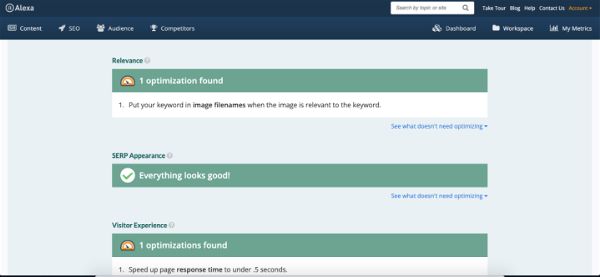 Alexa vs SEMrush
While Alexa is great to quickly check global positions and get keyword and competitor's ideas, it can't be an all-in-one SEO tool, especially not for this price. Between the two of them, I would definitely choose SEMrush.
SEMrush is cheaper and covers more SEO features with more accurate data regarding keywords. Alexa doesn't show you volume nor SERP results, nor accurate difficulty score.
Backlink discovery gives you only general data on what domains are linking to your competitors with no specific key terms or pages to check. An on-page analysis is also very basic, but a Site audit may have some insights for you.
One good feature I can recommend within Alexa is competitors' keywords matrix, but again, for each KW you don't even see monthly volume.
---
100. Antranks
$19/mo | 14-day free trial
---
101. Matomo
€29/mo | 21-day free trial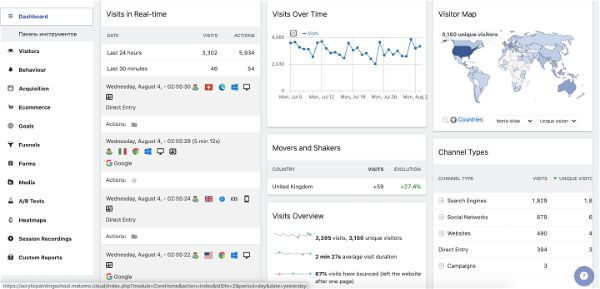 ---
102. Rank Math
$59/mo + taxes | Try Demo here
Rank Math is a WordPress plugin adding multiple SEO modules to your website, including search console, schema module, e-commerce SEO module, sitemap module, images SEO, and more.
Rank Math can be also integrated with different platforms like Facebook, Pinterest, Google Search Console, etc. It also pretends to be much lighter than Yoast SEO plugin, which means it won't slow down your site speed.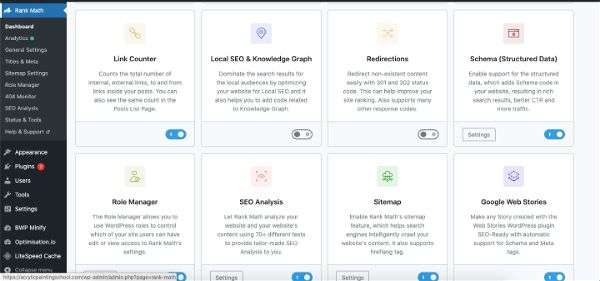 This plugin will help you analyze SEO for your pages, make clear schemas for different post types, improve keyword ranking, secure accurate analytics, and more – it has 15+ SEO modules available.
The Free account has a very limited range of features – only basics, but it is enough for a beginner. No matter what account you have, free or paid, you can import your data from Yoast.
What I really loved about Rank Math:
super easy set up process
they transferred data and deactivated Yoast in few sec
you can integrate Google services, including AdSense
you can set up that all links in your post will be opened in new tab and with nofollow red automatically! Without you doing it manually with all links!
it has basic content optimization future embedded in post editor that will score your content.
it has so many features even for free! Even something you will not expect from a plugin, like SEO analysis of your website.

If you don't know what plugin to use with WordPress, you don't want to spend extra money but focus on writing, or if you don't like Yoast – Rank Math is a tool to go! Definitely can recommend it.
Related Post: Yoast vs. Rank Math: Which WordPress Plugin is Better for SEO in 2022?
---
103. Ranking Spy
€9.90/mo | Free plan with limits or 14-day free trial
---
104. SEcockpit
$39/mo | 7-day free trial
---
105. SEO scout
$49/mo | 7-day free trial
Seo scout is an SEO analysis tool.
---
106. Seomator
$5 lifetime | 7-day Free trial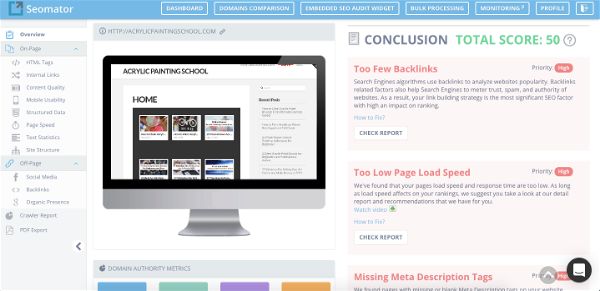 ---
107. Seoptimer
$19/mo | 14-day free trial
Seoptimer is another SEO audit and reporting tool. It is simpler than Seomator.
---
108. Sitebulb
£10 + VAT/mo | 14-day free trial
---
109. Wincher
€29/mo | 14-day free trial
Wincher is a keyword tracking tool with daily updates.
---
110. GrowthBar
$39/mo | 5-day free trial
GrowthBar is a beginner-friendly SEO tool for a site audit, AI content generation, rank tracking, and keyword research.

SEO BROWSER EXTENSIONS AS SEMRUSH ALTERNATIVES
An SEO browser extension or plugin helps you get insights about website domain, SEO, content, backlinks, keywords without leaving the page without having a bulk software like SEMRush. Some plugins work directly with Google search, showing keyword volume, related keywords, and some more data.
SEO browser extensions are easy to use and most SEO plugins are free which makes them perfect SEMRush alternatives for a beginner. Here are 15+ extensions to check.
Surfer SEO Content Editor – best for content optimising
Keyword Surfer or Keywords Everywhere – best for keywords suggestions and volume insights on Google search
Moz Bar – to quickly check domain authority for any website.
Surfer SEO Content Editor
$59/mo | No free trial*
Surfer SEO Content Editor Browser Extension works with WordPress. How to use it effectively:
install the extension
log in in your account at surferseo.com
log in in your WP account, open the new post draft
click on Surfer extension, the content editor will show up on the right side in your WP post editor
type the target KW for chosen location
create Content editor template
while you writing your article, you will see the Content score, words count, headings number, par numbers, images number – all with recommended numbers! + recommended terms and their numbers to use (ones you've already achieved the optimal number will be colored green, while you're working on it – orange, missing terms – red), recommended headings. You also have an option to use NLP suggested terms.
You can also see competitors for this KW to pick relevant topics and have ideas on how they write content. For the KW you can leave notes and download guidelines as txt.
*Normally, they don't offer free trials, but if you're using Conversion.ai – an AI copywriting tool, you will get a special promo and trial option.
---
AHREFS Browser Extension(free version is limited) – quick on-page SEO report for any page that you browse (free version is limited).
---
Mangools SEO Browser extension for Chrome and Firefox
Mangools SEO browser plugin helps you spy on competitors.
If you click on extension being on any website – you will get their domain overview, keywords, backlinks overview, on-page SEO, rank tracking.
In google search results Mangools offers you the option to change location without using VPN, see related KW and SERP metrics for KW you're googling. For each link in search results – if you click the right button on it, you can check the domain, backlinks, and more.
---

SEMRUSH ALTERNATIVES FAQS
What are some good SEMRush alternatives?
AHREFS, Keysearch, Mangools, Moz, RankIQ, Ubersuggest, Surfer SEO.
Ultimate Spreadsheet with all 105 SEO tools including 60+ Free SEO tools is available for you.
What are some SEMRush Free alternatives?
Rank Math, Yoast SEO WordPress Plugin, Google Search Console, Keyword Surfer, SImilar Web, Google Keyword Planner, SEO Review Tools, and more.
Ultimate Spreadsheet with all 105 SEO tools including 60+ Free SEO tools is available for you.
Is there a free SEMRush version
You can sign up for 7-day free trial, some features will be available for limited use even without active subscription, such as brief domain overview.
How do I get a free SEMRush version?
Is Moz better than SEMRush
Moz has been around since 2004 and is considered one of the staples in the SEO world. Moz offers a number of tutorials that you can take at your own pace, even if you only have time for a quick lesson on any given day. SEMRush is newer and was bought by Adobe in 2013, but it's quickly catching up in terms of features options.
The biggest difference between these two tools is where they get their data. SEOMoz pulls its information from Google, Bing, Twitter and other sources SEMrush includes more than 10 billion pages from all over the web which is great for analyzing just about anything online–even down to targeting trends vs real-time data points.
Which is better, Ahrefs or SEMRush?
Ahrefs is the best search engine traffic analysis suite, but SEMRush is also a really popular option.
SEMrush can analyze data from a huge database of sites, which is much more valuable when you start looking at a site's traffic and comparing it against other sites. And SEMrush also comes with other features like keyword tracking that might make it the better choice for some people.
How much does SEMRush cost and does it have any free plans?
SEMrush lite plan costs $119.95/mo, but you can test it for free, sign up for 7-day free trial.
How do you use SEMRush effectively?
If you want to use SEMrush for keyword research always filter keywords ideas by SERP volume. If you will be able to find a good keyword that has less than 1,000,000 or better 500,000 SERPs – you can easily rank for this keyword even with very low domain authority. Even if today SERPs volume is not as important for ranking, it is still much easier to rank for a low competition keyword.
Check keyword difficulty always!
Do not waste your time for keywords less than 100 monthly volume (only if you check the trend and you know that it will explode).
Monitor your domain and competitors: especially keyword gap as it is a great ranking opportunity.
There are a lot of SEO tips on how to use any tool effectively. If you understand the basic SEO, you will know what metrics you need and how to use them.
Which is the best tool to do an audit of your website
One of the best tools to do an audit is Screaming Frog. It will allow you to perform a site crawl and identify errors with links, code issues, search engine optimization issues, and security vulnerabilities.
PageSpeedInsights is the best beginner-friendly tool to do a website audit.
Which is easier to use – SEMRush or Moz?
Moz is easier and more beginner-friendly to use than SEMRush.
Which SEO tool is the best for finding backlinks to websites?
One of the best SEO tools for discovering backlinks to websites is SEMRush. You can use SEMRush to find out which sites are linking to your competitor's website and where your competitor's website ranks in the SERPS. You can also use SEMRush to do a site crawl and identify errors with links, code issues, search engine optimization issues, and security vulnerabilities.
Other great options for finding backlinks are Moz Pro and Ahrefs.
---
SEMRush is a powerful SEO tool that can be used to find keyword opportunities, analyze domain authority, and identify site errors.
However, SEMRush does not offer the best backlink research or content writing features for beginners. That's why we've compiled this list of free and cheap alternatives to SEMrush that will suit your needs no matter what stage you are at in your marketing journey. Whether you're just getting started with digital marketing or looking for new tools to take your business even further than it has ever gone before, these 100+ options should have something for everyone!