Successful ads are not only about ads, but also about product and service quality. Your reputation, your accounts, reviews on Google – everything can affect ad results. Please note, that there is no magic cure for all, but you can definitely improve your ad copy texts, headlines, creatives, and settings, and I'm going to show you how.
Facebook Ads for orthodontists, dentists, and other healthcare specialists are restricted by some Facebook policies that you must know. It also has at least 13 effective ways to target future clients, make creatives, ad copies, and optimize ads to acquire more clients.
In this article we will talk about:
Easy steps to run ads for orthodontists and dentists:
Every section includes screenshots and real examples!
---
Facebook Advertising, in general, goes through 7 simple steps:
competitive analysis and work on the target audience (you work on your offers, audience hypothesis).
your page and account, your website, or your application form are set and ready for advertising.
your ads account and business manager are set and ready.
you prepared texts and creatives for testing.
you are working on ad settings and launching.
monitoring and optimizing.
analysis and further optimization.
I assume that if you are interested in ads, your page, and your business manager are already set, if it is not the case or you are not sure about it, feel free to message me. But in this post, we will cover Facebook ads only.
---
How much Facebook ads for orthodontists costs?
To make a budget, you need either to decompose and calculate your financial plans or simply put aside a spare $300-$500 to start.
Studies show that average cost per click in healthcare is $1.32. 
The average conversion rate is around 11%.
The average cost per action (cost per lead / per message, etc) in healthcare is $12.31. 
Ex. if we have $500, we can get ±379 clicks and ±42 leads for a free exam. Let's say one-third (14 people) of them paid for Invisalign ($5000), so you can get around $70,000. Sure, this is a very average calculation, and your conversion from a free exam to any procedure will be unique to your clinic, but I wanted to show you how to use statistics.
Your clicks can absolutely be more or less expensive, but you can calculate outcomes based on research data.
Based on where your clinic is located, you will also adjust your budget. If your area is a small market (less than 100 000 people), you are likely to spend around $500 monthly.
The bigger your market is, the bigger budget you'll need. If you compete with large companies, note that their budget can be around $5000 or even more than $150,000.
Your tests will show you the real image and will help you plan the budget for next month.
---
Facebook Policy: How to do ads for orthodontists without being disapproved or banned?
When you launch an ad, Facebook crawls your text, your image, your Instagram profile, and your landing page – all of them should comply with Facebook policy and not only your ad.
It will also check your business manager status, how many disapproved ads you had or have now, what is the status of all your employees in Business manager, is your credit card valid, did you fill in all the information about the company, did you confirm the domain, etc.
This is important to follow! Once or twice you will be banned or restricted, but finally you can lose ALL your data. Is it worth it?
Based on Facebook policy orthodontists ads should avoid:
Avoid any misleading information – no promises about magic whitening or fixing all problems in 2 hours.
Ads must not discriminate or encourage discrimination, which includes among other factors medical conditions too – it means you can not point that people have any issues in form of questions or statements.
Ads cannot include any personal attributes, such as medical conditions. It means you cannot have this:

Do you have problems with teeth?
Bad smell ruined your job interview? Get help now
Treat your … with our doctors, etc

Ads cannot contain shocking content: you cannot show an ongoing medical procedure, blood zoomed teeth, tools, etc.
Any information that contradicts WHO
Do not do grammar, punctuation, and other mistakes.
Do not add fake buttons or flashes to the images.
Avoid before and after photos, zoomed-in photos.
If you using lead generation forms you cannot ask people about disabilities or request insurance information.
To read full Policy, please go the official Facebook Advertising policies page. Here is the link.
---
Ideas and Tips for creatives for Orthodontists ads
TAKEAWAY: 
1) Try lead generation
2) Always add Headline running Ads on Facebook
3) Always Add Call-to-Action
4) Use real photos
5) Use more videos
Quick note about campaign objectives suitable for orthodontists (Facebook have more types but they are not all good for our purpose).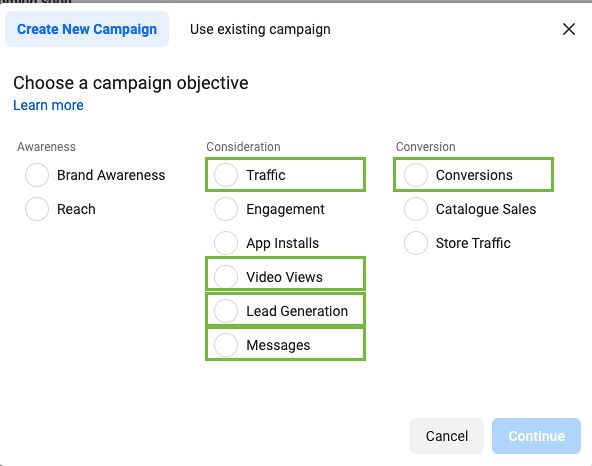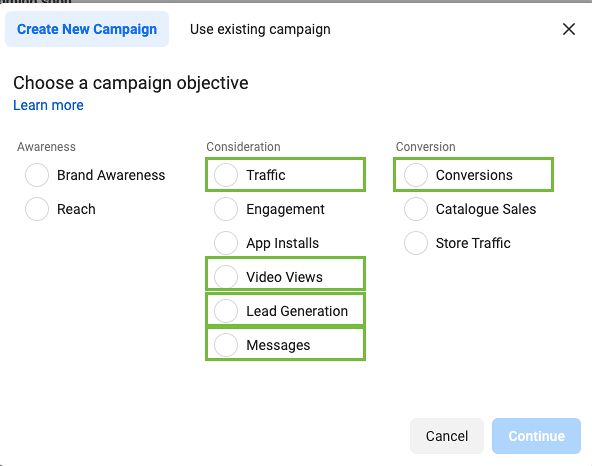 Lead generation – people only see a simple application form, they don't visit your website. Easy to use. Great choice!
Video views – people will see your video and Facebook will remember who watched it till the end.
Message – people can message you on Instagram, Facebook, or WhatsApp. The good option only if you are capable of answering people quickly enough. WhatsApp is only available for advertisers with a confirmed Business WhatsApp account, which takes up to months.
Can work well enough if you promote a stories from your Instagram add with clear and limited offer and you ask people to DM you.
Traffic – people will visit your website. Facebook will optimize ads the way that it will reach people who are more likely to click – and this is a tricky part. They are likely to click does not mean that they are likely to sign up. Also, the traffic campaign can only work if your website is GREAT for selling and guiding people to schedule an exam. I do not recommend this type, but it is worth testing.
Important note: Traffic and Conversion campaigns are worth only if you have Facebook pixel on your website and you're tracking all the events.
Conversion – great option to find people who are likely to take action. It fully depends not only on how good your ad is but how good is your landing page. For special offers, you can create separate landing pages.
---
9 CREATIVE IDEAS WITH EXAMPLES
| | |
| --- | --- |
| Creative ideas | Campaign objective |
| Video from doctor inviting for an exam | Lead generation, Message |
| Video or slideshow with client after taking off braces or whitening with call to action | Lead generation, Message,Traffic, Conversion |
| Video of clinics without close details | Lead generation, Message,Traffic, Conversion |
| Illustrative video with animation created in canva | Lead generation, Message,Traffic, Conversion |
| Photos of interiors | Lead generation, Traffic, Conversion |
| Photos of the doctor or patients | Lead generation, Message,Traffic, Conversion |
| Illustration created in Canva or with photo stock high-quality photo | Lead generation, Message,Traffic, Conversion |
| A carousel of videos or photos | Lead generation, Message,Traffic, Conversion |
| Tests and challenges | Traffic, Conversion |
---
Video from doctor inviting for an exam
Make a real video with your phone, explain briefly how the exam is going, why it is important and what the results are. Don't forget to SAY what is the next stage (schedule an exam).
Be yourself, make this video in your clinic!
Make one for stories and one for feeds.
Example: Dr. Keith B. Dressler Orthodontist has a great video, here is the link the the full video.
It looks natural, it is simple and clear, I trust it!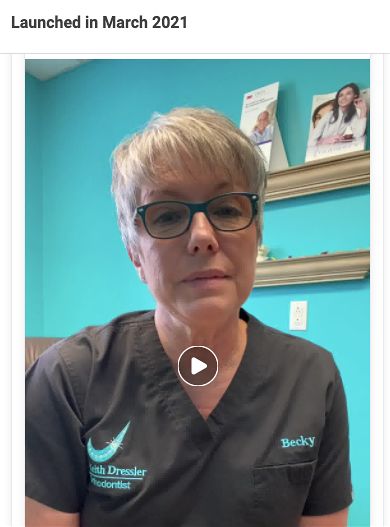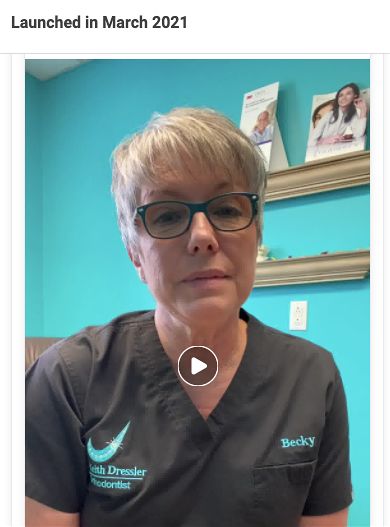 ---
Video or slideshow with client after taking off braces or other procedure
The perfect way to do it is to collect all photos with your patients and make a slideshow. This will work as social proof for people, and it is real – you can not compare it to the stock-made photos or videos. This is a screenshot from a great example, here is the link to the full video.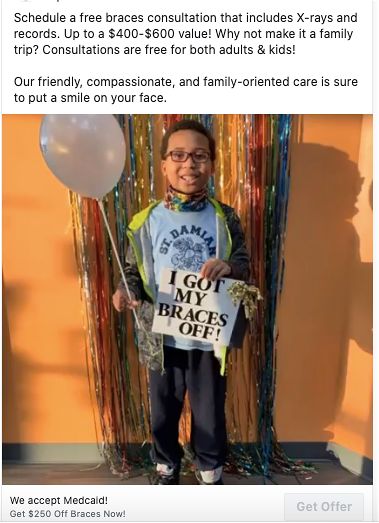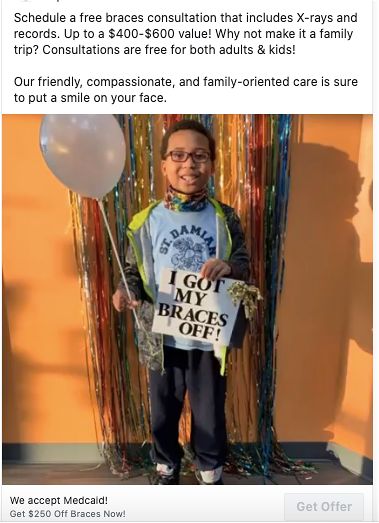 ---
Video of the clinic or procedures without close details
As we already mentioned, avoid showing medical procedures in details.
Show people, emotions, clinic – to ensure people it is safe to trust you. Make sure they will see multiple times the name of your clinic to remember it.
Dudley Smiles created a really good video, watch it here.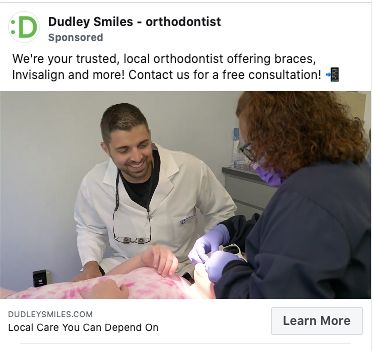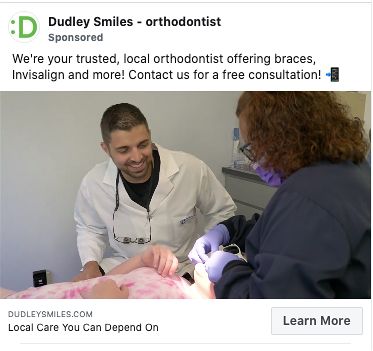 Another good example was made by Orthodontic Experts, but I'd say it is too long (1 min 27 sec), try to fit 30-60 sec as maximum.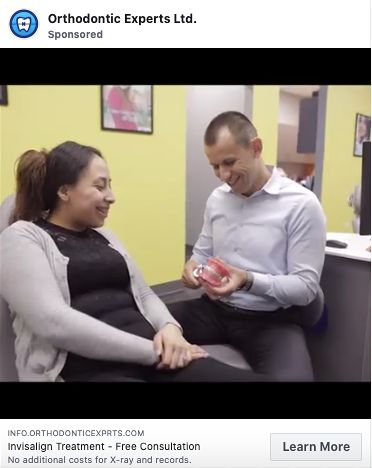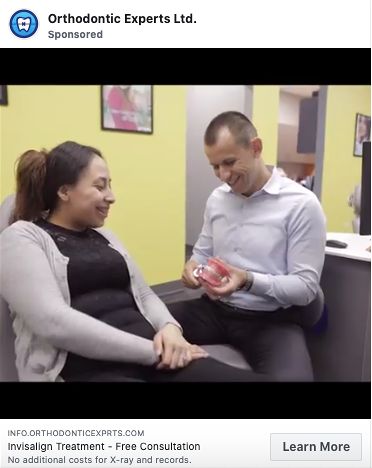 Great, short, comprehensive example by Jefferson Dental, they did a great job, because they created 3 short and simple videos with captions and rotate them (click to view the full video), here is the screenshot: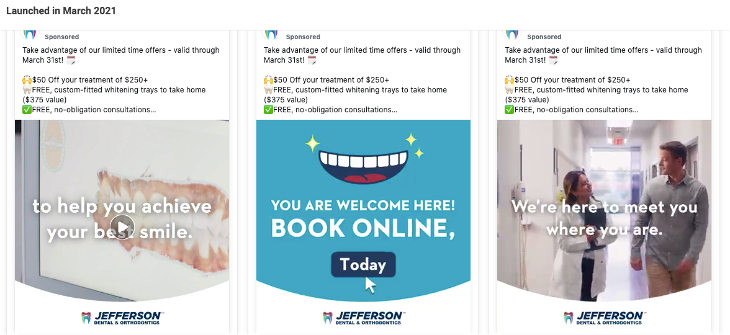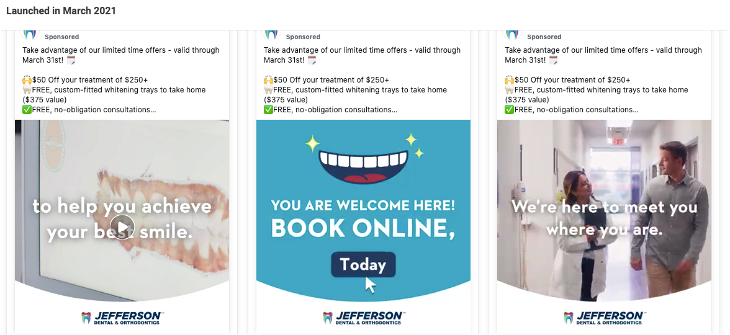 ---
Illustrative video with animation created in Canva
I do not really recommend using this method, as I hope you really do a lot of content, you have a lot of happy patients, a nice clinic, and professionals doctors who are ready to share some videos and make your clinic successful.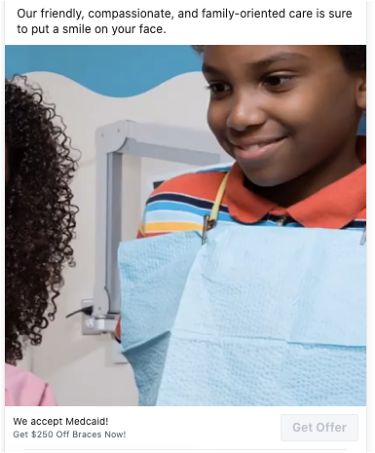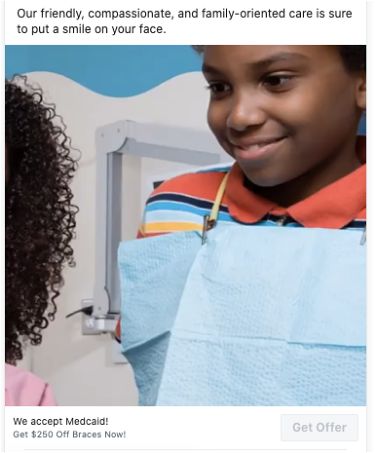 If you do not have photos or videos you can use, look for some on stocks and on Canva. Choose those that look natural, simple, modern.
---
Photos of interiors
Photos of interiors I do not recommend too, as it is not "live" content. At least, you can put photos of your patients in your clinic, but not just empty clinic – it's scary!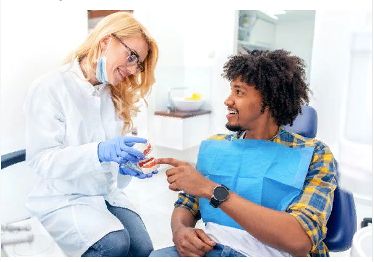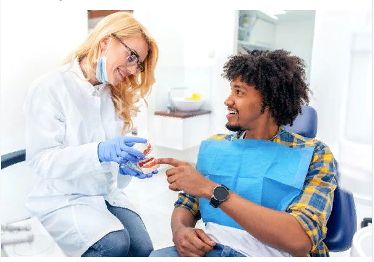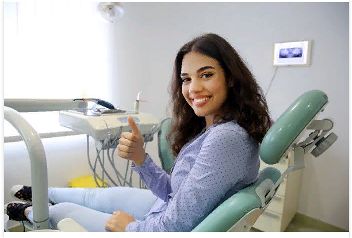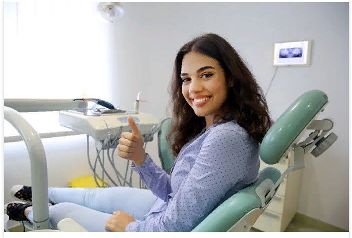 ---
Photos of the doctor or patients
This is a very friendly and natural photo. And another one with a team – I feel like there is a team of professionals and I really like the caption.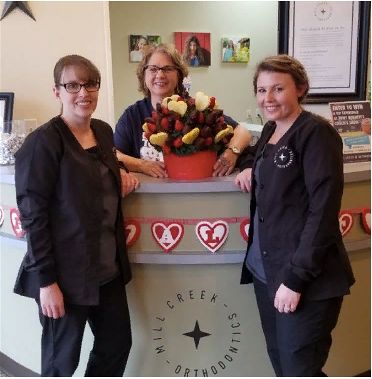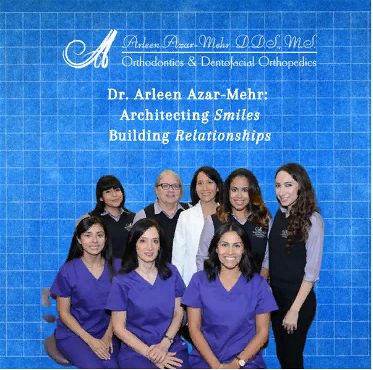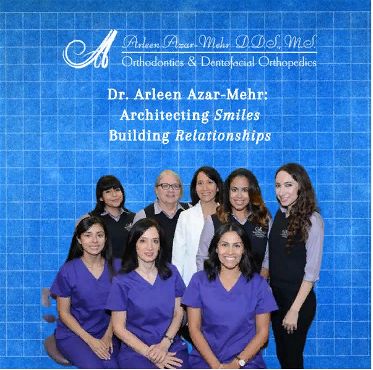 ---
Illustration created in Canva or with photo stock high-quality photo
Here is an example, it has some strong and weak points:
great that we immediately see the price
they have a good discount
they speak Spanish and they actually have the same ad in Spanish, which is very good.
now, there is no point to add such small text to the image.
there is no point to add the phone number and social media logos on the creative – it takes place, but doesn't have a purpose. It makes the image heavier. Instead, I would only leave "Schedule your appointment" as it is the real call to action.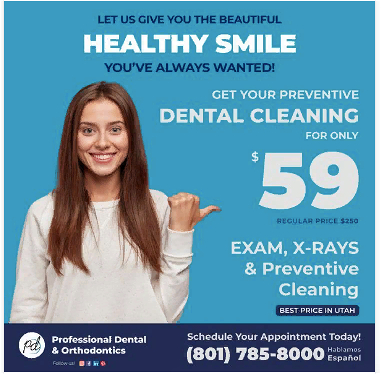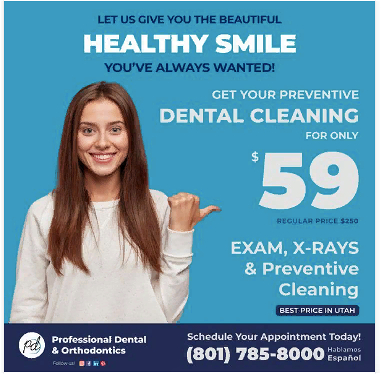 Another example: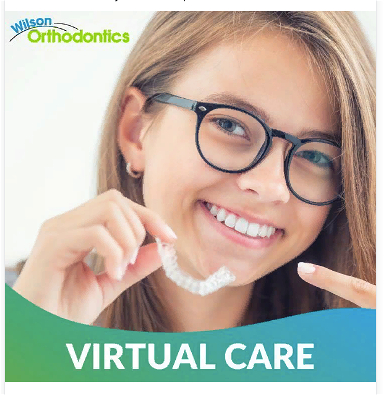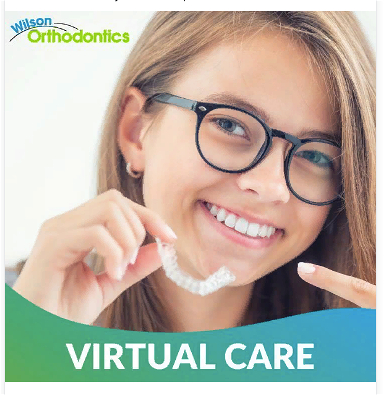 Do you agree that in both cases you know that it is not the real photo? How do you feel about it? How do you think will your potential patients feel?
---
A carousel of videos or photos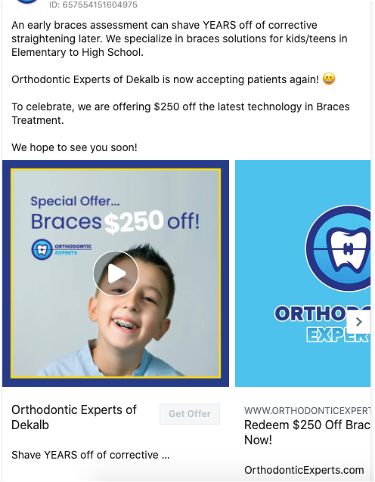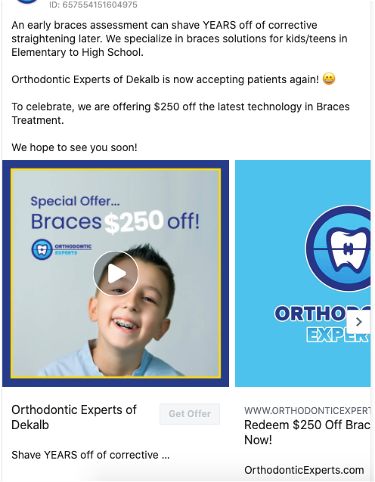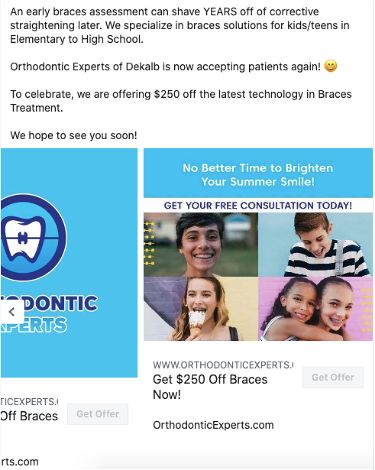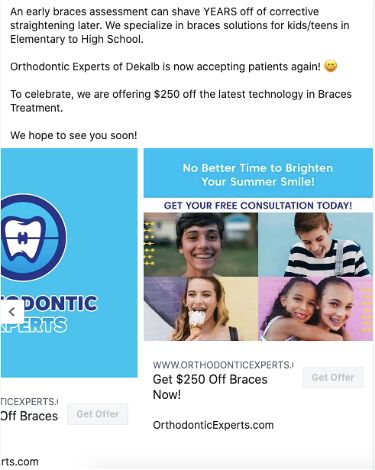 Use 3 photos or videos, not 2, not 10!
Always follow your design guidelines to make sure people can associate you with your colors and design
Always add your logo
Add headlines to all images
The link to see the full version on Facebook.
---
Test and Challenges
eAustralian Orthodontic society launched a test challenging people if they can make things straight.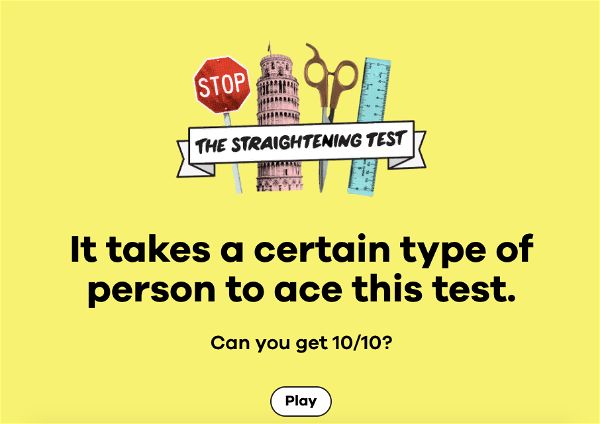 I think it is a great and entertaining idea, but I would not really recommend it. Why? Think about why people will try this test – out of curiosity mostly. They are not interested in your services, they just want to play with colorful tests. If you have a certain budget and you are not ready to warm up a cold audience and guide it through a built funnel, don't do this type of ad.
If you really want to try tests, make them more relevant and connected to your service, e.g. Pass this test and get a $200 discount for …
More Tips for creatives:
you can play around pandemic, e.g.: campaign with masks It will not last
if you target different demographics with images make sure people on these photos are relevant, e.g. If you target parents, make sure you have families or kids in the photo.
The photo or video should be relevant: if we talk about braces, you should show braces.
Here is an example of an irrelevant image. They want people to book free exams, but looking at the video I need to think, to understand, to really INVEST my attention. Never make people invest in ads too much, they want to GET something, not to invest first.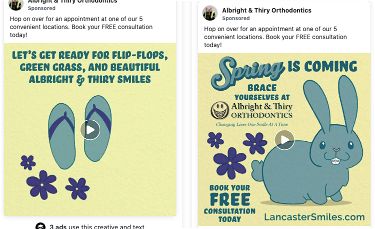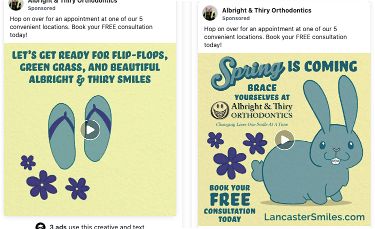 All content should be natural, do not use images and videos that look commercial – they will not create trust
Test as many creatives as you can. Create them in Canva, make simple videos with your phone – you never know what will work better. Measure the CTR* to know if this creative is appealing enough.
Always make sure you use the language of the audience if your clinic is international and operates in other countries.
*I talk about all metrics you should monitor below, in analysis block.
---
STRONG OFFER
Generally, offers and ad copy are based on one of the common formulas (there are more than 10 models), e.g.:
AIDA = attention, interest, desire, action
Ex. Every kid deserves a beautiful smile. With Invisalign, get the benefits of the braces without the braces. Book the consultation today.
PmPHS (Pain, more Pain, Hope, Solution) – this is a good model but be careful with medical topics as it can easily become inappropriate. It can be easier to transmit paint through images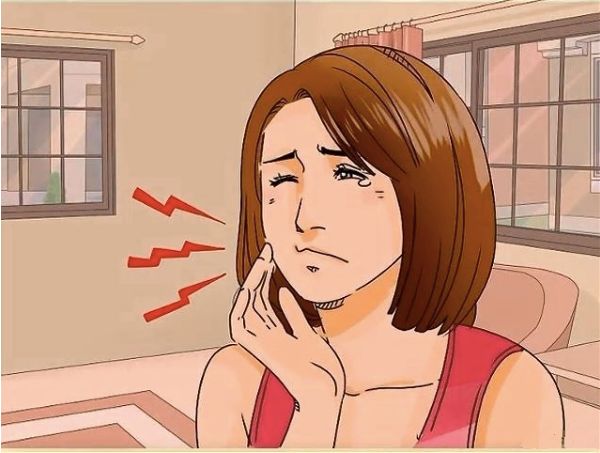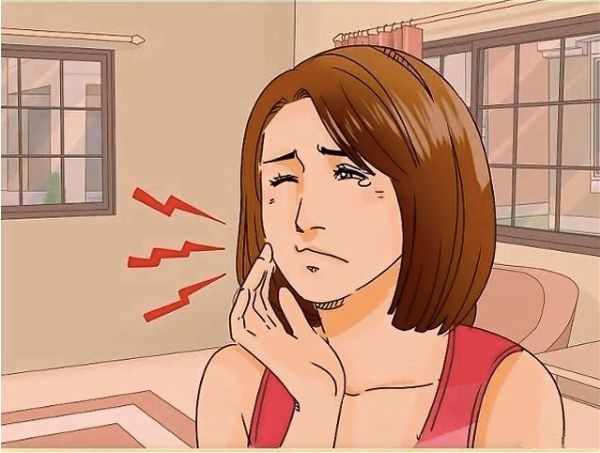 Ex. of image for oral care, we understand that it is painful for her, but we do not point any issues in ad copy.
H3W (how, where, why, when)
Ex. Get free exam and X-Ray in our office near XX to save your smile till 31st March
ODC = offer, deadline, call to action
Ex. $250 Off Braces till 31st March! Schedule now!
5. PINC = Рromise +Intrigue +Need +Content – use any of letter
Ex. Intrigue = Get the benefits of braces without the braces
Need = A free consultation for adults and kids with X-Ray and records included
Promise or Intrigue: XXX Orthdontics is offering $750 off Invisalign!
More tips for making an offer:


Mention that you accept insurance
Mention bonuses: A free consultation for adults and kids with X-Ray and records included
Mention prices or discounts: Special offer on your bestseller service – e.g. Redeem $250 Off Braces Now!
Announce a new office opened


---
GOOD AD COPY FOR ORTHODONTISTS
If you are making creatives for stories you do not need extra text, as the image or video will cover all the screen, but when you are promoting posts in the feed, you need to add a powerful text to lead people in your funnel.
What you can add to your text:
Experience of your doctors or clinic
Insurance accepted
Your values: family-oriented care, the comfort of the patients
Mention that early assessment can save years off of corrective straightening / expensive treatment
underline the benefits of the technology, e.g. "With Invisalign, get the benefits of braces without the braces".
Use trigger "money" – with free consultation how much they save? How much can cost late treatment?
Work with fear – how simple, painless the procedure is? Some people don't like the smell of medicaments, don't like the noise, they are afraid of pain – explain how the anesthesia works. Also, people do not like when doctors judge or criticize.
Work with objections: you're never too old to get a beautiful smile, investment in health, etc.
If you know that if one specific procedure,  e.g. whitening, is the most in-demand, mention it and describe it.
if you have any gifts or bonuses that can distinguish you from your competitors, such as free custom-fitted whitening trays
mention the location of your offices, e.g. Our offices are conveniently located to serve patients near…
your text should always contain a call to action phrase – you are guiding people towards action or they will just drop and leave. Always mention the next step and encourage them to take it. E.g. Click to schedule now!
mention the doctor certification and authority, e.g. Member of the American Association of Orthodontists, and (city/region)'s Top Dentist, Dr. X.
If you have any famous patients who you can mention, do it! Social proves work very well!
Make your text clear, short and friendly. Add emojis only if it is necessary, don't overload text with terms, contradictions and symbols.
Some examples of texts for orthodontic ads: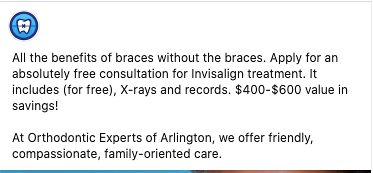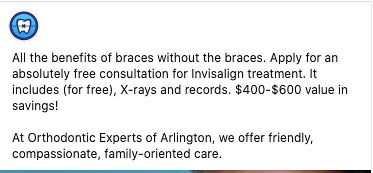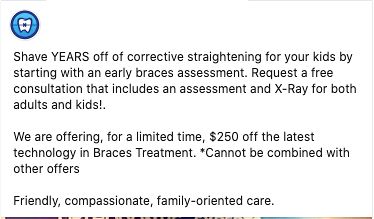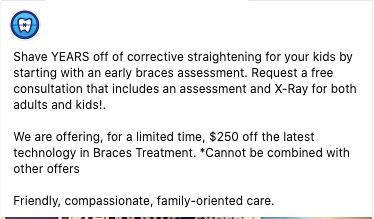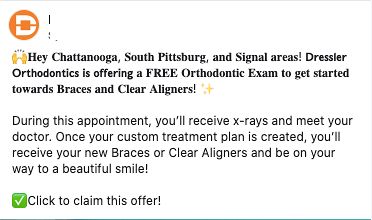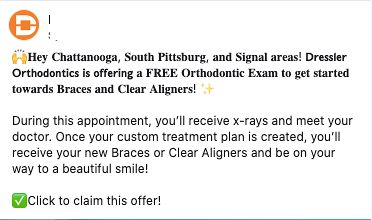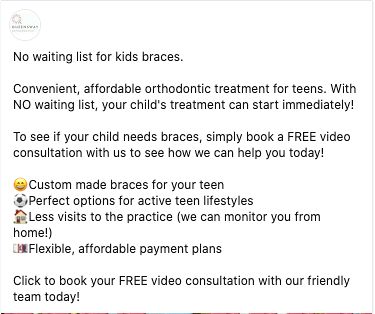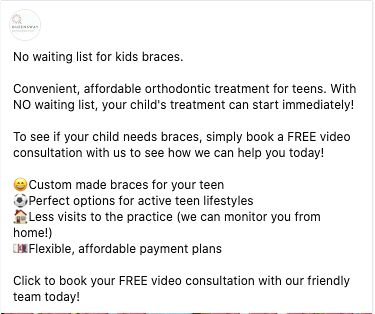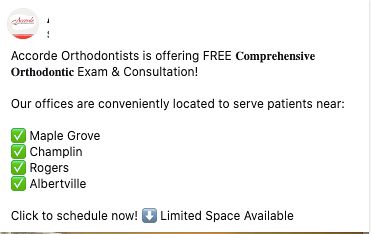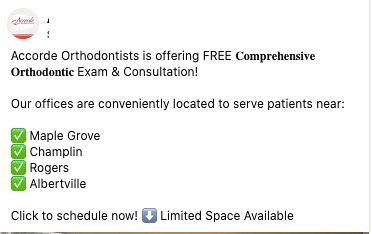 ---
SPY ON COMPETITORS
How to know what ads run competitors for orthodontists?
The free way to find competitors' ads is to check Facebook Ad Library.
You choose the country, choose "Search ALL" and type the name of the competitor.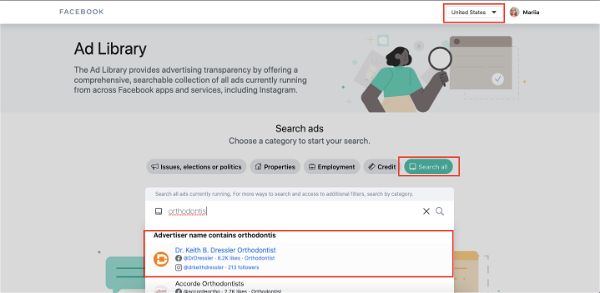 Then you will see all ads running from this page.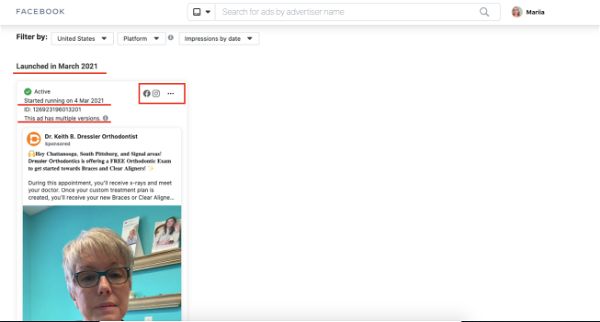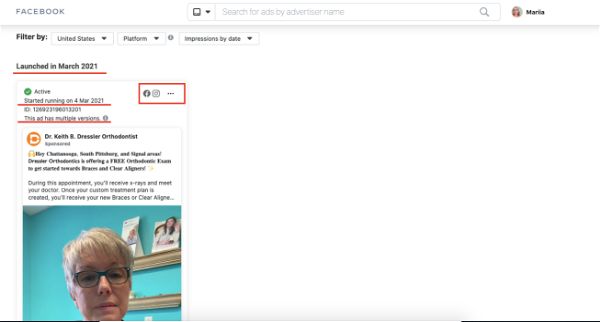 Important note: sometimes companies run ads from other pages, agencies pages and account, if you don't know the name of these pages, you will not find it.
As you can see, this page (Dr. Keith B. Dressler Orthodontist) launched and is running 1 ad now. What does it mean for us?
I'm checking the information on March 18th and the ad was launched on the 4th. If it wasn't an effective ad, it would be turned off and replaced, but it is still running and I may conclude that offer, creative, and text are attractive enough for the audience.
The ad is actually a 1-minute video explaining how the exam is going, which is a great idea: people get more information, more trust, they have less objection and the exam will cost them nothing.
I also see that the ad is running both on IG and FB and it has multiple versions, which means advertisers use dynamic ads: the system will shuffle and rotate images, or texts, or titles / Call-to-action, or all of them.
In this case, let's see what they rotate: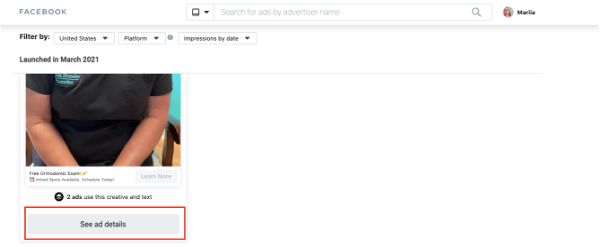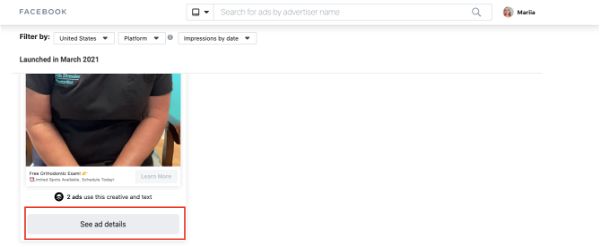 Now we know that they rotate Headline Call-to-action text, unfortunately, we will not see which one is the best performing. We also see that this is a lead generation campaign, where people book a free exam. We can also spy on what kind of questions competitors ask and we can see: they do well because they keep them short and clear.
To conclude, I would like to say, that even if we see how our competitors advertise their services, we will never know the budget or the results, we don't know how responsible their ads manager is. For us it is a helpful source of ideas about creatives – now you should try a video from your doctor, about the text, about the CTA button, and the campaign type to TEST.
Here is another example of spying on competitors' ads, this company has 74 running ads (which means they have this budget). We see different formats, texts offers that we can also test for our product.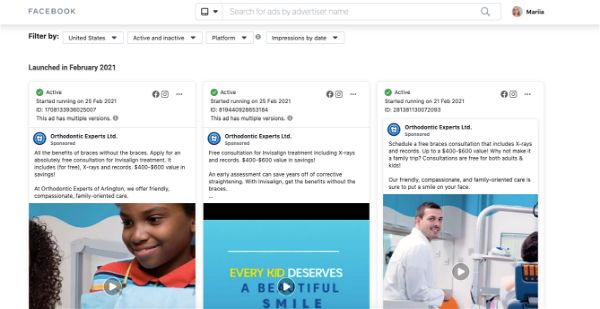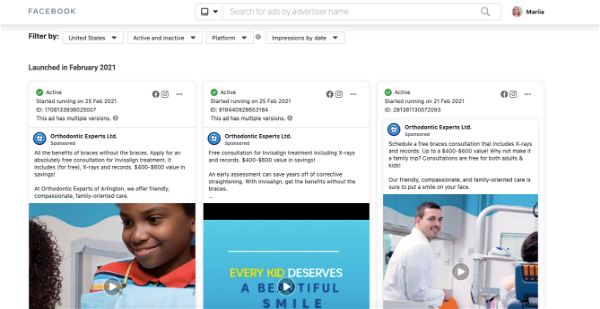 Always remember that only tests will show your real results for your product because ads' success also includes extra factors: brand authority, human factor, time, and many others.
Try to search not only in your location but ideas all over the world, it is a great opportunity to do something outstanding from your competitors.
---
FACEBOOK ADS SETTINGS FOR ORTHODONTICS
Starting with ads you should have a hypothesis or know exactly who you will target. You cannot target everyone – it will cost you a fortune.
Try to describe your ideal patients, create 3-5 avatars, including their sex, age, interests, and location. Maybe you noticed any other similarities, include them.
It is true that we are limited to Facebook settings when we are running ads, e.g. we cannot directly aim at our competitors, we cannot target people who were searching for orthodontists. Facebook interests and behavior are calculated based on what people do on Instagram and Facebook.
It means, if we will consider oral care as interest, we will find both patients and doctors. Don't worry, there is still some control in our hands.
General settings are:
locations (Always choose "PEOPLE LIVING IN THIS LOCATION")
age
sex
language (make sure your ad copy is in appropriate language).
Detailed settings include interests, behaviour, devices, job titles etc.
Always choose Manual Placements and choose needed format and platform.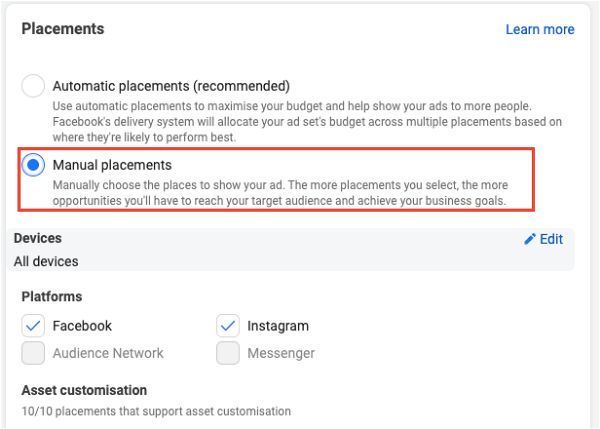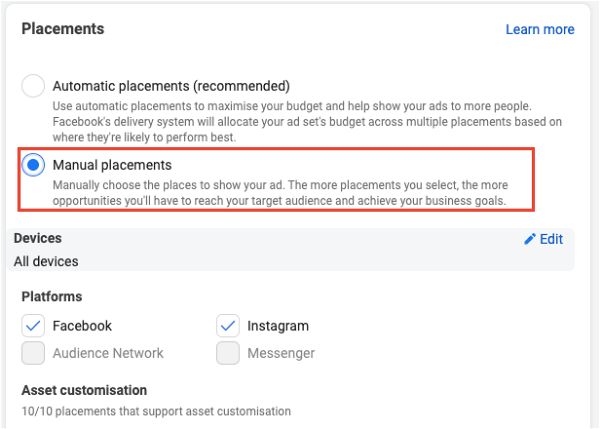 I do not run ads on Audience Network. I choose Facebook and Instagram, or Messenger if I need it to run tests and then I analyze which placement is better performing and should I split them or exclude any of them.
Always check Potential reach on the right. It is approximate, but your goal is to get audiences sized up to 500,000. Otherwise is too broad. 39 mil is too broad targeting.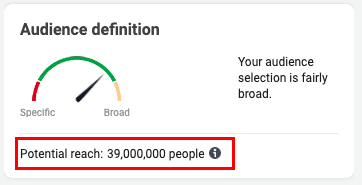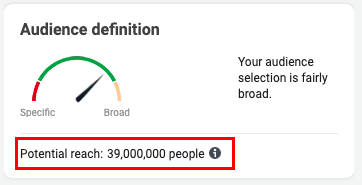 Dynamic creative
If you have many versions for 1 ad: several photos, ad copies, headlines, try them all using Dynamic creative – Facebook will automatically rotate them and find the best performing.


I recommend these AD SET settings for orthodontists:
Parents
Kids need you, but they don't pay or make decisions. Parents do. With Facebook you can target parents with kids within a specific age range.
E.g. you know, that most of the issues occur within 8 years (I'm guessing, you know better based on your patient's history), and you can directly target parents with kids: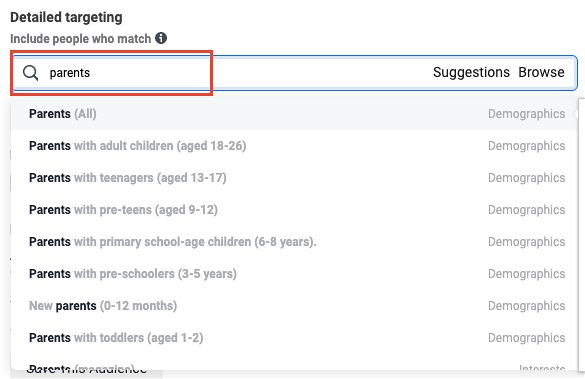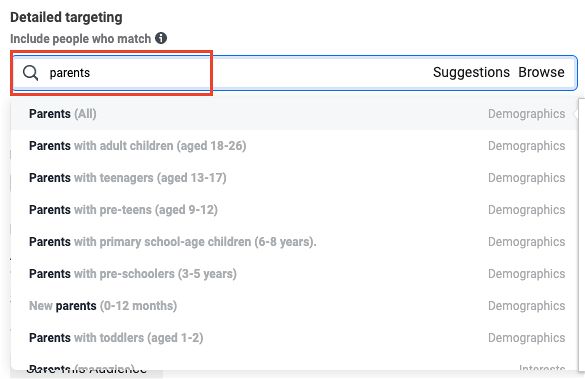 2. Related interests with 1 trick
Oral care, toothpaste etc., as I said, can include doctors too. What we can do to optimize ads and budget? We can exclude interests, job titles or employers who may be related to health care.
This is the most warm audience, ready to use your services.
Type in the big interest, as "Dentistry", choose it. Then click Suggestions and choose some of them. Type in all your keywords related to your clinic.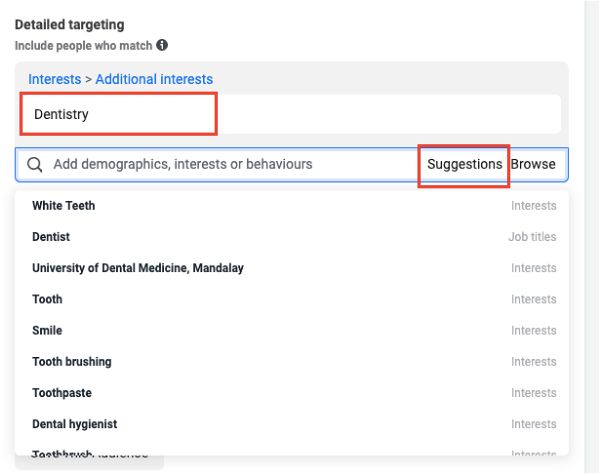 Then we need to exclude doctors themselves to show our ads and spend our money not on our competitors but on our potential patients. You can also exclude Health or Orthodontic organizations, Dentistry faculty if they are on the Facebook list.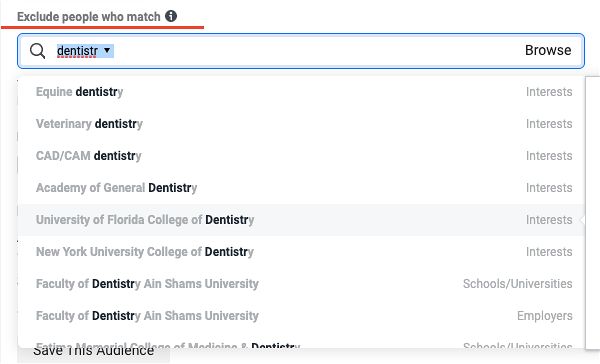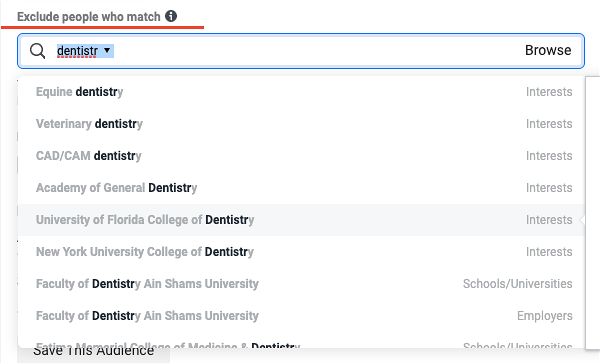 3. Use your data and custom audiences
If you have a website and pixel on it, use all visitors' audiences to promote special offers.
If you don't use pixel or website, but you have at least 300 patients on your list, you can easily create ads and target them – maybe they need cleaning or schedule new appointments?
You can also exclude your patients to make sure you don't spend your budget on those who already use your services.
Your database should be at least 300 rows, with phone numbers or/and emails.
To create custom audience follow Facebook instructions: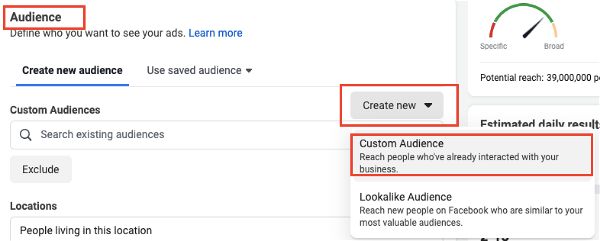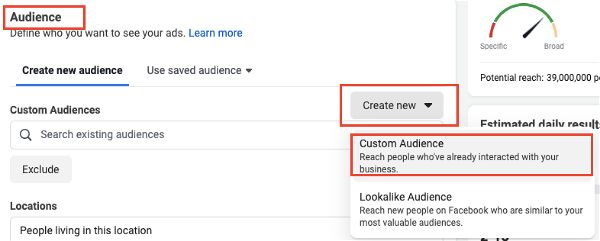 4. Use Look-alike
Same here, take your pixel or your list of patients and create a look-alike audience.
A look-alike audience is the audience that act and is interested in same things that your target audience. It means they are more likely to come and pay.
Create as many as it is possible and test each one. One look-alike audience in one ad set. One LAL audience should include only 1%.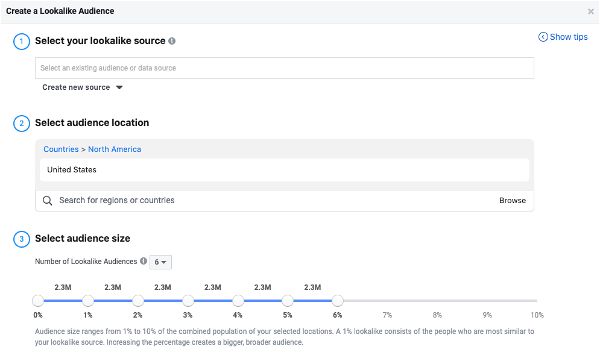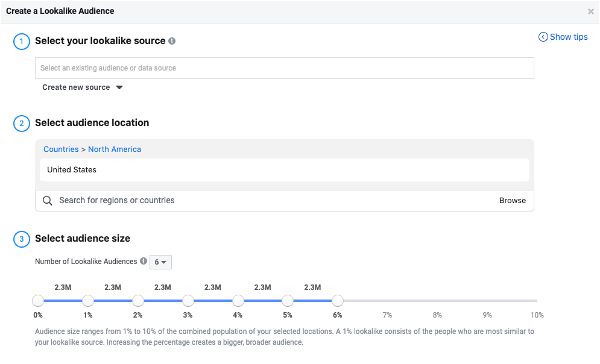 5. Geofencing
You choose a 1-5 km radius near your clinic and target all people. They are more likely to choose you because the factor of being near their home is actually very important.
This is a great method with 1 "but" – this audience isn't unlimited and it will end over time.
You can also add many location and target people living there.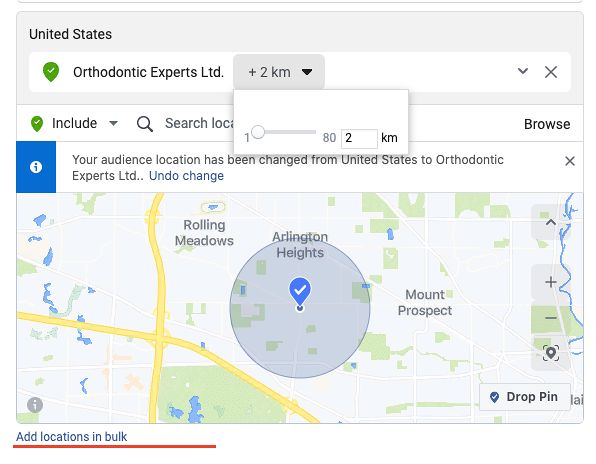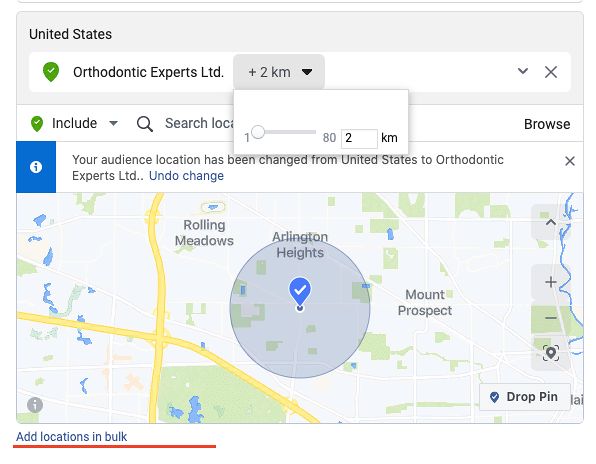 6. Broad audience
If you target small city, or you have really big budget you can try to cover all people within your desired location from 18 to 54 years. Why it may work?
If you live in small town, additional narrowing will create too small audiences, which will keep algorithm from learning faster.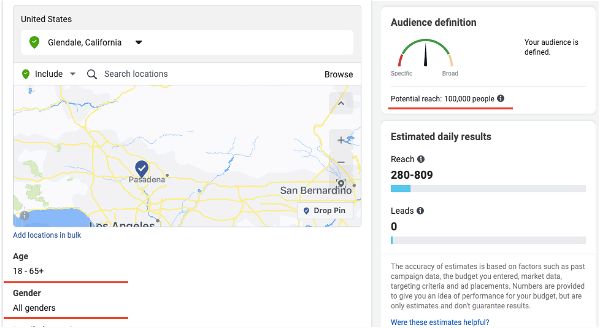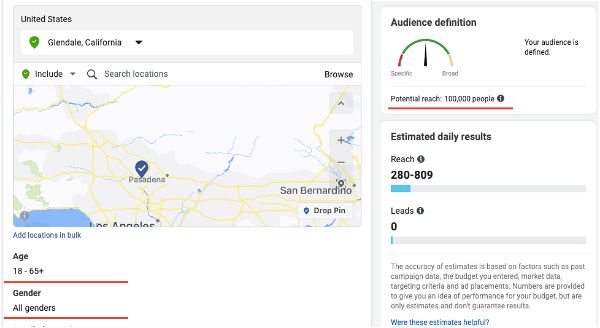 If you have big budget, this approach can be your audience research: what age and sex are really interested, from what device, when, etc. It will also give you more ideas in Audience Insights Report which facebook will create for you.
7. Automatic audience.
You are right, from the point of view of ads expert, it is the most "blind" approach. We let Facebook try audience that may work, but we will never know what audiences worked.
On the other hand, if you are not familiar with ads, it can be the easiest way to start for you. Start with small budget, and control how effective the ad is.
How to set it – it is called detailed targeting expansion:


8. SPA and beauty
It is true the the evident audience is those who interested in teeth care, but think more about it, who else?
Women interested in SPA, cosmetology and beauty service, they may want a healthy smile too, moreover, as far as I know some plastic surgeon and cosmetologist highly recommend to take care of teeth before making any cosmetic procedures affecting face shape.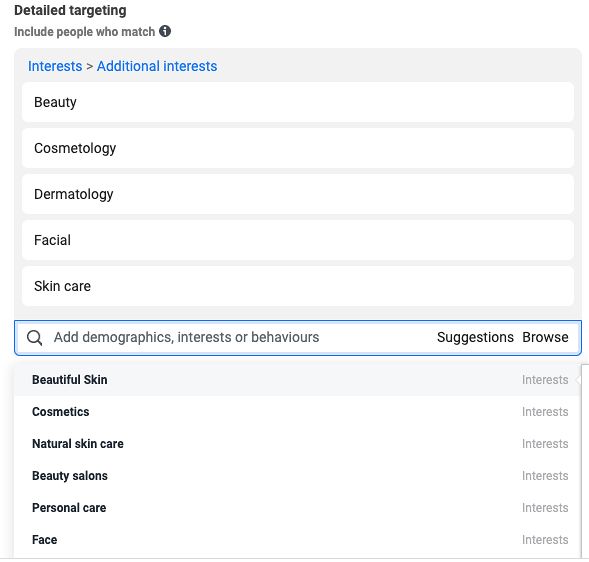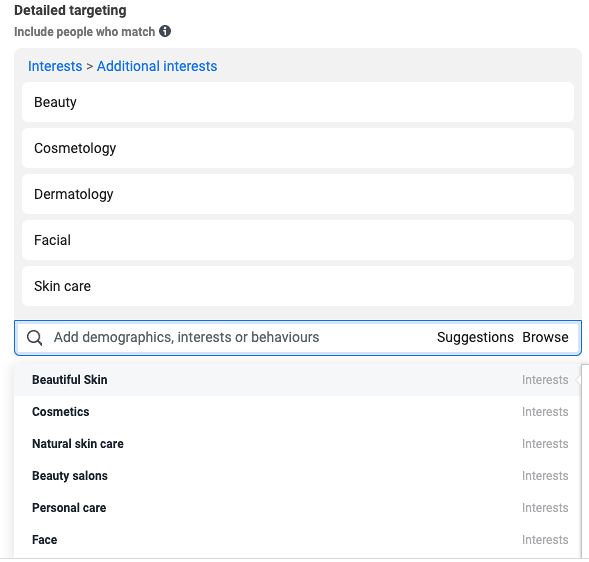 Again, make sure you exclude employer, workers and job titles in this category. On the other hand, they may also need you.
9. Fitness and yoga
People interested in fitness, yoga or training are highly motivated to be healthy, which means you need to remind them about oral care too.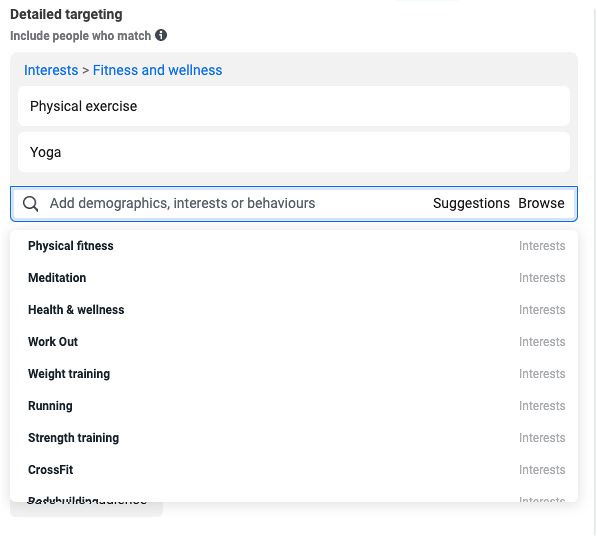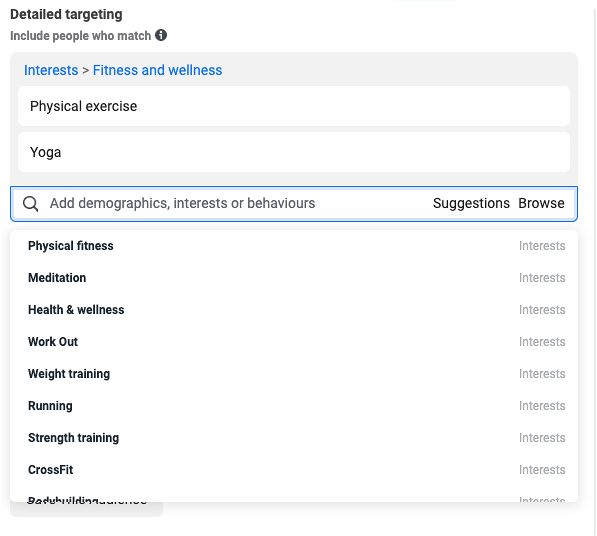 10. Job Titles
Maybe you know, based on your clients data, that most of your clients were engineers? Try targeting people by job titles and fields of study then!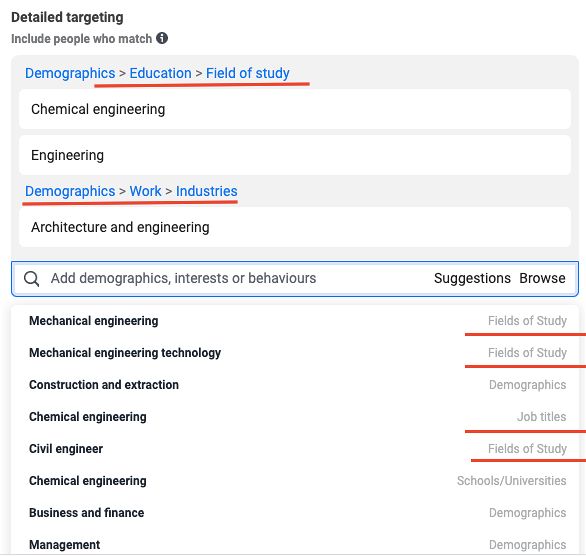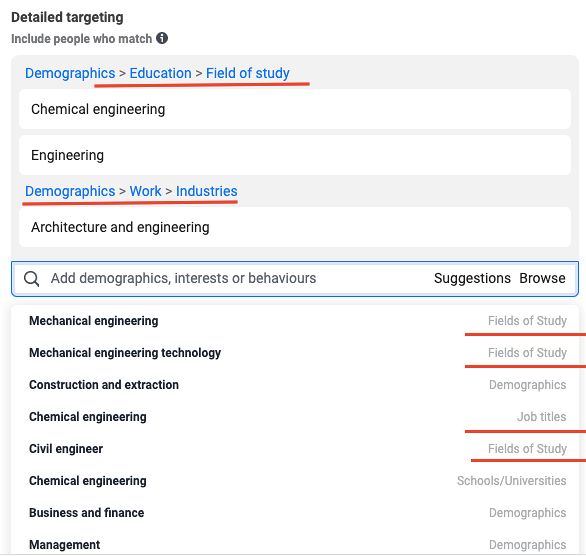 11. Devices
We all know that orthodontic services are expensive. How we can find people who can afford it? We can try to narrow the audience by devices: latest iphone and samsung may work, but in reality it fails more times than it works. Up to you to try.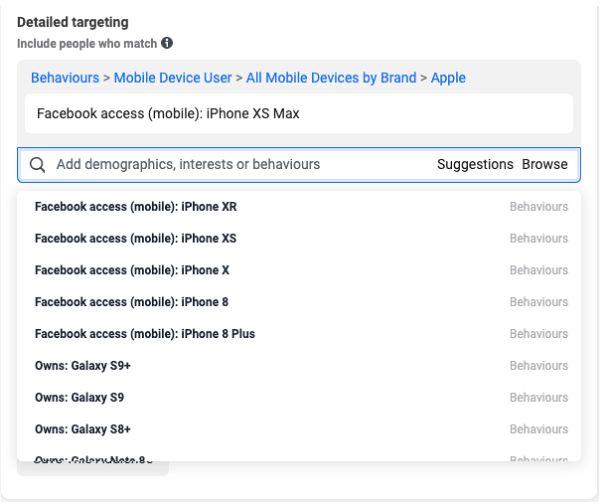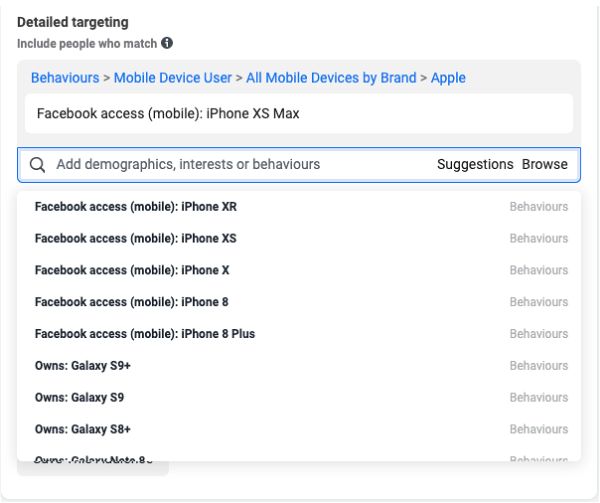 12. Use Instagram app to boost your posts.
Ads launched via IG app are working, sometimes even better than an ad launched via sophisticated Ads manager. Even Facebook support admits it.
Choose a post you want to promote and follow easy instructions. You will see the results both in app and in your Ads manager.
13. Retarget
when you launch video campaign you can retarget people who watched 50% of you video with new or same offer
you can retarget all people who already visited your clinic to remind them about regular cleaning, etc.
MORE TIPS:
you can always exclude actual patients – it will save your money
work with look-alike more. You can create up to 10 look-alike audiences for every source. Use all available sources: phones, website, people who watched your video, people who filled the registration form, instagram engagements, etc.
if you target region or countries, always check delivery and results by locations – it will save your money, as you can exclude expensive cities with no leads.
always use retargeting if you lead people to your website. Try discounts, specials, discovery calls – everything.
don't expect immediate results. 0 leads it is also a result – now you know how not to do.
---
How to analyze the metrics and results?
Once you've launched your ads you need to monitor following metrics.
TAKEAWAY: 

Reach (more than 1000)
Results at least 25-50 for each ad set
Cost per results - as low but effective in terms of qualified leads as you can achieve. Cost per click around $1.32
Clicks - as many as you can get, no norms 
CTR - more than 1%
Frequency - 2-3 max, best is 1
Budget - enough to get at least 2-3 leads when you're testing, the based on your available budget and strategy.

CPO - how much one real patient costs you. Number of patients / ad costs
Reach – how many people saw your ads.
It is important that this number is growing faster enough. If during one day you've reached less than 1000 people there is a problem: either the audience is extremely narrow (e.g. 10 000 people) or your budget is too low to compete. 
Do not take any action if you reached less than 1000 people.
---
Results – depending on the campaign type you've chosen, your results could be clicks, leads, messages, etc
If you have enough people you've reached, bit still no clicks or leads, change creatives, offer and try again, do not wait to spend all your money.
---
Cost per results – it is one of the most important metric:
how much 1 potential client costs you, if you've chosen Lead generation
how much 1 potential client's message costs you, if you've chosen Messages
How much 1 click costs you, if you just lead traffic to your website.
Please, note, we're talking about potential clients – ad is working for generating leads, but it is up to your team to close the "deal".
When you do a traffic campaign, your results column will show you how many people clicked on your ad and visited your landing page. Number of clicks is not an equal number of leads, as not every visitor will leave contacts.
It means when you set Traffic as a campaign goal, you make your job more complicated. Now you will need to think about how convertible is your website, calculate landing page conversion and then calculate cost per lead.
It also means that the algorithm works to reach people who are likely to click, not to leave contact.
---
Clicks – it is a number of people who clicked on your ad. It means they were attracted by your image, or video, or text, or offer, or all of it, and they wanted to learn more.
---
CTR – click-through-rate – it is a ratio between how many people saw your ad and how many of them clicked. It means how appealing your ad is. Try to increase this metric to optimize your budget and get more results. How? By testing more creatives over and over again.
Bad CTR is under 1%, the bigger CTR is, the cheaper results will be.
---
Amount spent and budget – how much you already spent and how much you are spending per day.
If you are running tests without any previous experience, give all ads equal budgets and monitor them.
If you know already how much a lead can cost you, but still you want to try new ads, you can do this: for the new ad set the budget equal 2x-3x costs per lead. E.g. If a lead costs you $3, to test the new ad you will set a $6-$9 budget.
Always check on how much money you're spending!
---
CPO – cost per order. This metric is not in the Facebook list, but it is important to know all the numbers.
E.g. We got 100 leads for a free exam for $3 each. We messaged them all or called them and let's say 20 of them were disqualified as leads (didn't pick up their phones, were not ready to schedule, or not interested anymore). 80 scheduled the exam, but only 50 showed up. From these 50, 18 actually became our paying clients. It means we had 100 leads, but only 18 orders. 
One order costed us around $16.6. $16.6 is our CPO.
Always monitor it, as it is the ultimate goal – to have clients who pay for your services.
Sometimes an ad can be great, many clicks, many leads, but no orders.
Orthodontist ads are quite expensive, big companies spend hundreds of thousands monthly on it, and it is hard to compete with them, especially in big cities. Some clinics choose google ads then, as it is a platform where you target already existing queries.
---
Frequency – how often one person sees your ad. Typically, your ad should never reach one person more than 2-3 times. Sometimes it is better to show ad only 1 time.
Frequency is affected by the volume of your audience, advertising period (if you didn't change the creatives) and budget.
Monitor this parameter and do not annoy people. Nobody loves to see the same ads over and over again.
---
CPM Cost per mile – this metric shows how much it costs you to show your ad for 1000 users. If this metric is growing, there are some reasons:
audience is too narrow, make your audience broader
big competitors boost competition
check frequency, if it is growing, change creatives.
---
How to optimize facebook advertising for orthodontists:
Test as many creatives as you can to find the best CTR and cost per result
Optimize campaigns for conversions if you are using your landing page. If you are promoting one specific procedure, create a separate landing page for this procedure with relevant information, photos, testimonials, etc.
Use lead generation forms (test different forms too!) to get more warm clients
Calculate your CPO and turn off ineffective ads or change the value proposition.
Check the age, sex, location of people who fill the contact form and exclude locations, age ranges, and sex which do not generate leads. *they may need a special offer
Exclude existing clients
As you gather more data via Facebook pixel, run retargeting, and create look-alike audiences to optimize budget
Every creative need to be replaced over time
Monitor CPM, if it starts raising, changes creatives, and scale the campaign
Exclude existing clients, expensive regions and cities, age ranges if they are not generating leads.
Keep an eye on competitors and new trends, use them in ads.
If you want to dig deep into it: monitor the time of the day and days when most good leads come. If you see any stable pattern in it, use it in ads, exclude days or time that is not effective for you.
You can also run a video campaign with a video from your doctor and then create an audience of those who've watched your video, or even a look-alike audience.
Try to create a funnel. Funnel needs more time and patience, but it will also save your money and work for you almost automatically.

Ex., 1) launch a useful post about oral care or a specific procedure, tips, etc. as an Engagement campaign 2) run a lead gen ad for those who were engaged with the post to schedule a free exam for this procedure or something else
Ex 2 1) run a video campaign with a video from your doctor 2) run a lead gen ad for those who watched the video to schedule a free exam for this procedure or something else

Work not only on generating leads but on building awareness, if you have a spare budget. Share useful tips, results, daily clinic routine and promote these posts. People can follow your page and account, save a useful post, or even share it. People are sensitive to useful things that make their life easier. When it is time to schedule an appointment, what do you think, which clinic I will choose: one I just saw the ad, but I know nothing about, or one I already know the doctors, and I saved some posts?