Search engine optimization is a crucial part of any website strategy, as it will help your site rank higher in search results. There are many SEO plugins for WordPress that are designed to help you optimize your content and get better rankings.
Two popular options are Yoast SEO and Rank Math SEO. In this article, we'll cover the features of both plugins and compare their performance in terms of user experience, pricing, design, and more!
While Yoast is a well-established option and kind of must-have among bloggers, last few years there are a lot of new SEO tools popping up. Rank Math is one of them. Even if it is a young company, it is gaining popularity very quickly and it has something it can beat Yoast with.
I will include my personal thoughts as well, as I have 3 blogs and I was using Yoast for all of them, but now, I switched to Rank Math. I can compare interfaces, prices, and performance being a real user.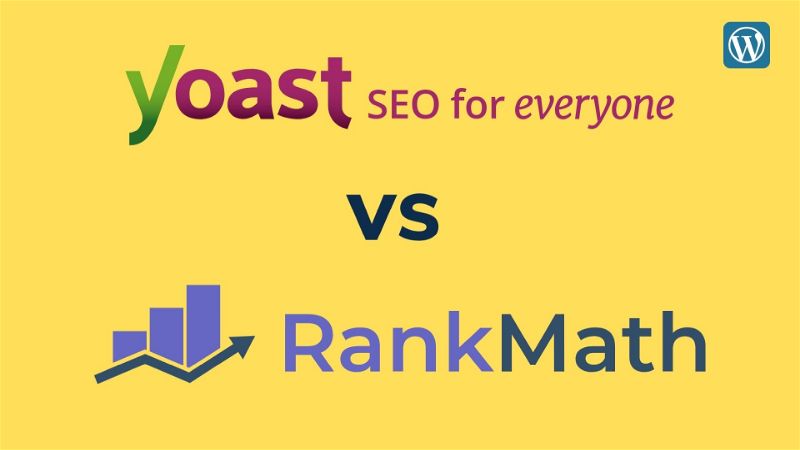 Table of content for Yoast vs Rank Math:
---
Yoast vs Rank Math Winner Upfront
I'm using Rank Math for months already and I will definitely recommend to switch from Yoast to Rank Math if you feel like you're not getting enough of your SEO plugin.
---
How to choose the best SEO plugin for WordPress
As a WordPress user, you might have heard about SEO and wondered if there's a way you can install plugins that will help you boost your site's rankings.
Choosing the right SEO plugin for your WordPress website I suggest considering these factors.
Normally, an SEO plugin has a free version that has basic features and will be enough for most beginner users.
A premium plan includes more features and can help you with a more in-depth understanding of your content performance. It will also work better for advanced users.
Both Yoast SEO and Rank Math SEO offer a free option for their plugins.
If you're managing more than one website, it would be better for you, if the price will not go up depending on the number of websites.
As I said the free plan will give you access to a limited range of features. Are they enough for you?
You definitely need an SEO overview for every post, including target keyword, meta description, and title editors. All basic technical SEO features should be also free.
Too many features will be useless for a complete beginner.
Since 2021 AI assistants become a real help so I would suggest to look for a SEO plugin that is constantly improving and including new features based on what is going on among SEO experts. Rank Math picks all trends very fast and implements it for free and Pro accounts, but I've never seen Yoast changing much…
Impact on the website performance and speed
Every WordPress plugin can slow down your website which will affect your ranking. Once your page speed is too low you'll be penalized by Google.
While today all developers are trying to make their plugins as light as they can, still, the lighter – the better.
A simple page speed report using Google PageSpeed Insights will tell you if any of your plugins or scripts are blocking content or speed.
RankMath states to be the lightest plugin with minimum memory use.
A good SEO plugin will list your ideas on how to improve this specific post you're writing in terms of SEO and readability.
Some plugins may have fewer recommendations or they may be irrelevant. Both RankMath and Yoast SEO offer quite accurate recommendations, but Yoast's analysis is often glitching and not seeing your updates.
At least, read some reviews and check top-3 reviews platforms: G2, Capterra, and TrustPilot to find out what people like and dislike about the SEO tool. But also, check the score on the WordPress plugin catalog and the number of installs.
Also, try to ask for advice in relevant Facebook groups. If you're a blogger, you're part of some groups for sure, just ask a bit of genuine advice and people will be happy to share what SEO plugin they are actually using.
SEO plugins for WordPress available on the market in 2022:
---
Yoast vs Rank Math comparison
Choosing between Yoast and Rank Math will be easier if we compare major features, pricing, and what's included in the free plan of both plugins.
---
What is Yoast SEO?
Yoast SEO – is a WordPress plugin for search engine optimization of your content. It was first developed in 2010 and has been improved continuously since then. It is currently the most recommended WordPress SEO plugin by journalists and industry experts.
Yoast SEO plugin for WordPress helps you to optimize the content you writing and website pages. It provides many features such as XML sitemaps, canonical URLs, breadcrumbs, keyword ideas, linking suggestions, and more.
Yoast works with SEMrush to give more insight into what secondary keyphrases you can use. This plugin also has a social media preview optimization module.
Yoast SEO is a popular beginner-friendly plugin that optimizes your website's content and increases your rankings on Google and other search engines.
How does Yoast work?
Yoast automatically scans your webpage and content you're writing for things like title, meta tags, headings, content length, keyword density, and more – and provides you with a detailed analysis of the SEO strength of your page.
---
What is Rank Math?
Rank Math is an SEO plugin for WordPress created in 2018. It is a simple plugin with three major features: on-page optimization, off-site optimization, and site analysis.
How does Rank Math work?
Rank Math SEO plugin scans your content, pulls data from Search Console and Analytics to form performance reports. It uses SEO best practices to evaluate your content. It works with 18+ pre-installed schema configurations for better content optimization, but it also allows you to upload any settings.
In the end of 2021, Rank Math introduced Content AI add-on that helps you outline your blog post in a few seconds analysing the TOP ranking pages and suggesting topics you should cover and the list of related questions you should include. Those questions will be automatically copied and organised as FAQ schema in 1 click.
---
Yoast vs Rank Math Site Speed Impact
Regarding site speed, Rank Math is lighter and takes less space, so it will less affect the speed of your site. Rank Math's research suggests that Yoast takes a bit more time to load. In practice though, both plugins are pretty good with NOT slowing down a website.
| Factor | Yoast | Rank Math |
| --- | --- | --- |
| Free plan | ✔ | ✔ |
| Price for Pro plan | from $89/year | from $59/year |
| Lines of Code | 93 K | 55.9 K |
| Plugin Folder size | 36 MB | 10.5 MB |
| Memory usage | 1.43 MB | 0.35 MB |
| Page Speed | +0.34s | +0.03s |
I checked my 3 different blogs using Rank Math or Yoast plugin through Google Page Speed and both are performing great.
---
Free Yoast vs Free Rank Math Features
Best FREE plan – Rank Math.
| Feature | Free Yoast SEO | Free Rank Math |
| --- | --- | --- |
| Website performance dashboard | ✘ | ✔ |
| Focus keyphrase optimization | 1 keyword | multiple keywords |
| Related keywords ideas | ✔ | ✔ |
| Languages | Manual | n/a |
| Page types and article types schema | 12 page types, 8 content types | 18 schema types |
| Indexability check | ✔ | ✔ |
| Readability analysis | ✔ | ✔ |
| SEO analysis | ✔ | ✔ |
| Search engine visibility | ✔ | ✔ |
| Canonical URL | ✔ | ✔ |
| Marking links as no-follow or sponsored | ✔ | ✔ |
| Meta robots | ✔ | ✔ |
| Breadcrumbs settings | ✔ | ✔ |
| Google Preview | ✔ | ✔ |
| Facebook Preview | ✘ | ✔ |
| Twitter Preview | ✘ | ✔ |
| Real-time suggestions for internal links | ✘ | ✔ |
| Reminders to update 6-month old content | ✘ | ✘ |
| Content insights | ✘ | ✔ |
| Content AI assistant | ✘ | ✔ |
| Redirect | ✘ | ✔ |
| 404 monitor | ✘ | ✔ |
| Elementor Integration | ✘ | ✔ |
| Automated publishing | ✘ | ✘ |
| Focus keywords and SEO scores export | ✘ | ✔ |
| 24/7 support | ✘ | ✔ |
| Ads | ✔ | ✘ |
| Price | FREE | FREE |
Free Rank Math account offers more features than a Free Yoast plan, and it also doesn't have any ads.
With Rank Math, you can easily focus your content optimization on several keywords, use one of 18 schemas, edit preview for Google and social media, add redirect and monitor 404 errors. While with Yoast, social media previews are only in Premium plans, as well as redirect manager, and many other functions. The Free Yoast plan allows you to choose only 1 focus keyword.
The most important for me as with the Free Yoast account you don't have access to the Support team, you can only use the free Help center, while Rank Math provides you 24/7/365 support even if you don't pay for your subscription.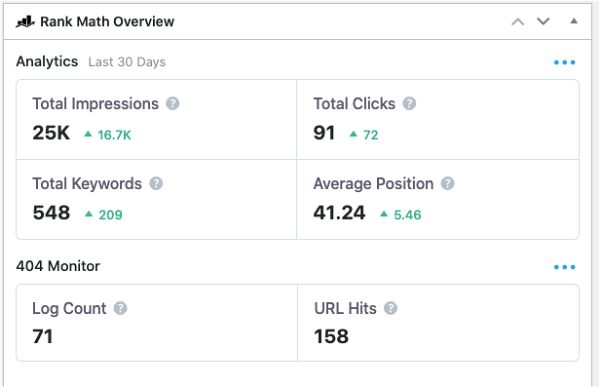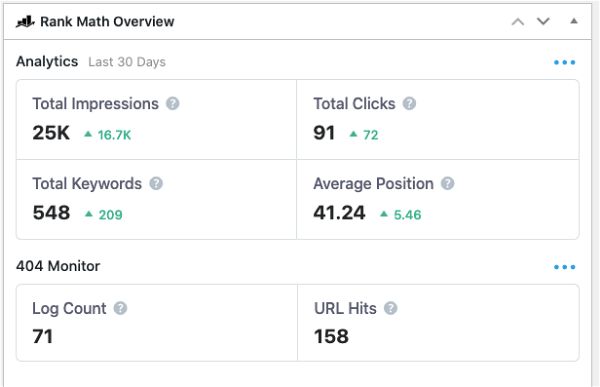 What I personally like more about Rank Math it's its dashboard integrated with Google Search Console. Once you log in to your WordPress account you immediately see major metrics for your website: impressions, clicks, average positions, total keywords, and 404 monitoring. This is something you don't have with Yoast at all.
---
Yoast Premium vs Rank Math Pro
Rank Math Pro is cheaper than Yoast Premium, especially if you have more than 1 website. Rank Math offers simple and transparent pricing plans, while Yoast price depends on how many websites you have, the more you have, the more you pay (even if they offer up to 50% discount).
Both Rank Math and Yoast offer 30 day money-back guarantee.
| Website quantity | Yoast SEO Premium | Rank Math Pro |
| --- | --- | --- |
| 1 website | $89 USD per year (ex VAT) | $59 per year (ex VAT) |
| 2 websites | $169.10 (-5%) | $59 |
| 3 websites | $253.65 (-5%) | $59 |
| 4 websites | $338.20 (-5%) | $59 |
| 5 websites | $400.50 (-10%) | $59 |
Regarding features available on Premium and Pro plans Rank Math has more to offer.
Some features are more technical and may not be needed by all users, but some are quite important for a blogger, such as more advanced schema types. Rank Math has a lot of types of content to suggest: article schema, book schema, schemas for course, event, job posting, local business, music, person, product, recipe, review, and more. While Yoast has fewer options to offer.
Other features I like with Rank Math but I don't have with Yoast are SEO analysis of my website, site performance dashboard, keyword rank tracker, and more advanced analytics.
The list of features BOTH RankMath Pro and Yoast Premium have:
Everything included in FREE plan
Sitemaps

Powerful XML Sitemap
Google News SEO Sitemap
Google Video SEO Sitemap

Local SEO

Local SEO PRO With Multi Locations
Advanced Local SEO Blocks

WooCommerce SEO PRO
Schema manager

Article Schema
FAQ Schema
How-to schema
Automatic Video Detection for Video Schema

Complete Import/Export Options
Complete Elementor Integration
Redirections

Import Redirections Data via CSV File
Smart & Automatic Post Redirects
301 Redirection Type
302 Redirection Type
307 Redirection Type
410 Redirection Type
451 Redirection Type
Support for Regex
Redirect Attachments to Parent

Detect Orphan Pages
Noindex Password Protected Pages
Auto Canonical URLs
Install Google Analytics Code
Supports Custom Post Type
Bulk Edit Titles & Descriptions
Post Preview on Google
Content Analysis
Control SEO For Single Pages
Control The Title
Control Meta Description
Auto Add Additional Meta Data
Focus Keyword
Control ROBOTS Meta
Choose a Primary Category
Optimize Unlimited Keywords
Choose Pillar Posts & Pages
Internal Linking Suggestions
Social Media Optimization
Default OpenGraph Thumbnail
Auto Facebook Open Graph
Facebook Authorship
FB Open Graph for Homepage
Automatic Twitter Meta Cards
Twitter Card for Homepage
Default Twitter Card Type
Social Previews
Default Share Image
Support for knowledge Graph
Represent site as a Person
Represent site as a Company
Choose a Separator Character
Modify Global Meta
Strip Category Base
Search Engine Verification Tools

Bing Site Verification
Baidu Site Verification
Yandex Site Verification
Google Site Verification

SEO breadcrumbs
Ping Search Engines
Compatible with EDD
PHP-FIG Coding Standards Used
Optimize Archive Pages
Optimize Author Archive Pages
Import/Export Settings
RSS Optimization
Add Content before RSS Feed
Add Content after RSS Feed
Detailed Documentation
Contextual Help
Multisite Compatible
This is the list of extra features that ONLY Rank Math has:
Advanced Google Analytics Integration
Keyword Rank Tracker
The Most Advanced Schema Generator
SEO Performance Email Reports
White Labelled Email Reports
Import Schema From Any Website
Speakable Schema
Google Trends Integration
Image SEO PRO
Complete EDD SEO
Advanced Post Filtering
18 Pre-defined Schema Types (Yoast has around 12 schema types)
6 Extra Schema Types
Client Management
Track Top 5 Winning Keywords
Track Top 5 Losing Keywords
Track Top 5 Winning Posts
Track Top 5 Losing Posts
Advanced Content SEO Overview
Check Ranking Keywords for Each Post
Position History for Keywords & Posts
Add Custom Schema Using JSON+LD/HTML
Validate Schema With Google
Custom Schema Builder
Add Unlimited Multiple Schemas
840+ Schema Types Supported
Automate Schema Implementation
Dataset Schema
Fact Check Schema
Carousel Schema
Mentions & About Schema
Automatic Q&A Schema for bbPress
Advanced Redirections Module
Google AdSense Earning History
Import GSC & GA Data from Particular Country
Custom Setup Wizard Mode
Watermarked Social Media Images
Advanced Bulk Edit Options
Dedicated Elementor Breadcrumbs Widget
Elementor Accordion Widget to FAQ Schema
Complete Divi Integration
Divi Accordion Widget to FAQ Schema
Import SEO Data via CSV File
Advanced Quick Edit Options
Automatic Video Data Fill for Video Schema
Single Post Performance Badges
Track PageSpeed for Each Post & Page
Track SEO Performance of Individual Posts
Sync Redirections to .htaccess
Export 404 Log
Advanced HowTo Schema
Mark Cloaked Links as External Links
Find & Replace Image alt/title/caption Text
Automate Image Captions
Optimal Settings Pre-Selected
Clean User Interface
Simple Setup Wizard
Compatibility Check
Google Search Console Integration
Anonymize IP addresses
Cookieless Google Analytics Tracking
Self-Hosted Google Analytics JS File
Exclude Logged-in users in GA Tracking
1 Click Import From Yoast SEO
1 Click Import From AIO SEO
1 Click Import for SEOPress
Import AIO Schema Rich Snippets
Import from Redirection Plugin
Advanced SEO Analysis Tool
30+ Detailed SEO Tests
SEO Analysis Score
SEO Warnings
SEO Failed Tests
Automated Image SEO
Powerful Post Optimization
Google Keyword Suggestion
Capitalize Titles
Module Based System
Advanced Redirection Manager
Debug Redirections
Simple 404 Monitor
Advanced 404 Monitor
Role Manager
Book Schema
Course Schema
Event Schema
Job Posting Schema
Local Business Schema
Music Schema
Person Schema
Product Schema
Recipe Schema
Restaurant Schema
Review Schema
Service Schema
Software/App Schema
Video Schema
193 Local Business Types
Add Overlay Icons On Social Images
Option to get Email if Update is Available
Alexa Site Verification
Pinterest Site Verification
Norton Safe Web Site Verification
Advanced Link Options
Nofollow All External Image Links
Nofollow All External Links
Open External Links in New Tab
Contact Info Shortcode
.htaccess Editor
robots.txt Editor
Version Control
---
Yoast vs Rank Math User experience
Both Yoast and Rank Math plugins are easy to set up. Rank Math allows you to transfer settings and data from Yoast in one click.
Rank Math Setup Wizard lets you connect your WordPress account and in a matter of seconds, your plugin is ready to use.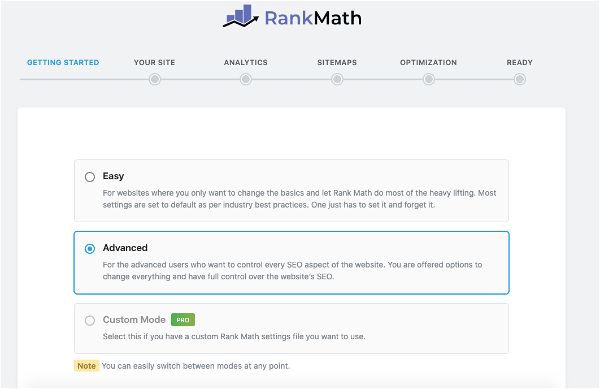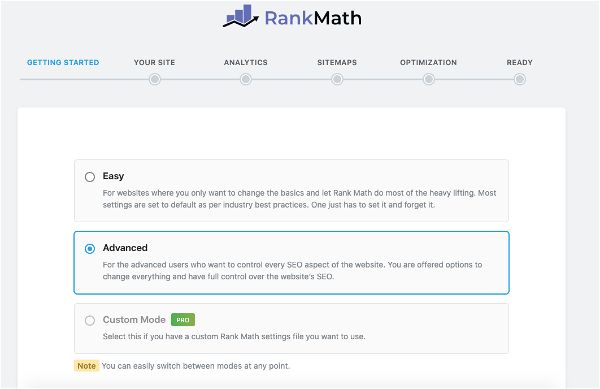 Yoast website needs you to log in with email, it doesn't let you sign up using your WordPress account. Nothing wrong with that, but I really like how with Rank Math I can sign in with WP in 1 click and manage all my websites from there. But, Yoast also has a Yoast Setup Wizard for the first-time setup.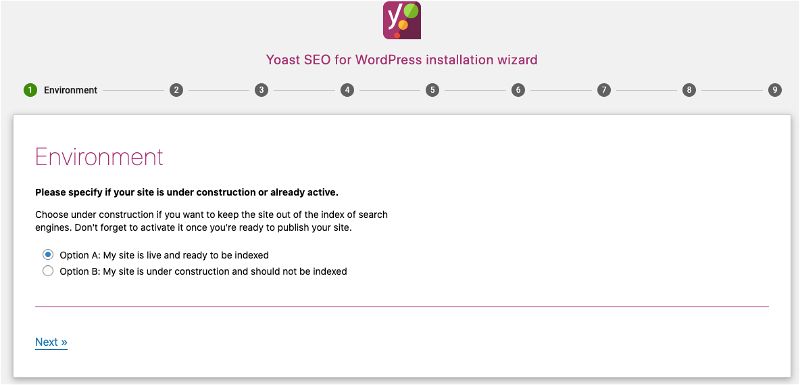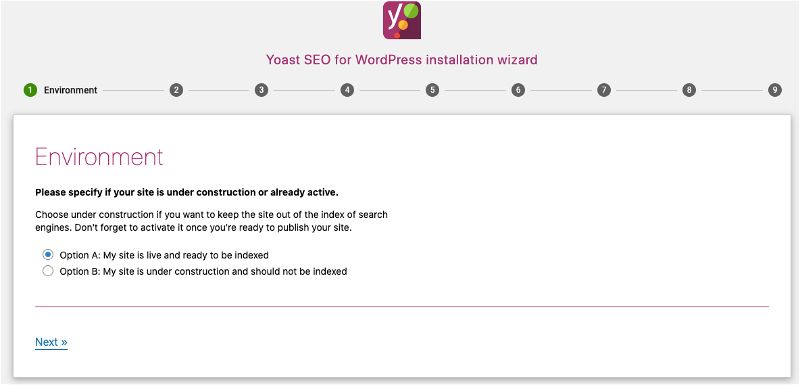 Rank Math is nicely integrated with your workflow on WordPress. It has a dashboard, a separate place in a side menu, and easy access to all modules and extra settings in one place.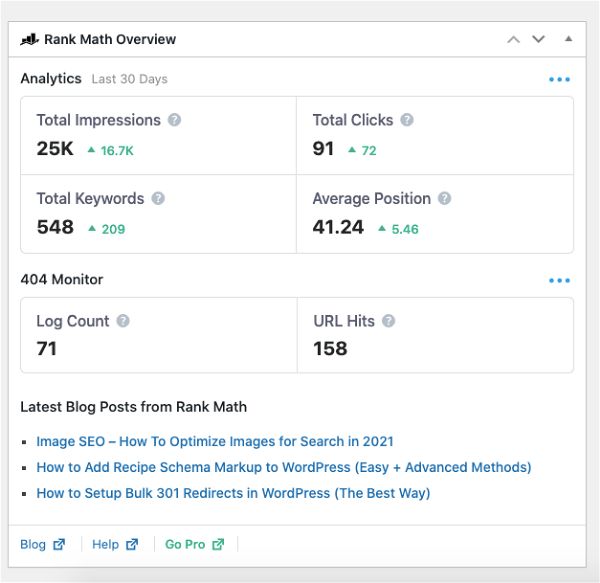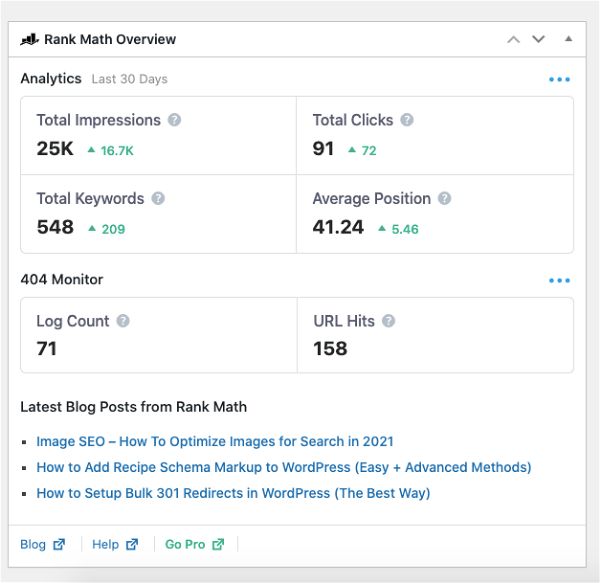 Rank Math offers 17 modules you can easily switch on/off based on your needs:
404 monitor
ACF
AMP
Analytics (integration with Google Search Console)
bbPress
BudyPress
Image SEO
Instant Bing Indexing
Link counter
Local SEO & Knowledge Graph
Redirections
Schema
Role manager
SEO analysis
Sitemap
Google Web stories
Woocommerce
RankMath Analytics covers basic SEO site analysis and gathers all SEO scores of your content. It also shows you positions, ranking keywords, and top performant content. This report is available even on the free plans, but keyword tracking is only for Pro plans.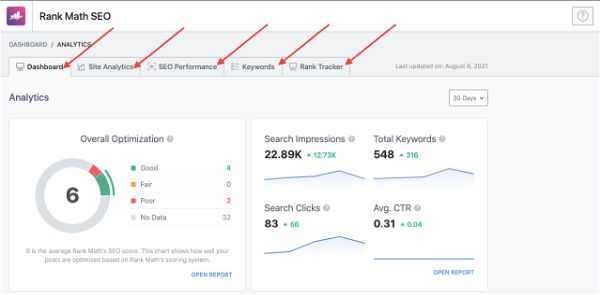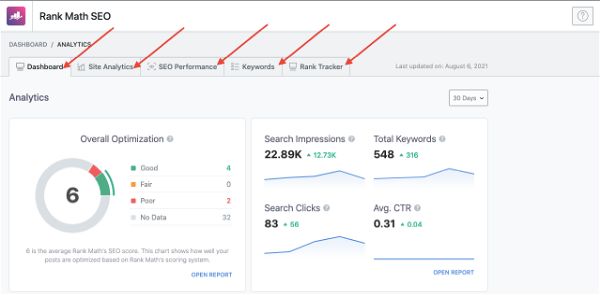 RankMath General Settings offer a lot of advanced settings, including Webmaster tools where you can add other search engines webmaster tools verification ID, redirect settings, breadcrumbs, RSS settings, 404 monitor, and more.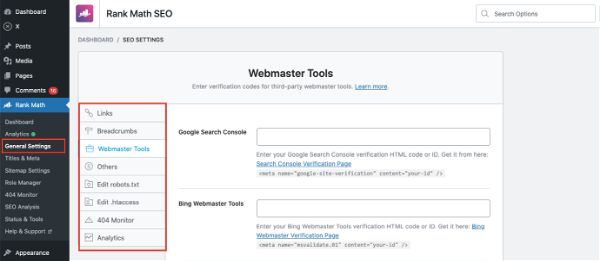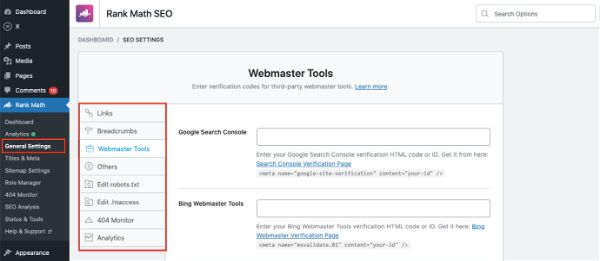 All aspects of Rank Math you can take under control.
Yoast interface on WordPress
Yoast also has a dashboard and a menu, but it is much simpler than Rank Math's ones. Yoast dashboard only tells you how many content pieces are optimized: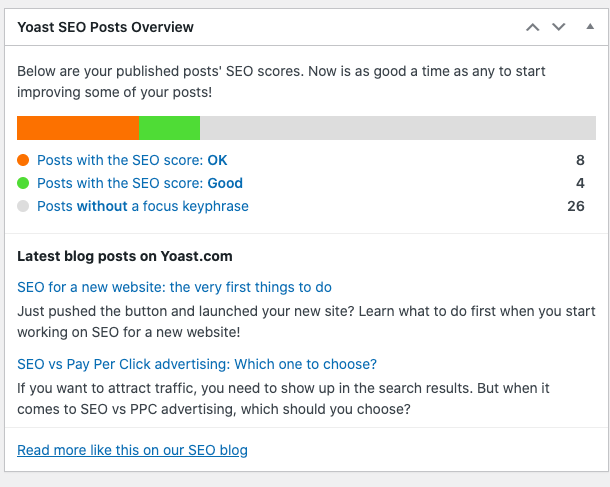 The Yoast side menu will take you to general settings with overall problems detected or important notifications.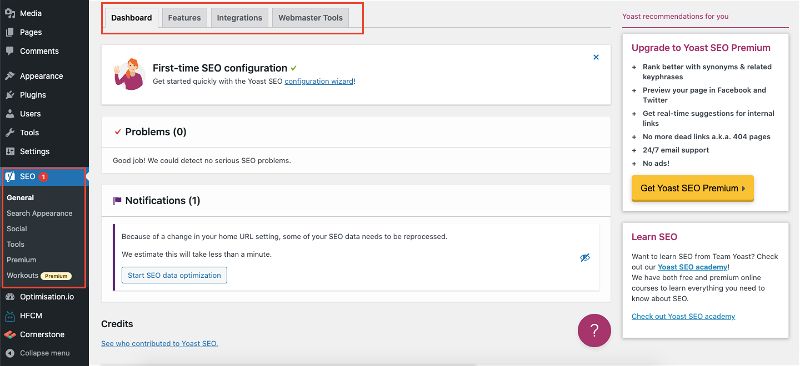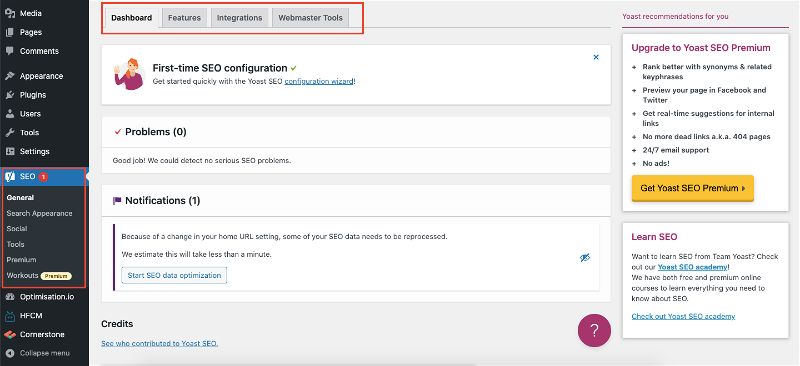 You can set up some integrations, add 4 different Webmaster tools and switch on/off between different features.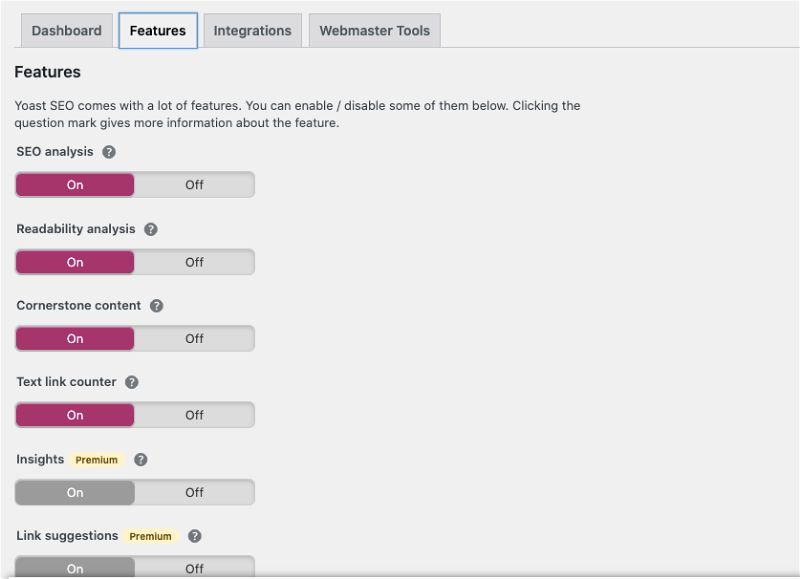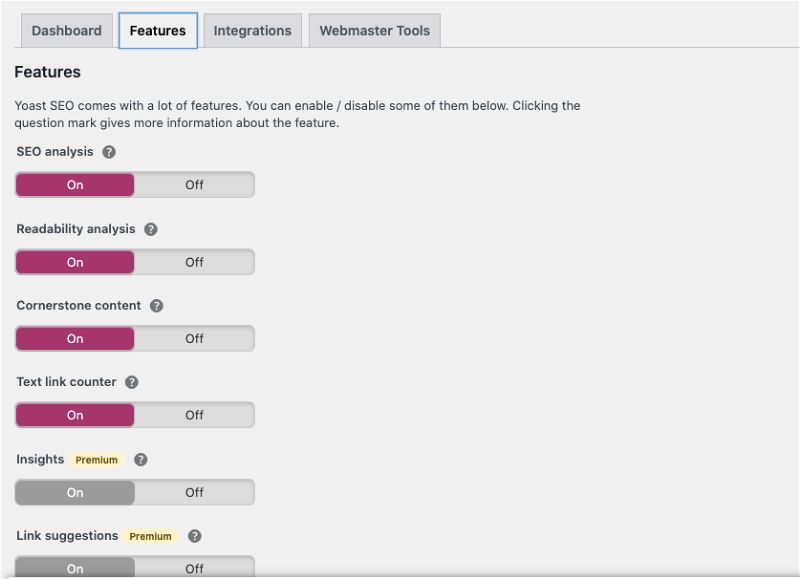 ---
Yoast SEO vs Rank Math Reviews
As Yoast is on market for 11 years already, it obviously has more reviews than 3-year old Rank Math. However, Yoast gets a higher score on all review platforms.
Yoast Reviews Rate
Rank Math Reviews Rate
4.35/5
3.9/5
WordPress 4.8/5 (27,374 reviews)


Capterra 4.6/5 (31 reviews)


G2 4.6/5 (46 reviews)


Trustpilot 3.4/5 (15 reviews)
WordPress 4/5 (3,999 reviews)


Capterra –


G2 –


Trustpilot 3.8/5 (3 reviews)
Based on 27,000+ reviews here is what we can list as Yoast SEO pros & cons.
Yoast SEO PROS
ease of use
good for beginners
free plan is better than Premium
useful blog
300+ million downloads
Yoast SEO CONS
sometimes incorrect content grades (Yoast will say that something is missing when it is actually not).
the premium version didn't cost its money
updates can affect your website performance not in a good way
websites crashing
the help center is a bit outdated
automation may glitch
no plagiarism analysis
not adapted well to semantic search or synonymous keywords
becomes bulkier over time.
some functions may be not clear for a beginner and need more information on how to use them
hard to find sitemap
Rank Math PROS
Simple interface – One-click installation and set up
User-friendly design – Clean dashboard makes it easy to navigate through the options; no complex settings or confusing codes
Cheaper than Yoast SEO ($89 for lifetime usage)
Built-in site audit feature
404 monitoring
Large variety of features
Rank Math CONS
fewer years on market than Yoast, less customers
some users were annoyed with company asking for a review
errors occured with redirect or schema mark-ups
free version is better than Pro
needs to mature more.
---
Rank Math vs Yoast SEO FAQ
Is Rank Math better than Yoast?
Rank Math is better than Yoast because it has more features that Yoast SEO doesn't have and it's cheaper. But, it's been fewer years on the market, and Yoast has a huge fan tribe.
Is Rank Math any good?
Rank Math is a new, user-friendly SEO plugin for WordPress. It has more features than Yoast. Rank math is also less expensive for what it offers and Yoast is overpriced when you compare both plugins.
How do you move from Yoast to Rank in Math?
Moving from Yoast to Rank Math is extremely easy. Once you sign up to Rank Math with your WordPress account, Rank Math automatically moves data from Yoast to Rank Math and deactivates the Yoast plugin. You don't have to do anything else.
What is better than Yoast SEO?
Rank Math is better and cheaper than Yoast SEO. But Yoast SEO is also good and proved its reputation and performance over time.
What is an SEO plugin?
An SEO plugin is a plugin that helps search engine bots find and index your site.
Why do you need an SEO plugin for WordPress?
If you have a WordPress site, then having an SEO plugin is a must! SEO plugins make it easier for search engine bots to find and index your website. They also make it easier for people to find your site through search engines.