Choosing the right web hosting company is a big decision for any website owner. It's important to compare all of your options and find one that best suits your needs. In this post, we'll be comparing two of the most popular companies in the industry: GoDaddy vs Bluehost.
We'll talk about their pricing plans, features, pros and cons as well as an average review score from customers who have used these services. Finally, we will tell you what each service is best for so you can make an educated decision and choose which host better fits your needs!
Table of content for Godaddy vs Bluehost:
---
Quick Facts about GoDaddy vs Bluehost before we start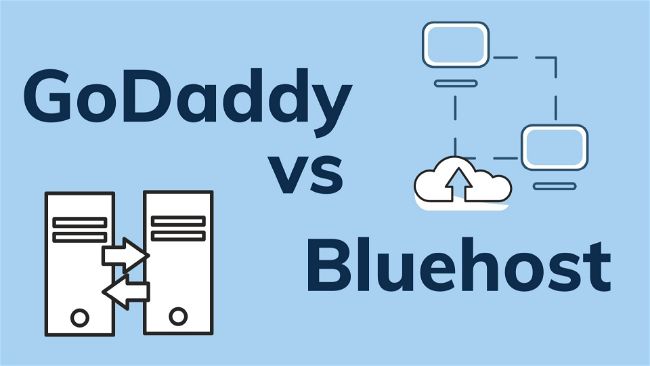 Bluehost offers shared hosting plans starting at $3.95 per month and GoDaddy has shared plans starting at $5.00 per month for 12 months. Here is also a 30% discount on GoDaddy.
GoDaddy's average customer rating is 4 stars out of 5 on Capterra while Bluehost averages 3 stars out of 5 on Capterra.
Both Bluehost and GoDaddy are beginner friendly.
If you're looking for cheapest hosting for long-term – go with Bluehost's 1, 2 or 3-year plan.
If you want to try one month – go with GoDaddy.
If you need a performant VPS or dedicated server, choose GoDaddy.
If you have one or multiple medium to high-traffic websites, big e-com projects, go for premium hosting companies, don't choose neither Bluehost nor GoDaddy.
Between GoDaddy and Bluehost, despite the higher price, GoDaddy is the best hosting to choose.
---
What is Web Hosting and Why You Need One?
Web hosting is the process of housing and serving web pages, images, videos, and more on the internet. Web hosting companies provide servers to host content so that users can connect to them through a browser and view the hosted webpage. If you want to have a website or blog you will need web hosting.
You need web hosting if you want to have any website online. Web hosting is a house, storage for all the content on your website. When anyone browses the Internet they knock at your door and look at what you have at your storage. Without web hosting your website simply doesn't exist!
A domain name is your custom URL that people use to find your website or blog. Domain names are usually bought in conjunction with web hosting services and can be found at different price points depending on how much traffic they're meant for. A domain example is godaddy.com.
Normally, a web hosting company will offer you several services at once: you can first buy a new or expired domain, you can create a website using a website builder or you can host your web page content created on WordPress and more.
The most reliable hosting companies today are:
Still, not all hosting companies are good. GoDaddy and Bluehost are good hosting firms for beginners and owners of simple websites. They are also cheap. Agathon and Bigscoots are premium, expensive, and high-performant hosting.
If we compare Namecheap, GoDaddy, or Bluehost vs Bigscoots, none of them will beat it, Bigscoots and Agathon are way better. While GoDaddy, Bluehost, or any other cheaper hosting will be quite the same.
Still, not everyone has money and needs to go pro on hosting and opt for a premium hosting provider. So let's see which one we can choose to stay on budget.
---
Is Web hosting and Web Server the same?
Web hosting and web server are two different things. A web hosting service is a company or organization that provides space on one of its servers to website owners, for example, Bluehost is a web hosting.
Web server is the machine (a publicly accessible computer) on which a website is stored, so both GoDaddy and Bluehost have their own servers. We can upload, store and edit files there to make them available online.
You have a website examplewebsite.com and your hosting is GoDaddy -> your website core data is stored on GoDaddy's server, and GoDaddy's web hosting pulls the content from the server to show your visitors once they click on your website.
---
Web Hosting vs Website builder
You may ask, is Wix, WordPress, Squarespace are web hosting platforms?
It's important to note that web hosting and website builders are not the same things.
They both allow users to build websites but they differ in what exactly you can do with them. A website builder is typically a single simple service that lets you create, edit or delete pages from one place – it is what people see when they look at your website. Web hosting is more complicated and needs to be done with a company that offers it such as GoDaddy or Bluehost. It is from where the Internet takes all the content to show your visitors.
Website builders make website making accessible to all level users, even with no tech background. This is why, some website builders like Wix will offer you all services, including hosting. To make sure a beginner user can go online without stress.
The truth is, a web hosting company as GoDaddy and Bluehost will always be better than a service like Wix in terms of hosting quality and how it will affect your website performance.
Wait a minute, so hosting does not just store and assure my website's online presence, it can also make it work worse or better?
That's correct. A good web hosting company like Bluehost or GoDaddy will ensure that your content is quickly available and optimized for search engines. A bad web hosting company or a basic website builder can slow down the loading time of your site, increase loading errors which can affect how people perceive it as a whole.
This is one of the crucial factors for choosing in favor of a separate hosting service and building a website on a reliable platform like WordPress. Unfortunately, Wix can cause a lot of trouble with SEO.
---
How to choose the right hosting for your website
First, you need to decide whether you want a website builder or web hosting. Website builders make it easy for beginners to create professional-looking websites but they often lack features and don't provide the most reliable hosting service.
For now, I will consider that we agreed on going with web hosting and bot a website builder.
Web hosting services like Bluehost and GoDaddy will offer more options for those who want to have a more personalized site without limiting how you can optimize the technical side of it.
What factors to consider choosing web hosting?
Choosing a hosting may define your online future, and I'm not kidding. Try to consider these 9 factors before you sign up.
1 – Your website scale and type
If your website is small you can share hosting and server. Some big projects (high traffic and data) need dedicated web hosting and a dedicated server.
Consider what type of website are you planning to set up: a blog, a corporate website, a sales page, or an online store? Or maybe you will have several websites?
While a single-page site is light and needs less functionality, a good online store will need a lot of resources.
The mast cheap is usually a basic plan – shared hosting plans are only for 1 website, so if you have more, you'll have to upgrade your plan and pay extra.
2 – Cost
The first thing you should consider when choosing a web hosting service is the cost. That's the number one factor to take into account. The monthly cost can go from $4.95/month for shared hosting to over $200/mo for dedicated servers.
Premium hosting will charge you around $25 per month.
3 – Features
Next, you want to look at the features and services that come with the package. This will include things like email, domain registration, site builder, and more for most companies.
4 – Support
You'll want to see exactly what type of support comes with each plan (some offer 24/7 phone support while others offer ticket-based support).
Sometimes I need a quick reply from the support team when I'm optimizing my page speed and I need them to fix something on their side.
For example, GoDaddy customer support is a seven-time winner of the "Exceptional Customer Service" Stevie® Award.
5 – Uptime
Finally, you want to be sure you go with a company that offers good uptime (typically 99% or better).
Uptime is the amount of time a website or server is running online. It is often measured in percentages, with sites aiming to have at least 99% uptime. It means your website is 99% time online and visitors can access it.
If your site doesn't have great up-time, you will lose traffic, money, and your web hosting doesn't worth it!
7 – Impact of website performance
Some hosting providers and their servers can significantly slow down your website speed. Some of them can offer you ideas and help to fix them, but some can't do much about it. Bluehost is well-known to maintain fast speed and doesn't intervene with your page performance.
If you're already using any hosting provider, check your page load time with a free tool – Google Page Speed Insight to see if your server or hosting slows down your website.
Often, a slow server's response time will cost your website's speed.
8 – Storage
Storage is one of the most important factors to consider when choosing a hosting provider. The amount of storage space offered is usually measured in gigabytes. This is important because, on some servers, storage space can get filled up quickly and lead to performance issues.
Some hosts will offer tools or scripts that help their customers to work with images and other content efficiently. Others will offer bandwidth as part of the package which is how much data can be downloaded each month from the server.
The storage needed will depend on your website and plans to scale it. As we know already, hosting will store all our website data: texts, images, HTML, flash, on-page specifications, and anything else. The text usually weighs almost nothing, but images and other information can occupy a lot of space.
For example, the cheapest hosting plans usually have limited space, Bluehost shared hosting offers around 50GB.
9 – Bandwidth
Bandwidth is a measure of how much data can be downloaded or uploaded from the server. It is usually measured in kilobytes per second.
Bandwidth depends on 3 major factors: how many visitors you have, how many pages they visit, and how much each of your pages weighs.
For average page size, 20,000 visitors per month, and 5 pages per visitor your website will need about 5GB of bandwidth per month.
---
GoDaddy vs Bluehost Comparison Table
Before you make your final decision on either Bluehost or GoDaddy to choose, I would like to give you a quick overview of the main features and pricing. Below I will also study GoDaddy and Bluehost hostings feature by feature.
As you will see both GoDaddy and Bluehost offer pretty same features, while Bluehost can offer you a better price if you can pay straight for 3 years, and GoDaddy will provide better performance.
GoDaddy
Bluehost
Price monthly for the basic plan
from $5.99/mo (1, 2, 3 years)
renewal from $8.99/mo
from $3.95/mo (for a 3-year plan)
from $4.95/mo (for 2 years)
from $5.95/mo (for 1 year)
renewal from $8.99
Domain names
yes
yes
Expired domains auction
yes
no
Shared hosting
yes
yes
Dedicated server
yes
yes
VPS hosting
yes
yes
WordPress hosting plans
yes
yes
Marketing services
yes
no
SEO tools
yes
yes
Email marketing
yes
not for the basic plan
Website builder
yes
yes
Security features
yes
Backups only for Choice Plus and Pro plans
24/7 support
yes
yes
Money-back guarantee
no
30-day money-back guarantee
Uptime
99.99%
99.98%
Free SSL certificate
Free SSL Certificate is not available for the basic plan
Free SSL Certificate
Free domain name
Free domain for 1 year
Free domain for 1 year
Bandwidth / Unlimited bandwidth
Unmetered bandwidth for all plans
Unmetered bandwidth for all plans. Limitations depending on the Dedicated server plan
Storage / Unlimited storage
For basic plan – 100GB
For basic plan – 50 GB SSD Storage
For Plus plans – unlimited storage
Bluehost vs GoDaddy Pricing comparison
Bluehost is cheaper than GoDaddy in 2022. Note, that in 2022 Bluehost's support states that the service doesn't offer monthly plans at all.
Both services offer promo prices for the first sign-up. The renewal price will be applied after the whole period expires. So, if you're choosing a Bluehost 3-year plan, you will pay $142, which means $3.95 per month for 3 years. After 3 years, the 4th year, you will pay $8.99/mo for the next 3 years plan, which means $323,6.
With GoDaddy it is much easier, you can try it for 1 month or pay for 12, 24, or 36 months. But, the prices will be higher than Bluehost.
Here is the table for GoDaddy and Bluehost pricing for hosting and other services:
Features
GoDaddy's Pricing
Bluehost Pricing
Shared hosting for 1 website
from $5.99/mo (3 years)
from $6.49/mo (2 years)
from $6.99/mo (1 year)
renewal from $8.99/mo

1 month = $10.99

so, you'll pay once you sign up:
5,99*36 = $215,64
6,49*24 = $155,76
6,99*12 = $83,88
from $3.95/mo (for a 3-year plan)
from $4.95/mo (for 2 years)
from $5.95/mo (for 1 year)
renewal from $8.99

No monthly plans

so, you'll pay once you sign up:
3,95*36 = $142,2
4,95*24 = $118,8
5.95*12 = $71,4
Shared hosting for Unlimited websites & Unlimited storage
from $7.99/mo (3 years)
from $8.99/mo (2 years)
from $9.99/mo (1 year)
renewal from $11.99/mo

1 month = $12.99

so, you'll pay once you sign up:
7,99*36 = $287,64
8,99*24 = $215,76
9,99*12 = $119,88
from $5.95/mo (for a 3-year plan)
from $6.95/mo (for 2 years)
from $7.95/mo (for 1 year)
renewal from $11.99

No monthly plans

so, you'll pay once you sign up:
5,95*36 = $214,2
6,95*24 = $166,8
7,95*12 = $95,4
VPS Hosting
3-year plan
$4.99/mo – Linux only (1 CPU, 1 GB RAM, 50 GB SSD)
$19.99/mo (2 CPU, 4 GB RAM, 100 GB SSD)
$29.99/mo (2 CPU, 8 GB RAM, 100 GB SSD)
$39.99/mo (4 CPU, 8 GB RAM, 200 GB SSD)
$49.99/mo (4 CPU, 16 GB RAM, 200 GB SSD)
$69.99/mo (8 CPU, 16 GB RAM, 400 GB SSD)
$99.99/mo (8 CPU, 32 GB RAM, 400 GB SSD)
$19.99/mo (2 CPU, 2 GB RAM, 30 GB SSD)
$29.99 (2 CPU, 4 GB RAM, 60 GB SSD)
$59.99 (4 CPU, 8 GB RAM, 120 GB SSD)
VPS Hosting 1 month
$29.99
–
Dedicated Hosting
from $129.99/mo (3-year plan)
from $169.99/mo renewal
from $79/mo (3-year plan)
from $119.99/mo after renewal
WordPress hosting
from $6.99 for regular website
from $15.99 for e-commerce
from $3.95/mo (for a 3-year plan)
from $4.95/mo (for 2 years)
from $5.95/mo (for 1 year)
renewal from $8.99
E-commerce hosting
Woocommerce WordPress Ecommerce Hosting from $15.99/mo
Woocomerce hosting from $12.95/mo
Website builder
A free basic plan and hosting plans include a website builder. Separately:
$6.99/mo for non-com projects
$17/mo for online shops
Free, included in hosting plan
Domain names
from $0.99
.com from $11.99
30-50% discounts
from $1.99
.com from $12.99
Marketing services
31-day free trial
–
SEO services
from $6.99/mo
from $71.40 per year
---
GoDaddy Pros & Cons
GoDaddy has been a web host since 1997. It provides its services in 44 languages. The company is headquartered in Scottsdale, Arizona.
Godaddy's services include domain names, email, and web hosting with additional features such as email marketing and website builder tools.
All GoDaddy features
Hosting features
Web hosting (shared hosting)
Hosting optimized for WordPress users
Ecommerce hosting
Business Hosting (dedicated hosting) for e-com and high-traffic sites
VPS hosting for web designers & developers with multiple projects.
Dedicated servers
2. Domains
you can buy a brand new domain or register new domains in bulk
you can participate in an auction and buy an expired domain
create a personal domain (your single page connected to all your social media and messengers)
WHOIS
3. Web security
SSL certificate
Backups
Complete web security
Email marketing management (Microsoft 365)
Phone numbers
Marketing services & apps
social media management
content creation for social media or branded content
all-in-one digital dashboard with analytics and reports
email marketing app
SEO tools to find keywords, track ranking, get noticed by Google and customers.
Website builder
---
GoDaddy Pricing
GoDaddy offers the following pricing plans for Hosting:
Shared hosting from $5.99/mo
Hosting optimized for WordPress users from $6.99/mo
WordPress Ecommerce hosting from $15.99/mo
Business Hosting (dedicated hosting) for e-com and high-traffic sites from $19.99/mo
VPS hosting for web designers & developers with multiple projects from $4.99/mo
Dedicated servers from $129.99/mo
Domain names .com starts at $11.99, .cloud from $1.99. Check your desired domain here.**
The website builder is free if you don't need your own domain, or you're not creating an online store. Otherwise, it's from $6.99/mo.
Compared to Bluehost, the GoDaddy pricing policy maybe not as friendly but very clear. While with Bluehost it is all messy.
Check again GoDaddy vs Bluehost Pricing comparison.
---
Reviews
Their average GoDaddy on Capterra, G2, and TrustPilot rating is 4/5.
G2 Crowd: 3.9/5 based on 678 reviews.
Capterra: 4.1 / 5 based on 845 reviews.
TrustPilot: 4/5 based on 20,145 reviews.
PROS
The greatest reviews are about:
customer support,
simplicity to buy and set up a domain.
simple and affordable domain purchase and registration
78+ million users
30-50% discounts on domains
Marketing services including simple SEO guides for beginners
Godaddy hosting has been on the market for 24 years.
Godaddy uptime is 99.9%‬
Easy-to-use control panel
Global data centers
CONS
complicated transfer domains
insufficient depth of SEO recommendations
the website builder is only suitable for basic needs.
hosting prices.
email marketing tools are enough only for simple emails
performance of the managed WordPress service
interface and the system became over-complicated in the last 5-6 years. Some people say it is not intuitive.
not all subscriptions are transparent. Some people reported unfair charges. (they were fortunately removed with support help)
domain renewal prices can go up or you can never get the reminder and lose your website name.
33% of reviews on TrustPilot are negative, 2 popular topics are expensive and fair renewal prices and bad support.
too much up-selling.
hosting prices go up, it becomes more expensive
I'd like to mention that even if I list website builders or marketing tools as cons, I honestly don't think it matters. If you're planning to build a business don't rely on an all-in-one package. GoDaddy and Bluehost were both designed to provide hosting. Let everyone do what they do best!
---
Bluehost Pros & Cons
BlueHost is a domain name registrar and web hosting company. They have been in business since 2003 and are based out of Provo, Utah. Bluehost offers shared website hosting for those who need to update their own site and VPS plans with dedicated resources.
Bluehost Features
Main Bluehost features:
Hosting
shared hosting
VPS hosting
Dedicated hosting
2. Website builder
The website builder from Bluehost is a good place for newbies. The platform features drag-and-drop elements and lots of AI templates to choose from, so you can quickly create your own site without any special coding skills.
I also really like that it's integrated with WordPress. This means I can start writing this review right now on the WordPress editor, then publish it on my Bluehost site to share with you!
Still, don't forget that Bluehost was not created to be a website builder, so don't expect much.
Bluehost also can help you create an online shop on Woocommerce.
Woocommerce is a free open-source eCommerce plugin that can be used to build your site. It allows you to create an online shop with a variety of themes and plugins to choose from.
3. Domain names
All kinds of domains are available with Bluehost. A .com pricing starts at $12.99, the cheapest domains are normally .website or .tech.
You can also transfer a domain name to Bluehost if you bought it somewhere else but will use Bluehost hosting services.
4. Professional email addresses by Microsoft 365
+ Microsoft Office Apps and Microsoft teams
5. WordPress services
Including WordPress builder, hosting, managing, and e-commerce. WordPress and Bluehost have had a very tight relationship since 2005. Bluehost may be the perfect hosting choice for somebody who's starting a blog or online shop on WordPress.
---
Pricing
Bluehost pricing is super complicated for me. They have so many different prices that I even had to contact support. Let's try to make it clear together. So, the price is largely depending on what hosting you choose and for how long you can commit.
The price for the first month is also a promo and will be cheaper than regular monthly charges. But, in fact, there are NO monthly charges, you pay for the whole period at once: either you choose 12 months, 24 or 36, you will be charged for the whole term. At the same time, if you go to the Help Center, they will mention monthly prices there… 100% confusing!
I'll try to make it clear:
shared hosting starts at $5.95/mo. $3.95/mo if you pay for 3 years and $8.99/mo for renewal after the 3-year term.
VPS hosting from $19.99/mo for the first 36 months and $29.99 for renewal, since the 4th year.
Dedicated hosting from $79.99/mo for the first 36 months and $119.99 for renewal since 4th year.
Check again GoDaddy vs Bluehost Pricing comparison.
---
Reviews
Average score on G2, TrustPilot and Capterra is 3.5. I noticed that there are very few reviews comparing to the number of reviews left for GoDaddy.
G2: 3.6/5 based on 182 reviews
Capterra: 3.8/5 based on 8 reviews
TrustPilot: 3.1/5 based on 1,500 reviews
Most positive reviews are focused on the ease of use of Bluehost.
PROS
ease of use
one of the tops recommended WordPress hosting providers by WordPress.org
a free domain is included with a shared hosting plan
Microsoft 365 Email Essentials license is free for 30 days
CONS
customer support and its help, and the "email only" option. *in 2021 they added live chat and phone.
website builder
automatical billing
performance issues on large projects
67% of TrustPilot reviews are negative, 55% of them rated Bluehost as 1/5.
Beginners may find it hard to use and some areas are still too technical. Big learning curve.
some pro users didn't like the backend.
way less users than GoDaddy (
2 million+ websites)
payment only per year / 24 or 36 months. No monthly payment option.
the live chat seemed quite useless and unprofessional, both time I had very vague responses.
---
GoDaddy vs Bluehost
Finally, let's compare every feature GoDaddy or Bluehost offer.
GoDaddy vs Bluehost Shared Hosting
Both GoDaddy and Bluehost offer shared hosting for 1 or multiple websites. GoDaddy options are more expensive, but you can try its shared hosting for 1 month. Bluehost doesn't offer monthly prices, but its long-term plans are cheaper than GoDaddy's plans.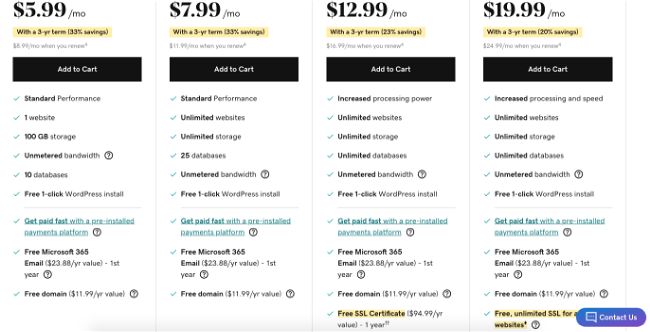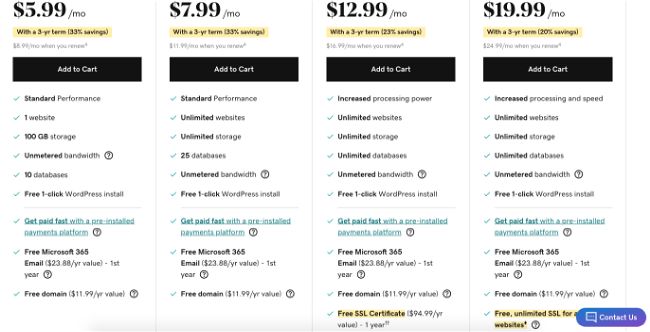 GoDaddy's shared hosting basic plan offers twice more storage (100 GB against 50GB at Bluehost), but it doesn't include a free SSL certificate. Both Bluehost and GoDaddy shared hosting plans include a free domain for one year.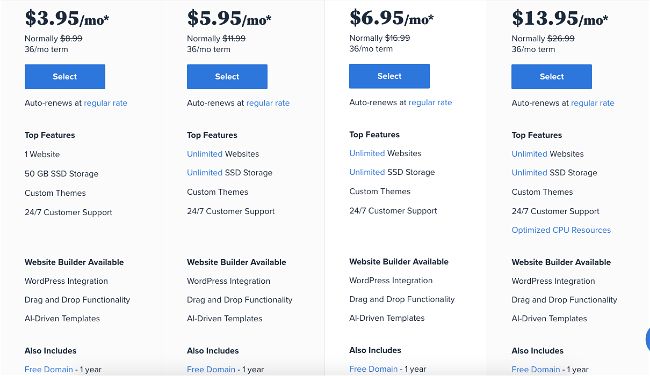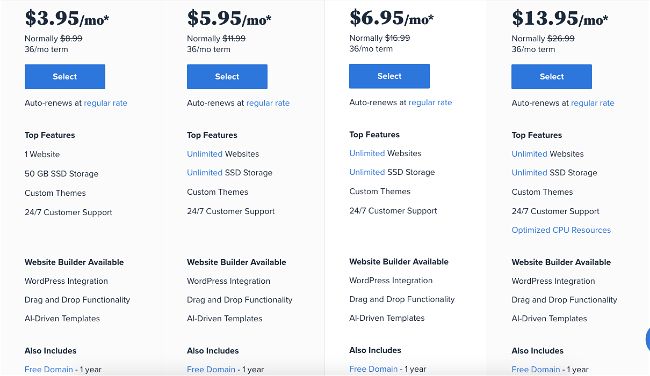 Shared hosting is a type of internet hosting that enables more than one client to share the same server. Shared hosting uses a single server to provide a webspace for multiple customers, which saves money and resources.
Shared hosting is a perfect option for beginners, simple single-page websites with low traffic. Shared hosting doesn't fit developers, teams, or high-traffic websites.
---
GoDaddy vs Bluehost VPS Hosting
GoDaddy offers 7 different plans for VPS hosting with different performance and RAM and storage: from 1GB RAM to 32GB RAM, and from 50GB SSD to 400GB SSD. Bluehost offers only 3 VPS hosting plans, which are not as performant as GoDaddy's VPS, and the storage is smaller.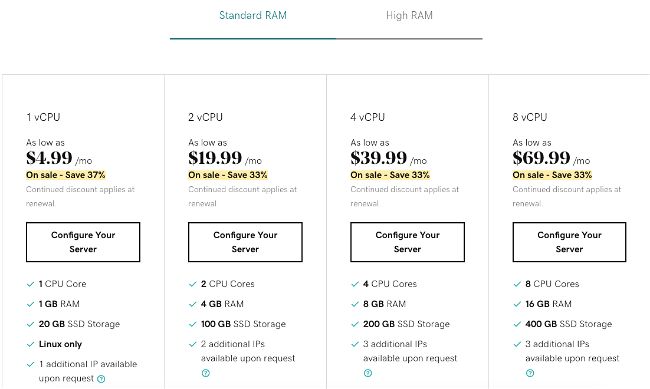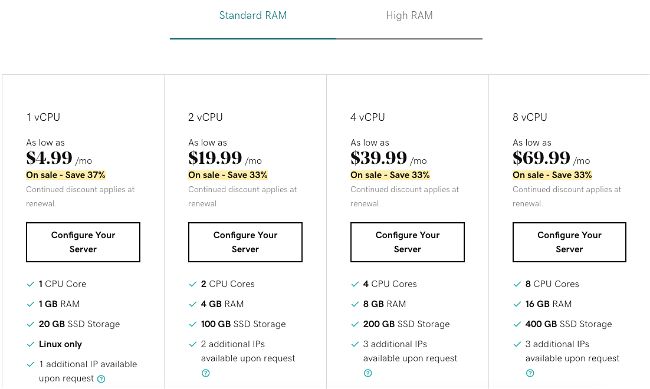 With GoDaddy, you can self-manage your VPS hosting or transfer management to GoDaddy's team.
Free SSL and dedicated IP are included. GoDaddy offers unmetered bandwidth, while Bluehost provides you with 1TB to 3TB bandwidth.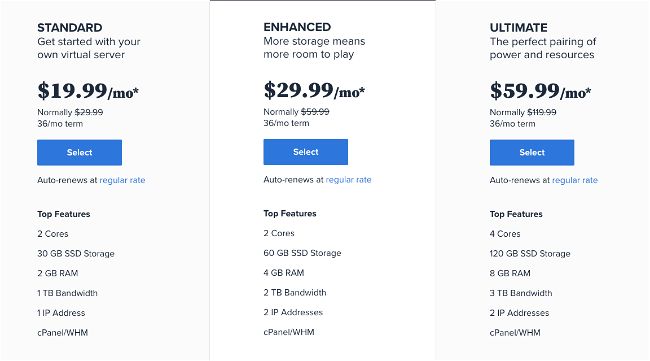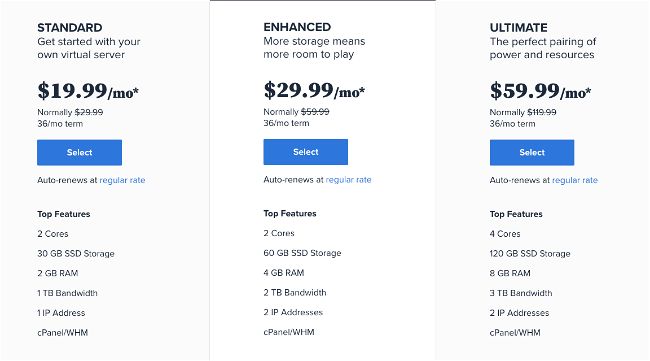 VPS hosting or Virtual Private Server hosting is an advanced hosting plan for 2 or more websites. VPS hosting is a lot cheaper than Dedicated hosting, but it doesn't offer as much control as Dedicated hosting and you're often one of the other renters on the server.
VPS hosting is an affordable, fast, and scalable hosting solution for any business. VPS hosting gives you the power of your own server combined with the scalability and flexibility of shared hosting.
VPS hosting is perfect for any website with high traffic, from simple websites to complex applications and e-commerce sites.
---
GoDaddy vs Bluehost Dedicated server
GoDaddy dedicated servers are more powerful, have no bandwidth limitations, but also are more expensive than Bluehost's dedicated servers. You can activate GoDaddy's dedicated server for a period of 1 month or up to 24 months, while Bluehost currently offers only long-term plans: from 12 to 36 months.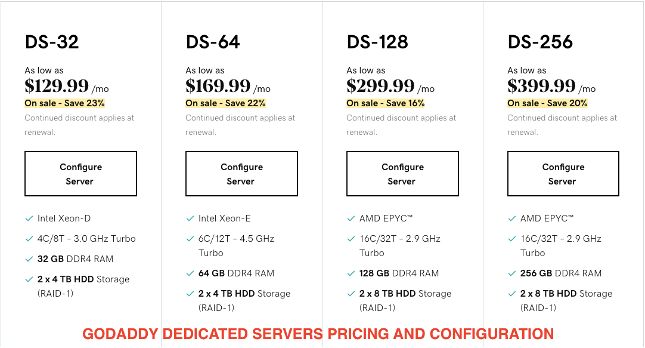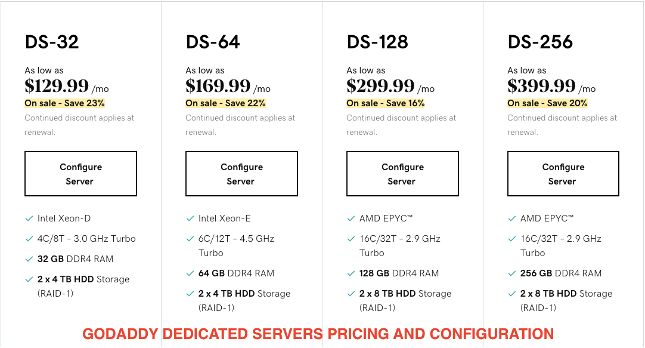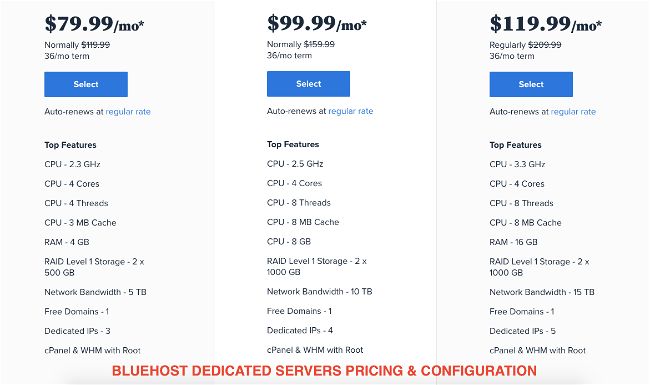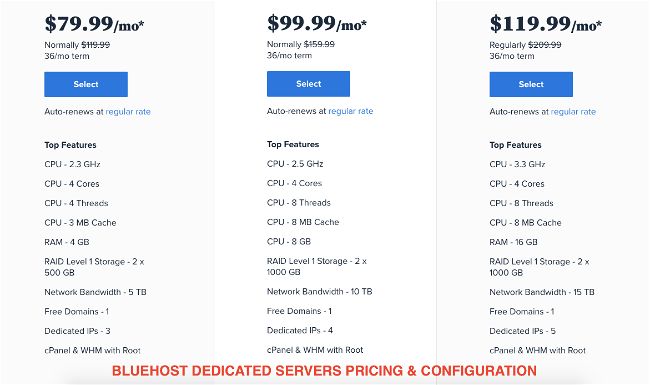 A dedicated server is a standalone machine that's given to a single customer. Control, privacy and guaranteed resources, and performance are the major advantages of a dedicated server. This is perfect for power users, large e-commerce projects, and high-traffic websites.
Dedicated hosting offers you the ability to control your server and it's really fast as there's no sharing with other people. The downside of this hosting is that it's expensive and you're responsible for everything, including hardware, software, and support.
WordPress Hosting & Management
Bluehost is more known as a good couple for WordPress, but both GoDaddy and Bluehost have special plans for WordPress website hosting and management.
GoDaddy offers two different plans: one is for regular WordPress websites, and another one is specifically for online shops created on WordPress. Bluehost offers managed WordPress hosting plans for WordPress users.
Both GoDaddy and Bluehost plans for WordPress are actually based on your traffic volume which is smarter and more practical, than having a regular hosting plan.
All GoDaddy's WordPress plans include a free domain, a free SSL, a free business email, backup, and daily malware scans. E-commerce WordPress plan by GoDaddy also includes SEO optimizer, GoDaddy payments service, and more Woocommerce plugins.
Bluehost WordPress packages offer quite similar features but it doesn't have a special e-commerce plugin and only offers PayPal payments add-on. But, Bluehost has a separate Woocommerce hosting plan which may be better for online shops.
---
GoDaddy vs Bluehost final thoughts
Personally, with my partner, we are using Bigscoots to host all our projects. We are both professionals marketers and bloggers and we really need something that works.
Unfortunately, premium companies are too expensive for beginners and small businesses, or part-time bloggers.
If you're just starting your blogging or online e-com journey, I guess it is important for you to get human guidance all the way through and make this online entrance an easy step. In this case, GoDaddy is your hosting.
If you don't need any help, and you can easily manage a hosting by yourself, and you'd like to pay upfront, choose Bluehost. If you can pay a little bit more and you need more performant beginner-friendly hosting, opt for GoDaddy.
---
GoDaddy vs Bluehost FAQ
What are Bluehost and Godaddy Alternatives?
Namecheap, GatorHost, DreamHost.
Which is better GoDaddy or Bluehost?
In general, GoDaddy is a lot better than Bluehost. Here are the reasons why GoDaddy is better: GoDaddy is cheaper; it is user-friendly; GoDaddy has many domain choices and expired domains auctions; GoDaddy offers a 30%-50% discount on all products. GoDaddy's VPS and dedicated servers seem to be more powerful.
Which is better for beginners: GoDaddy or Bluehost?
Both GoDaddy and Bluehost are good enough for low-traffic, small websites, and blogs. GoDaddy has better customer support though and more performant plans.
Can I use a GoDaddy domain on Bluehost?
Yes, you can. You first need to buy a domain from Godaddy (or elsewhere). Once you have your GoDaddy domain, log into the GoDaddy C panel and set up the DNS records for your GoDaddy domain.
Why is Bluehost bad?
Bluehost does not provide enough customer service. It's also difficult to communicate with the company and it is often difficult to cancel a subscription. It doesn't have enough options for payment, either, and some users say they often send out spam emails. Finally, VPS and dedicated servers are less powerful than GoDaddy's ones.
Why is GoDaddy bad?
Many people don't like the pricing policy of GoDaddy – the prices go up and up. Others find the website interface complex, and some, marketing services as long as website builder too basic.